Best Coding Robots for Kids Reviewed & Rated for Quality
In a Hurry? Editors choice: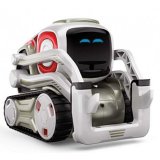 Test Winner: Anki Cozmo

We are living in a technological age, now more than ever, and it is certainly here to stay. In fact, the job market of today looks totally different than that of even just 20 years ago. So how can we prepare our young ones for success in this technology-centric future?
Getting kids exposed to and interested in STEM activities at a young age is one great way to do this. What does STEM stand for? Science, technology, engineering, and math. Computer scientists harness skills in all of these subjects in order to
create new technologies
and enhance the ones we already have.
Teaching kids about computer science through introductory and
entertaining coding programs
like the ones found in coding robots for kids is a perfect way for them to gain computer programming literacy and will better help them compete in the job market of the future.
Standout Picks
Criteria Used for Evaluation
Ease of Use
When thinking about ease of use, we consider the instructions provided and the build time, as well as the app functionality which we will delve deeper into below.
Some instructions are more intended for adults, so we rank those instructions that are geared towards kids but more highly. We also love when kits actually include hard copies of instructions instead of only having them accessible on their app.
Coding robots kits like these that have engaging build times but that don't take hours to put together before the bot can be programmed through code to start performing tasks.
We also like apps that are accessible to all levels of learners.
Apps
To go deeper into our app considerations, we love apps that are leveled and allow learners to move up as their coding literacy increases. We also like apps that are compatible with multiple different devices.
Features
When thinking about features, we consider what exactly each bot can be programmed to do and whether or not the bot connects via Bluetooth or wifi. Here we also consider whether the bot needs an external smart device and app to function or if it comes with its own remote control to program code.
Durability
We favor more durable bots as these are children's toys, after all. Bots that are waterproof and scratch-resistant or impact-resistant score highly here.
Value
Many of these bots seem like expensive toys, but when you consider the STEM time that your child will be getting in the price tag seems worth it. We favor the value of robots that have multiple different configurations and that can take on different shapes because these have longer and more sustained entertainment value.
10 Best Coding Robots for Kids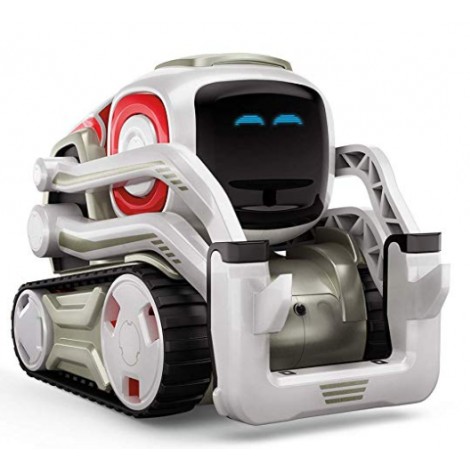 The Anki Cozmo is an amazing little robot with endless possibilities. Cozmo is not only a great companion, but he loves to play games and learn new things. Through the app that Cozmo comes with, you can navigate the world of coding that takes you through different skill levels and teaches you how to become a coding master.
This product is intended for children 8 years of age and up.
Movement, Vision, Feelings, and Smarts
The Anki Cozmo is loaded with technology and artificial intelligence that will blow your mind. While he's not big (measuring just 7 inches, by 8 inches, by 5 inches and weighing only 2 and a half pounds) he is mighty in terms of what he can do.
Cozmo comes with 4 motors that keep him zooming and exploring. With over 50 gears and tons of smarts, he can roam around on his own without toppling off of tables or stairs (edge detection tech). It is worth noting that he is intended to be pretty durable. It is a children's toy, after all.
Cozmo has a built-in camera that allows him to see, and with facial recognition software, he can recognize you and learn more about you and actually call you by your name. He also has the ability to recall interactions. But that's not all. When you switch to Cozmo mode on your iOS or Android device, you can actually see through Cozmo's eyes making this product sort of like a drone.
He is programmed to express many hundreds of emotions that he displays on his facial display screen. And his personality actually develops even more, the more you interact with him.
But most of all, Cozmo loves to play. He knows how to play tons of fun games like memory match, keep away, and cube tennis. Plus, he can be programmed to learn and play many more. It's a more interactive board game experience than you've ever had before.
Different Skill Levels of Coding
The Anki Cozmo comes with a robot and 3 blocks, plus a charger and the Cozmo app. Cozmo gets updated frequently and you can visit the Cozmo Blog to catch more info about different updates to the bot.
The Cozmo app works with iOS and Android devices. It will work with many of the best children's tablets out there. You can use this app to complete some of the functions we listed above, but also to dip your toes in the coding water.
The first level of coding available is called Sandbox. It allows you to snap together different blocks of code to make Cozmo perform different functions like singing or sneezing. Once you have completed enough challenges and proven your skills, you can move onto the next level of coding.
The second level of coding is called Constructor. These projects are more involved and this is where you can program different games or even coordinate a series of dance moves for Cozmo to complete.
This program provides SDK for coding that is python-based.
Cost and Value
The Anki Cozmo rings up at the top of our price range and we love its value because it is a wonderful introductory coding toy that provides endless possibilities and hours of fun and educational entertainment. With leveled coding programs for kids, your child can exhibit progress and use their imagination to create their very own projects.

2

. littleBits Star Wars Droid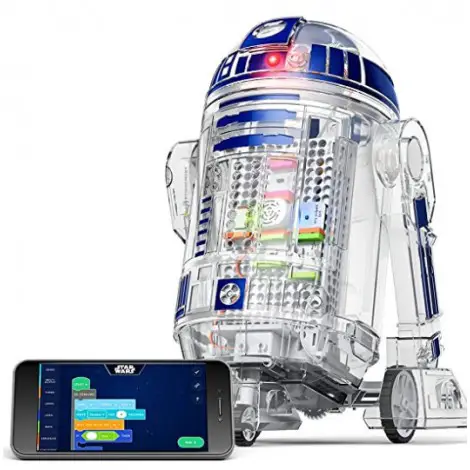 The littleBits Star Wars Droid is another excellent product brought to us by littleBits. Their philosophy is to get kids interested in engineering all while expressing their creativity. With this robot, your child will actually get to build the robot piece by piece and will even be able to reconfigure their robot an endless amount of times for continued fun and new possibilities.
This coding robot is intended for use by kids 8 years of age and up.
Build the Bot Yourself
The littleBits Star Wars Droid is different from other robots on the market in that your child will actually get to build their bot themselves.
The kit comes with electronic blocks that all have different functions. Some control movement while others control sensors or speakers. These blocks snap together magnetically to create droids with different functions. You can also connect any other littleBits electronic blocks that you have to blocks in this kit as they are all compatible with one another.
The kit also comes with the Droid plastic parts as well as stickers so you can fully personalize your bot. The 9-volt battery is included as well.
If this sounds super challenging--it's not. But it is a whole lot of fun. You will need an iOS device or an Android device to access the free app. This app gives detailed instructions, step by step, to help you build your droid and then get to programming it to perform all sorts of cool functions.
This unit is just 16 inches, by 12 inches, by 6 inches. It weighs around 4 pounds.
More than 22 Coding Missions
The littleBits Star Wars Droid comes loaded with fun missions to work through while you improve your coding skills. With over 22 missions to explore, you will have endless fun teaching your bot new skills and progressing your own skillset.
These missions help with the creative process and you program your bot to perform different functions and also to develop a personality. Some of the cool functions that your bot could perform are being able to move your droid just by waving your palm like you are actually using the force, by setting your droid to the steering function, or by programming your droid to navigate itself.
Cost and Value
The littleBits Star Wars Droid rings up in the middle of our price range and we love its value because it provides opportunities for a little bit more creativity in the construction process and because it allows for more autonomy as your child will be building it themselves before they even get to the coding feature.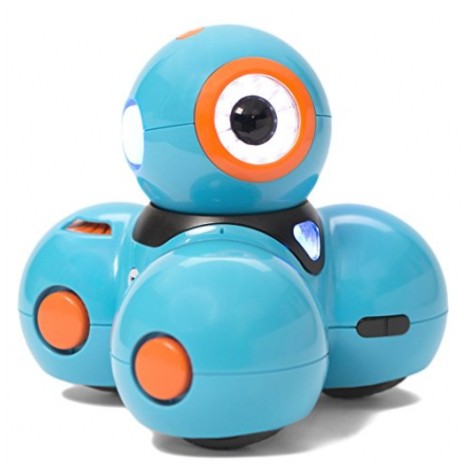 The Wonder Workshop Dash is literally ready to go right out of the box. This product is approved for kids 6 years of age and over (while many of the products on this list are only approved for 8 years and up). With programming cards, the learning is deep and creative. Plus, you can choose to upgrade your kit for even more features.
Comes with 5 Learning Cards
The Wonder Workshop Dash comes with 5 different learning cards that allow your child to experiment with conditions, events, loops, and sequences. The learning platform is designed to be open-ended to encourage discovery and creativity.
Dash is controlled via voice commands, which sets it apart from the first two products on our list. You will need an external device to run the apps that accompany this bot.
Some of the apps available include the Wonder App which offers picture-based coding exploration, the Blockly App which explores more advanced coding ideas, the Go App which controls Dash's sounds, movements, sensors, and lights, and the Path App which works on robotics fundamentals through pictures so it can be enjoyed and used even before children know how to read.
Dash is charged with a mini-USB and offers 5 hours of active playtime per charge, or about 30 days of idle shelf life per charge.
It is compatible with a larger array of devices from iOS devices like iPads, iPhones, and iPods, to Android devices like Galaxy to Kindle Fire.
Upgraded Possibilities
The Wonder Workshop Dash comes in several different kits so you can more fun time and creativity in.
You can purchase the Dash robot by itself which comes with a charger and access to free apps.
You can upgrade this purchase by including the set of challenge cards which teaches coding fundamentals through games.
The next kit up is the Stem Activity Bundle which includes more challenge cards and different external pieces that the bot can be programmed to play with and manipulate.
If that's not enough, the Stem Creativity Bundle includes all challenge cards, external manipulatives, and sketch cards which allow kids to get super creative and sketch out different functions that the robot can perform.
The ultimate kit is the Wonder Pack which comes with everything listed above as well as an additional Dot robot to control.
Cost and Value
The Wonder Workshop Dash rings up at the very top of our price range and we love its value because it offers more possibilities and a more tactile exploration of coding that is ideal for younger kids--especially for those who cannot yet read.

4

. LEGO Boost Creative Toolbox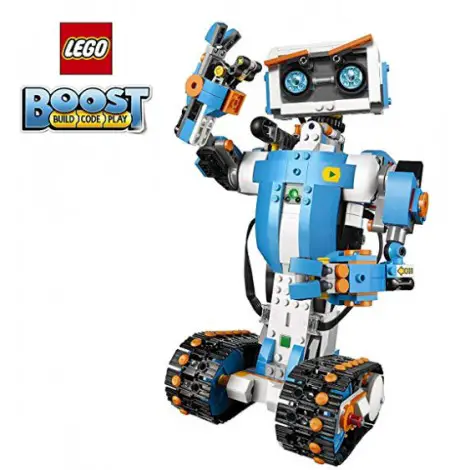 The LEGO Boost Creative Toolbox is one of the most entertaining options on our list. This product also has the capacity to grow with the user and can be constructed and reconstructed in countless different ways for literally hours of endless fun.
This kit is intended for use by kids who are between the ages of 7 and 12, but we read reviews from more than a few adults who enjoyed playing with this as well!
Comes with 847 Different Lego Pieces
The LEGO Boost Creative Toolbox has more pay hours out of the box than perhaps any other item on our list. With a whopping 847 different lego pieces to tinker around with, your child will be occupied creating for hours.
With the instructions that come with the kit, your child will be able to build 5 different robot forms that perform different tasks and functions. Simply download the free app the gain access to detailed instructions on how to build each different bot.
Vernie Can Do It All
The LEGO Boost Creative Toolbox can do it all. Vernie can be programmed to have a dance party, play a mad guitar, explore with the Multi-Tool Rover function like a remote control car, work with the auto-builder, or even babysit his little kitten, Frankie. All of this is possible when your child builds and codes.
Vernie stands over 10 inches tall. You will need a phone or tablet to access the app that allows your child to code and control these different devices. iOS, Windows, Kindles, and Android devices are compatible.
This kit is compatible with other LEGO kits like the LEGO NINJAGO and the Arctic Scout Truck. You can also code and program through the LEGO BOOST app to play games, complete missions, and even battle other bots.
Cost and Value
The LEGO Boost Creative Toolbox rings up right at the top of our price range and we love its value because it has so many different creative possibilities that playtime and exploration are endless. While some robots get old and end up sitting on the shelf, this interactive bot that combines the fun of LEGOs will be enjoyed for hours to come.

5

. Learning Resources Botley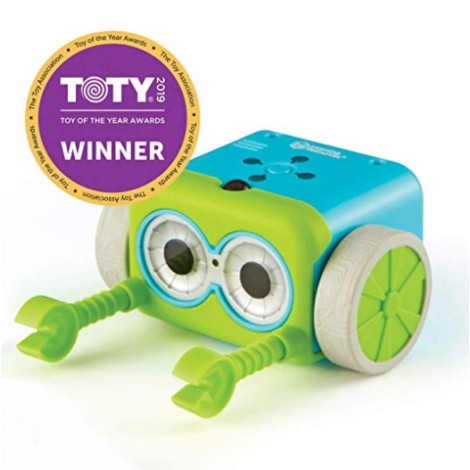 The Learning Resources Botley Coding Set is one of the few coding robots out there that is totally screen free. With a coding remote that is included, your child will have some super fun STEM time away from the ever present tablet screen. This also means they won't be begging to use your compatible smartphone all of the time.
No Smart Device or Screens Required
The Learning Resources Botley is unique in that you will not need a smartphone or app access in order to enjoy this device. We like this feature as so much of our children's lives are now consumed with screen time and this eliminates the need for it.
The bot is ready to go out of the box. You will just need a screwdriver and 5 AA batteries. The bot itself takes 3 batteries and the coding remote which controls it takes 2 AA. These batteries are NOT included with your purchase.
As we mentioned, your child will be able to code with the easy-to-use coding remote. This programmer transmits commands to the bot to carry out.
Comes with 77 Pieces
The Learning Resources Botley comes loaded with fun tools to keep your child entertained for hours on end.
This kit comes with Botley and the coding remote programmer control. You will also get 40 different coding cards, robot arms that are detachable, 27 building piece obstacles, 6 tiles that are double-sided, and beginners guide for how to use all of these tools and get the most out of your bot.
Botley features smart tech that allows him to avoid running into objects in front of him. He can be put through obstacle courses, and be made to follow looped commands as well as blackline paths. And he even has more hidden features to discover.
Cost and Value
This rings up at the bottom of our price range and we love its value because it is a totally screen-free option that is intuitive for young users and that gets them coding without the use of an external app or smart device.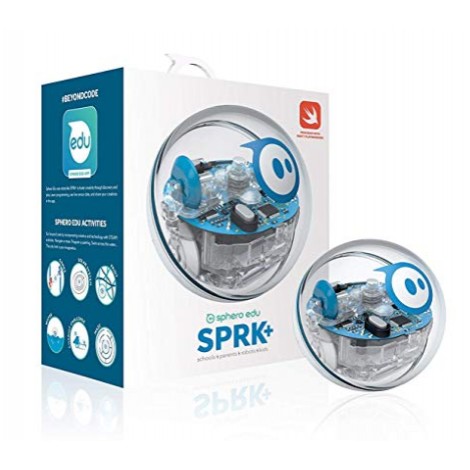 The Sphero SPRK+ is one of the most durable bots on our list and it comes back by Sphero's excellent app that encourages sharing creations with a community as well as getting feedback on different ideas.
Uses Sphero Edu's Excellent App
The Sphero SPRK+ App-Enabled Robot uses the amazing Sphero Edu's app for all of its programming possibilities. This app gives a diverse toolset so your child's creative possibilities are endless.
Not only does the app encourage the development of coding literacy, but it also incorporates elements of robotics and other tech avenues.
We love that this app is tiered. This allows learners to enter at their level and to move up through challenges as they become for capable and experienced. You can start simply by drawing paths for your bot to follow and move all the way up to actually writing your very own JavaScript. How cool is that?
To access the app, you must download it to your smart device. The app is compatible with Android, iOS, Mac OS, Windows, Kindle, and Chrome.
Loaded with Features
The Sphero SPRK+ App-Enabled Robot comes loaded with cool features and possibilities. There are multiple different sensors inside of the robot that you are able to program. Some of these sensors include a gyroscope, motor encoders, LED lights, and an accelerometer.
This bot is made to be durable and hold up to heavy playtimes. It is one of the only bots on our list that is fully waterproof and it is also scratch-resistant. This product is Bluetooth capable.
It has a 60-minute battery life. While this may seem short, it is great for setting screen limits and putting a cap on screen time if necessary.
Cost and Value
The Sphero SPRK+ App-Enabled Robot rings up in the middle of our price range and we love its value because it comes with one of the most developed apps to encourage the progression of skills and the exploration of new ideas and further creativity.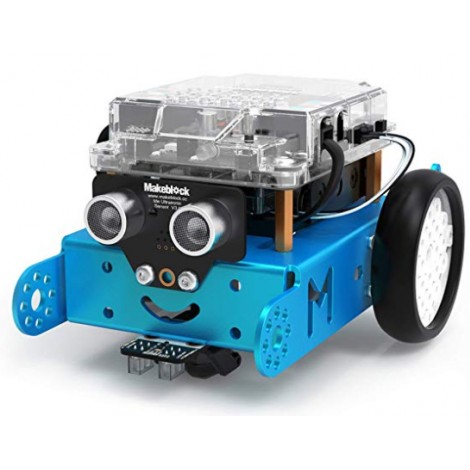 The Makeblock mBot Robot Kit is another bot that can be totally personalized and created based on the limits of your imagination. It also comes with the options of downloading a great coding app or going screen free and using the included remote to input coding commands.
Different Coding Options
The Makeblock mBot Robot Kit is another on our list that comes with a programming remote. Again, this is a great coding feature that works to cut down on some of the screen time exposure that our kids experience.
There is also a mobile app that can be downloaded on the smart device that allows you to code from the screen as well. The app is, of course, a bit more interactive than the coding remote.
This coding app uses mBlock software that is advanced and great for novices to navigate while they gain coding literacy. It works with Windows, Linus, Mac OS, and Chrome (and with Android and iOS devices).
Build in 15 Minutes
The Makeblock mBot Robot Kit comes with all you need to construct your robot in no time. You may choose to follow the instructions that come with your kit or make a totally unique robot just the way you want it. You are also able to purchase compatible kits to pair with this robot set as well.
Your bot will be able to follow prescripted paths and avoid collisions with obstacles, among others.
The mBot requires 4 AA batteries for the bot and 1 CR2025 coin battery for the coding remote control. These batteries are not included with your purchase.
Cost and Value
The Makeblock mBot Robot Kit rings up at the very bottom of our price range and we love its value because it comes with 2 different coding options that can turn down screen time and because this is a customizable and buildable bot to encourage more creativity.
Plus, this bot is super inexpensive, especially compared to more premium bots on this list and on the market.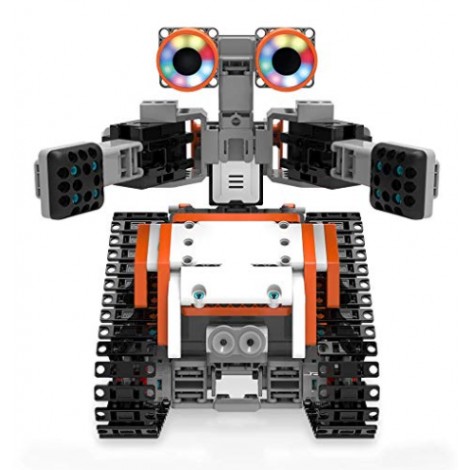 The UBTECH JIMU Astrobot is as much fun to build as it is to code. With 387 different parts and tons of different configurations, your child will be creatively occupied for hours on end.
Comes with 360 Degree Building Instructions
The UBTECH JIMU Astrobot can be built in several different configurations. You won't need any tools to assemble this bot and the app takes you through 360-degree building instructions that are totally 3D. These instructions are animated as well.
With 387 different parts that snap together, you will have a blast not only coding but in building your bot as well. The kit comes with 1 infrared sensor, 2 LEDs, 1 speaker, and 5 motors.
You will receive a power cord and quick starting guide with your purchase.
Uses Blockly Coding
The UBTECH JIMU Astrobot is programmed using Blockly coding. This coding app allows you to program your bot to pick things up, navigate and weave through different obstacles, add different personality traits, and even control the lights and sounds of the bot.
You can become more proficient using this app by engaging with different coding challenges and you can actually begin to create your own code with the pose, record, then play function (PRP).
The app is compatible with certain iOS and Android devices.
Cost and Value
The UBTECH JIMU Astrobot rings up towards the top of our price range and we like its value because the app is well developed and you can build the bot in multiple different configurations making it a tactile toy as well.

9

. Educational Insights Artie 3000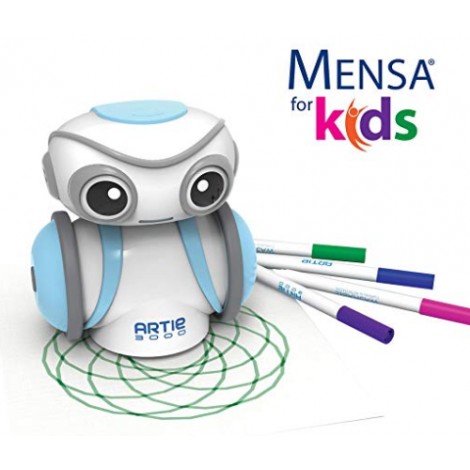 The Educational Insights Artie 3000 is a cool bot as it allows you to program the bot to create different pieces of art. Kids 7 years of age and up can enjoy this bot.
Drag-N-Drop Coding
The Educational Insights Artie 3000 is powered by drag-n-drop coding which makes this a great introductory coding program for youngsters.
Artie has his own internal wifi that connects to smart devices with the downloaded app so you don't have to pair it with your home or school wifi.
The Bot that can Draw
The Educational Insights Artie 3000 comes with bot, a starter's guide, activity cards, and 4 markers that are washable. You will need to provide 4 AA batteries to power Artie.
Artie can be programmed to draw different designs. There are pre-coded designs and also a place for kids to program their own unique designs.
Cost and Value
The Educational Insights Artie 3000 rings up at the bottom of our price range and we like its value because it's the first bot that can draw and because it is MENSA approved. Plus you can try it for a year and return it if you're not satisfied with your purchase.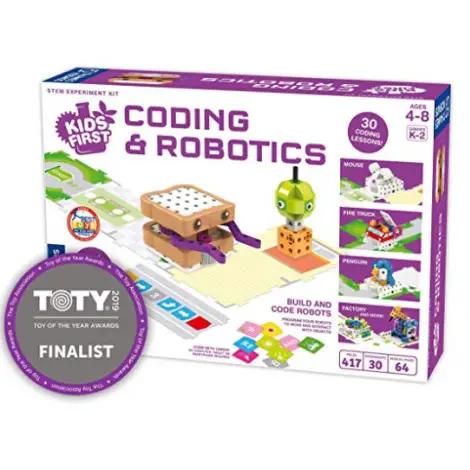 The Thames & Kosmos Kids Coding Kit is a great builder's kit that is intended for use by kids who are in kindergarten through 2nd grade.
Kit is Totally Unplugged
The Thames & Kosmos Kit is 100% unplugged. That means you won't need a smart device or app to operate the robots that come in this kit.
All of the coding is story-based to help younger kids follow concepts and maintain attention and interest. In fact, there are 30 paired lessons with this kit that were developed by the International Society for Technology Education and can be accessed on Code.org.
Manual Designed for Kids
This kit comes with a full color, 64-page experiment guide or manual that walks kids through the building and creative process. While some manuals are clearly written for adults, this manual was designed to be accessible by the kids that use it.
Cost and Value
The Thames & Kosmos Kids Coding Kit rings up in the middle of our price range and we like its value because it was designed to further education with the learning levels of the kid-users in mind.

Subscribe to our Newsletter