Best Cat Trees Reviewed & Rated for Quality
In a Hurry? Editors choice: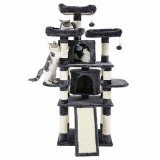 Test Winner: SONGMICS

You're always going to want to do what is best for your pets. No matter which species is attached to those lovingly glossy eyes that peer up at you and beg for simply your affection, and a little bit of fun and food. Those with an affection for cats — the feline family-friendly types — know that things can get a little hairy when it comes to getting your pet a new piece of furniture, food, a new toy, or really anything. Cat trees can help your cat so much. These are the pieces of furniture give your cat something that is solely theirs. Something that they can own. Something undisturbed by humans on a day-to-day basis. Here are ten amazing cat trees that you should seriously consider when shopping for a new piece of furniture just for your feline family.
Standout Picks
Criteria Used for Evaluation
Durability
Being that cat trees are a physical thing and that they are structures, the build is probably the most important portion of your research to narrow down on. Your cats are very important, and the structural integrity of the tree you purchase for its fun, and comfort, is atop the list.
Makes of the very structure in your tree can vary. If you're looking at the top of the price range chart, there are going to be a whole lot of amazing, and high-quality materials used to put things together. Materials like thick, well-manufactured wood planks as the base for all of the levels, and you'd get well-made hard, and thick plastic pillar poles.
Other things that make or break the quality of a build are the coverings, and the scratch surfaced. The coverings are often a fake fur, or soft almost-suede for the average tree, and those near the bottom of the budget scale. The upper echelon of cat trees will toss the poor not-suede to the side and instead use carpet — throwaway stacks or otherwise. It doesn't sound like it should be that way, but cats will always prefer carpet coverings over almost any other option.
Things that make a budget tree just that, a budget tree, is the thing particle board used instead of real wood, some thinner columns, plastic wise, but that isn't to say that there aren't any good budget trees out there. There's a ton of market value on both ends of the build quality pendulum. But it should be the number one thing you consider when narrowing down your search.
Features
Oh man, is there ever a gigantically dizzying amount of variety when it comes to cat trees Everything in this marketplace has a ton of varied parts. There are a ton of complete pictures that are so different here. We can completely understand the overwhelming nature of shopping for the right tree.
Firstly, there are platforms of all shapes and sizes. We're not only talking about the platforms that make up the cat trees levels, but also the platforms and bed that reach high above the tree to provide your lovely felines with a sense of scale, height, and independence. These platforms can be made of different things, they can be round, or sharp-cornered. They can be covered in faux-fur or carpet.
The condos — what most manufacturers call the little hidey holes or homes on the tree — are another big aspect of finding the right tree. Cats like to be inside things, boxes mostly (thank god most of the cat trees available on the marketplace today come in insanely large boxes), but cat condos are a fantastic way to provide your kitty with a new place to hide away. Some trees will have more than one condo — often these can be varied in size or shape — but ensuring your tree has at least one might make or break the addition for your feline.
Scratch-able surfaces are another key. Don't ever buy a cat tree that doesn't at least wrap the support pillars with scratch-able rope. It's essential. One of the models on our list even has a scratch pad in the base support platform.
Finally, you've got all the other additions. These can range from suspended buckets for lounging, or tubes for laying. But the most common options are dangling swat toys, and hammocks for your fur baby to flop into. Having the most variety you can on a single tree might make it more of a hit in your home than not having those extra bits for play, distraction, or comfort.
Value
We always try to choose a few things from both sides of the price line, and the market for cat trees on earth is no different than any other market. There's a median average price, budget options, and premium options.
Often you don't have to resort to blowing a Christmas bonus entirely on a cat tree to get some exceptional or even premium options out of an average or budget tree. But hey, if money is no option, then why not continue to spoil your lovely cats?
You're going to spend close to a hundred bucks on something that's roughly budget-friendly, and a few hundred bucks for something nearer the average prices we found out there. All while extremely premium cat trees (ones that we hope come with a lifetime of pet insurance at these prices) could range into the few thousand.
What we can say in a reflection of our list, and what we would offer you as a consumer about the marketplace is that you shouldn't overlook something around budget prices. Perhaps the cat tree market has realized that their average prices were getting close to falling off of Mt. Ridiculous, but there is a ton of value in some of the budget trees on the market. Things you just shouldn't see at those price ranges. We're not going to complain if we can find stellar products on the better end of the dollar scale.
BEST CAT TREES REVIEWED & RATED FOR QUALITY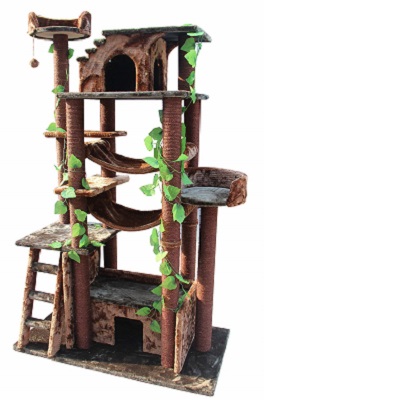 Most of us want what is best for our furry feline family members. Some of us want far more than the best, and that's why the top of our list is a Kitty Mansion. True to their name, Kitty Mansions isn't messing around with their luxurious suites for your little cat's bean feet. This gigantic Kitty Mansion Amazon Cat Tree isn't messing about either, being one of the craziest and most elegant options on the entire market (within sane price ranges, that is).
Forest for Felines
With the name that it has you might easily (and understandably) mistake this Kitty Mansion for an AmazonBasics product, but we can assure you it's far more luxurious than that. The name Amazon comes from the thematic design. With vines and safe leaves strung from top to bottom of this tree, a wood and forest like color scheme of all the platforms and hammocks make the Amazon Cat Tree from Kitty Mansions like a little outdoor park for your feline friends.
Easy Assembly
When was the last time you bought a cat forest and it was easy to put together? If the national nature conservationists got their hands on these it would solve a lot of problems. Kitty Mansions has a vast reputation for making their trees extremely easy to assemble. You'll be able to put the tree together and have it in its final state before your cats can even get at the boxes (don't hold us to that). With no extra tools needed, extra hardware, and even replacement posts available for purchase for when your kitties eventually tear them up real good, the Kitty Mansion Amazon Cat Tree is astoundingly painless.
Cost and Value
It's a bit of a premium tree, the Amazon Cat Tree from Kitty Mansions, but don't let the price tag dissuade you. You get what you pay for. The value is extreme, and you are looking at a pretty standard premium price for this size of Cat Tree. At the top of our list for a reason, for this price, you get multiple hiding holes, a handful of bed surfaces, hammocks, and tons of scratchable surfaces.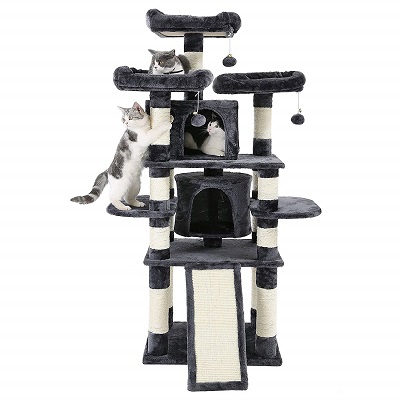 Looking much like a hilltop temple, the Multi-Level Cat Tree from SONGMICS lands near the top of our list for finding a brilliant middle ground between the absurdly luxurious and the relatively affordable. These well crafted trees are a dream come true for your furry friends, and will last long enough that you cats may even grow out of them before they need to be replaced. If you're on the hunt for a flawless how for your pawed family, look no further than what SONGMICS is offering here.
Hidey Homes
When it comes to providing your cat friends with a wonder home inside your home, there are a few things that felines look for in a place to call their own. Most of the trees on our list have cleverly adopted most of these designs. Hidey holes. The SONGMICS Multi-Level Cat Tree has two large condo rooms that will fit any large feline. The soft materials, and large entry holes provide great shelter for your cats in their tree. The higher of the two condo rooms is a rectangle shape while the lower of the two has a round side wall. Both are easy to get to, and are wonderful.
Guarantee
It's not like you need to hear this from us, but cats can be fickle creatures, and even more fickle house pets. Often, one can spend a lot of time and thought on the purchases made for the sake of your furry pet, just to have the product not work out, or not "take" with your kitty. The SONGMICS Multi-Level Cat Tree comes with a thirty-month warranty, helping you guarantee that you will not be stuck with a tree you can't use, or one that is sub-par.
Cost and Value
If you take a look at the entire marketplace for cat trees in a general sense, the SONGMICS Multi-Level Tree will land somewhere near the bottom of the price-range, before dipping truly into the "budget" scenario. It's made out of extremely good materials -- premium particle board, soft plush, robust support tubing, and natural sisal rope -- and combines for a wonderfully high value tree for the price.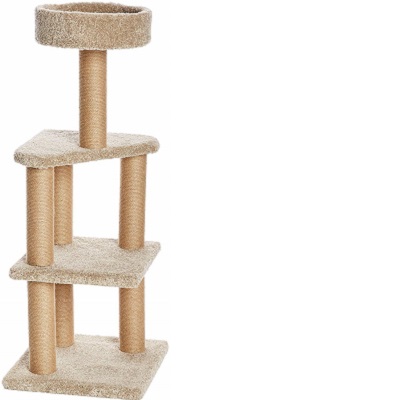 AmazonBasics comes into the building swinging for the fences. Like they alway do. But this time it's with your cat's best interest at heart, and your wallets sanity on the mind. There is a some beautiful about this product that doesn't truly look like much in the product shots. It's a simple tower with a bed at the top of a three level tree. But AmazonBasics strikes again with their elegant simplicity.
Beautifully Simple
Your essentials should line up with the essential practices of the manufacturers and designers of the things you're shopping for. This is the bread, the butter, and even the bacon (yes this analogy contains a butter and bacon sandwich) of AmazonBasics. Nothing is complicated with the Activity Tree, and that's exactly what makes it wonderful. Nothing is wrong with it either, which makes it the perfect tree for you to consider.
Sturdy and New
AmazonBasics has put together a wonderful design here with the Activity Tree, and there's not a whole lot to it. But we went over that already. What is awe-inspiring is the sturdiness to the tree. A solid square base, with a removable middle floor, and wide scratch-able support poles, the Activity Tree from AmazonBasics is one freshly designed, and well-built tower for your lovely furry friends.
Cost and Value
We're at the budget station here. Pulled in last stop, but this is truly the captain of the collective. AmazonBasics have always done their best at making top-notch, but cheapo friendly options for all things. We've done lists on Monopods, and Backpacks, and many other products that all have amazing AmazonBasics products as highlights.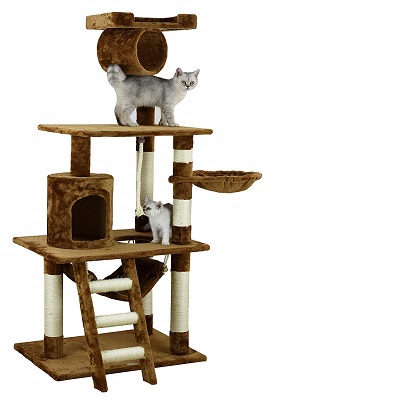 On the simplified end of the tree spectrum, in swoops Go Pet Club with their sixty-two inch Cat Tree. It's elegant, and simple, and comes with all of the basics. It is key to note that some things might not be a great size with this tree, as the product photos seem to have young kittens on them and it might skew the scale of things with this tree. But, the Go Pet Club has put together the essential of all things needed for the perfect tree.
Best Basics
It's probably the simplest of trees we have on this list, and it's perfect in that sense. Hense its high mark on the counter. The Go Pet Club Cat Tree is the best of the basics. It's got one cat bed platform on the very top, an extended hammock perch, a condo room with a dangling rope outside the door, and an actual hammock underneath. There's even a fuzzy tube tunnel near the top for perfect floppy cats.
Budget Friendly
Like anyone shopping for anything, you've definitely got to put together a budget before heading down the slippery slope. Here, the Go Pet Club Cat Tree lands a great spot near the budget end of the marketplace price averages, and considering that it comes with everything you might want or need in a tree for your furry fam, it's a no-brainer option.
Cost and Value
We've spend the last two points discussing (and proving) why this item is invaluable to anyone on the hunt for the best tree, but if saving a few pennies is your main motivation, then this Go Pet Club tree is the absolute charmer that you've been circling the party looking for. Under a hundred dollars gets your loving feline the tower it deserves.

5

. PARTYSAVING PET PALACE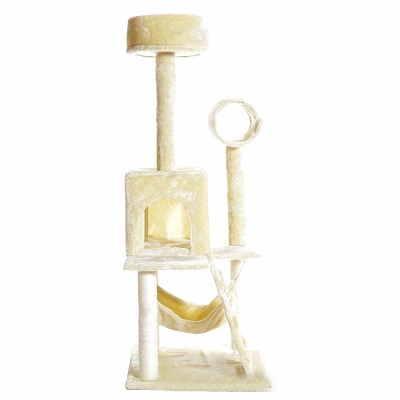 Do you have a sultan of meow at home? Well then you're going to want to pick them up a furry paradise, and the Partysaving Pet Palace could be the perfect choice for your little clawed ruler. This epically wonderful tower with condo room and hammocks galore is a really strong choice of budget-end cat trees that also comes with all of the premium cues you'll find on the other end of the scale.
Towering Power
The Partysaving Pet Palace is a three floored wonder, with high levels, the entire structure booms at 62" tall once completely assembled. The height of the tower is key because most cats, single or in families, like to have high places to relax and claim for their own sanity. The top peak of the Pet Palace has a lovely tube lounger, as well as a flat cat bed platform at the towers highest point.
Designed for Play
With many additions that you're just not going to find very often on other budget-friendly cat trees, the folks at Partysaver truly designed this towering platformer for the stimulation of your feline's desire to play. There is a ladder, a swinging hammock, a suspended hammock, a tube lounger, and a dangling rope at the center of the middle floor. There is tonnes here to keep your kitty's attention.
Cost and Value
There's so much value in a premium design at a budget price. So much so that it's even a wonder that Partysaver is offering a product like this at this price. You've got a premium, extremely tall, and well-manufactured tree for less than almost everything else on this list.

6

. New Cat Condos Premier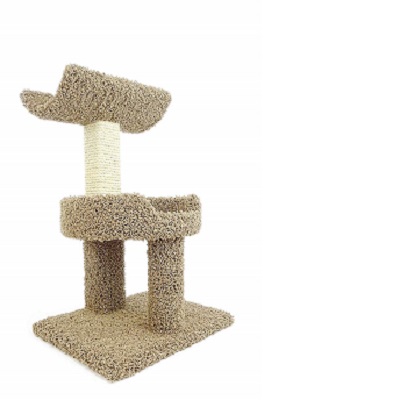 We made a quip earlier about giving your feline a fort (or temple to be more specific) in the mountains, and we may have bit off our analogy portion too early, because here we've actually got a temple. This time, it's atop a grand old tree (not really, it's just designed to look like that) instead of a mountain. New Cat Condos goes all out on this premier playground cat tree.
Temple Tantrum
Have you seen this thing? It's okay. We'll give you a second to scroll back up and take another look at this temple. Not only did the sharp folks at New Cat Condos design a temple-looking cat condo with a large room inside, but they turned the iconic Japanese temple design into not one, but four cat lounging platforms for a roof! It's so great!
Wise Oak
Not only is the Premier Cat Playground from New Cat Condos made out of handcrafted solid wood, but it is also designed to resemble a gigantic tree. With two large platforms leading up to the temple, and one raised platform above the temple. The poles are all covered in high-quality sisal rope for scratching, and the entire tree stands an astounding seven feet tall.
Cost and Value
Literally every corner of this tree oozes premium quality, so you're going to find a rather staggering price tag attached to it that might make your knees quake a tad, but keep in mind the lifespan. Down to every detail, the Premier Cat Playground (kind of a weak name for such an amazing cat tree) is one of the most luxurious trees available today.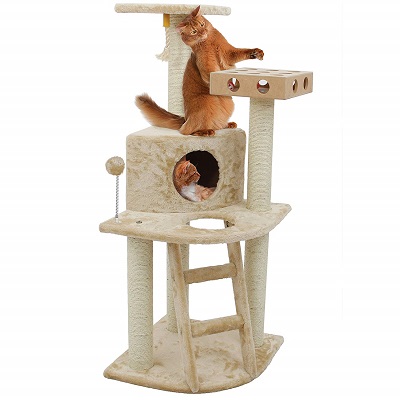 Furhaven might sound like an odd stop on the tour of the swiss alps, or a small german town known for its vast population of hairy dude, and the photoshop disaster that is some of their product photos might dissuade you, but we assure you this is the king of overdone, and underpriced. Everything on this tower would have you suspecting a large (and most likely three-digit price tag), and that would be a rightful assumption. But you're wrong.
Big But Budget
One of the most illustrious products on our entire list, and here it is combating some of the cheapest on the same list for a spot on the best charts. There's so much here, and to think that it's all for less than some other less equipped trees on the market is a little bit silly, isn't it? You might ask where they cut those corners, and it's usually in the thickness, and solidness of the board. You shave a lot of money off the manufacturing if you take out the full wood planks and use particle boards.
So Much For So Little
Your cats don't need a ton, but wouldn't it be nice to offer them more than they need regardless? Well that's the power of this abundantly accessorized tree on the budget build. There are three peak platforms (one of them includes a Busy Box toy), it has two hangout rooms (a giant one near the bottom, and a smaller one near the top, its got a metric ton of scratch areas, and a set of stairs.
Cost and Value
We'd write the average price of this tree from the varied sellers we found, but you wouldn't believe us if we did. Instead, we will regale you with how the Furhaven Tiger Tough Cat Tree is the most bang for your buck that you might ever find in the cat tree market. Getting more for less is always a good option when reviewing offerings out there.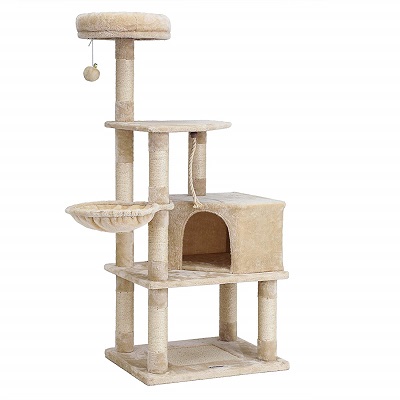 The second SONGMICS Cat Tree to grace our list, and you'll notice real quick that there's a lot of gold standards on this tree when you first glance at it. And you'd be right. There's something about the way that SONGMICS goes about putting these designs together that makes them highly functional, and worthy of far more than their budget price might insinuate.
The Power of Base
I might have just made a remark about hallmark signs, and the basic standards on this tree, but I'm going to immediately rebuke that while pointing out one thing this tree has that almost no other on the market has included, or will ever include; a scratch base. In almost every single instance, the base of the trees are either home to a cubby hole, or just standard flat surfaces designed to provide the tree above it with a sturdy base structure. But the Condo Tower from SONGMICS has a scratch pad in the middle of the bottom base!
Perch and Room
Instead of picking one of these two features to highlight here, it was important to take a second to look at both. The top peak of the tower has a cat bed surface that is wrapped in a far thicker edge plush that almost any other tree on the market. The condo room on the first floor is also extremely roomy, and will make an amazing hidey hole for even the thicker of our friendly furry friends.
Cost and Value
This tree from SONGMICS is in a heated battle against some of the other budget trees on this list, being that it's roughly the same price as both the AmazonBasics, and the previously mentioned Furhaven. But this guy does a few things the others don't, and at a budget price, it's easy to see the value here.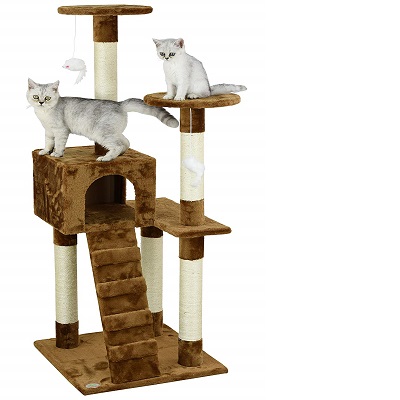 Another repeat company here on the cat tree circuit. Go Pet Club is widely known for their high-quality in both care of their designs, but also the materials used in manufacturing those designs. The fifty-two-inch option from Go Pet Club is on the more simplified end of their elaborate spectrum, but the price is also extremely affordable, making it a prime option to put on your shopping list.
Essential
The key to ensuring your feline is going to love their new home within your home is having the essentials. The 52" Cat Tree from Go Pet Club really knocks down the three most important parts. You've got a condo room for a bit of privacy, or hiding. There's not one, but two raised and solitary platforms, and there are more than one dangly things for the swatting pleasure of your furry beasts. Hitting checkmarks next to all of those types of additions makes this a very great basic tree.
Not All Big Things Rule
Often, us with feline family members don't live in homes with an abundance of space -- let's face it, most people just can't afford to have a gigantic abode -- which makes it awfully difficult to spend a few hundred dollars or more on a gargantuan cat tree for your fur-babies. The Go Pet Club 52" is a great choice if space isn't abundant, because not all great products have to be the biggest.
Cost and Value
One of, if not THE cheapest models on our list, and one of the cheapest (of any worth) on the entire market. Go Pet Club wants to put the Go, and the Pet together without making it feel like you have to part with the better part of your grocery budget to do so. So go get with the club, and find one of these bad boys!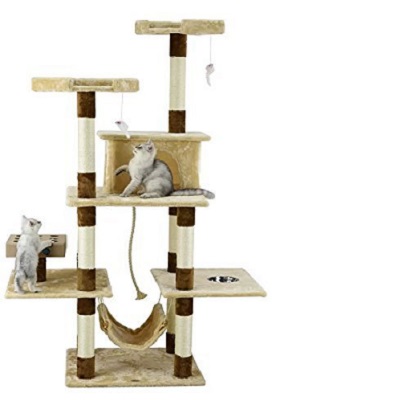 When you look at the main (and only) product photo of CozyCatFurniture's Giant Floor to Ceiling Cat Tree you probably think of that one friend that always takes things a little too far, and you're constantly forced to breathe "woah .. woah … Greg, calm down. Take it back a step" into everyday situations because Greg is a hyperactive overachiever that never comes out on top. Well, while the CozyCatFurniture tree didn't take top spot, it earned a space on this list base on it's exuberance. Something Greg will never know.
Floor to Ceiling
We've mentioned height as both a positive and a negative on this list so far, but it truly depends on how high you're looking to go. Cozy Cat Furniture went a little overboard and made a tree that goes from your floor, all the way to your ceiling. The adaptable peaks of the tree can reach from 85" high all the way to 95" tall fully extended. Now that's a tall tree.
EVERYTHING!
I mean … just look at it! It's like a movie script that started as a board filled with all sorts of crazy and great ideas, turning into a movie where none of those sticky-notes were removed from the board. Just throw everything at'em! The best news is that your cat is bound to find something or somewhere it enjoys on this gymnasium-sized cat tree.
Cost and Value
You'd expect an abundance of stuff like the Cozy Cat Furniture Floor to Ceiling Cat Tree to cost you an arm and a leg, but it's fairly close to the budget end of the market (especially when you consider that it's practically three entire trees in one package. Have fun building this city-sized playground!

Subscribe to our Newsletter