Best Camera Harnesses Reviewed & Rated for Quality
In a Hurry? Editors choice: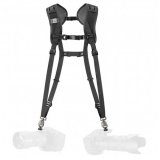 Test Winner: BlackRapid

Anyone that has ever
gone out to take photographs
, or done so for work, knows that there is a real need for gear and accessories. It's one of the things that truly make the job easier to do. Camera harnesses are one of those tools that many photogs use because it helps ensure that the photographer doesn't always have to be holding their camera. Because doing things with your hands can be useful.
Some of us, use harnesses to be able to use more than one camera during an event. Instead of having to swap out lenses, or bring out your kit, having two or more full bodies and lenses ready to go for different uses, makes the job way easier.
Here are the ten best camera harnesses on the market right now.
Standout Picks
Criteria Used for Evaluation
Use
Some of you might be reading this and saying out loud to your computer screen "but Wyatt, if all of these products are harnesses, how are their uses different" and to that I say … well … nothing, because I can't hear you, because I don't live inside of your computer screen. If I did, however, I would say, that all of these (or most of them) have different uses as in, how they attach to the photographer, and where or how they hold onto your camera. So it's different.
Ask any photographer, the world over, and they will tell you five stories about failed attempts to integrate accessories or tools into their life of shootinTherefore maybe only having a single one that states that it worked. Therefor, it's a large scale of trial and error when it comes to figuring out what accessories are the right ones for you. Including, which way to use a harness. Each of these, in their own way, holds onto your gear in a different way, or on a different part of your body and it's up to you to know or understand what your body is doing while you shoot, giving you the most understanding of which kind of use is best for you.
If you're the type of photographer that likes to run around, then maybe a leash harness isn't the best idea. That will force you to have a hand on your camera regardless of holding it, in order to keep it from swinging about violently. Other harnesses like chest or hip ones, will have to vetted depending on whether or not you have those areas clear whilst doing your job. If you're taking photos while hang gliding (don't ask), a chest harness is useless because you'll already be wearing another harness.
You see, it's all relative to the type of harness it is, where it lives on your body, and who you are, as a photographer. Understanding which use case you need to be the best at what you do, is vital when heading into this vetting process. Which is why use is probably the most important criteria to judge these harnesses on.
Capacity
Normally when it comes to the capacity of things, we're looking at the specific amounts at which can fit within something, but as that all goes with containers or, it's a bit of an unfair criteria to put slings or harnesses up against, don't you think?
When we discuss the capacity of a harness we're specifically talking about how many cameras this particular strap will hold. This is one of the most important things you can judge a camera harness on, and it's a bit of a person-to-person problem. Every photographer on planet earth has a different way of going about things, and ultimately it wouldn't be super farfetched for us to sit here and pick apart everyone's needs, which is why though this criterion is very important, we're just speaking about it vaguely.
Whether it is you need to have one extra camera on you, upheld by your hands, or two different cameras, or even three, finding and discerning the right amount of capacity you need from a harness can be one of the best things you did while vetting options. The last thing you want to do is have to wear more than one harness if you didn't get enough, and it just becomes super uncomfortable in the long-run.
Like we said before, it's ultimately up to you how many you need to have on a harness -- personally, I'm a two guy. I shoot with two for most jobs, and being able to let both of them go can be a real lifesaver at times -- and there are plenty of options to choose from. These are the reasons that the capacity of a harness can be so important.
Value
The value of consumer goods is something that each product has inherently. There is no product without value, but there are products with a way smaller value than others.
(okay, that might be a bit of an overstatement. There are useless things in the world, and those don't own inherent value, but we're not really talking about useless things in the majority of conversations we have with consumer markets)
Anyone can find the value of a product, and using our easy to remember equation, you can do it easily too. All you have to do is take all of the criteria one would use to judge a product (so in this case, it's Capacity, Use, Adjustability, and Features) and mark those against all the things you need from this product. One you have that general idea, you put it up against the price tag of the product. Why is this a fair court for all products? Well, because expensive products will have far more of those criteria, but cost more, whilst inexpensive products may have less, but they cost more. Their value when pitted against each other is different, but they hold roughly the same value when evaluated as individual products. This is why the math becomes fair.
Plenty of people also decide how much they are willing to spend prior to the exercise of vetting, and that's okay too, because anything that is a strict rule, that allows you to narrow your search, is better for the consumer experience.
Denoting the value of all products vetted is one of the most essential parts about shopping, for anything, for any reason.
10 Best Camera Harnesses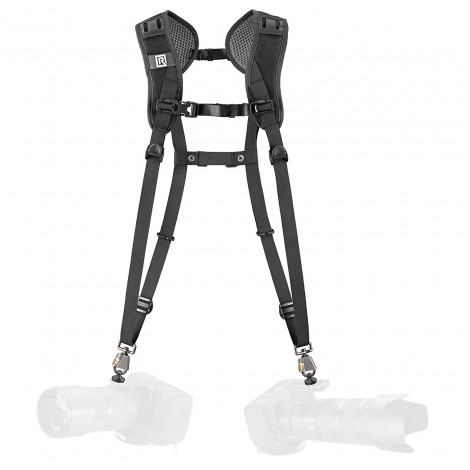 There really isn't another brand as well known for their camera straps, and extra camera accessories like BlackRapid is. There's an astounding lineage of just amazing camera straps of all kinds, and bags of all sizes, with the BlackRapid brand logo on them, and photogs from all across the world. This, the BlackRapid Breathe Double Camera Harness is the absolute pinnacle of the market, and goes to show all of the prowess that BlackRapid holds on the leash game.
Dual Cameras
With two shoulder straps, and identical camera straps on both sides of the body, the BlackRapid is excitingly capable of having one camera on one side, and a second camera on the other side. Each strap has a single camera-lock screw hinge that have the ability to hold onto your camera with a sturdy grip. These are the gold standard for camera locks, and look stunning to boot. There is an extra lock on the clip as well for added peace of mind.
Adjustable Length
It's surprising, but a lot of camera straps -- especially the hip and cool leather handmade ones -- can lack much adjustability in the length department. The BlackRapid Breathe Double Camera Harness, however, is not only adjustable in the length from your shoulder to the camera attached at the end, but it's also adjustable in the shoulder for fit preferences, and the support straps on the back are adjustable for a good, and tight fit.
Cost and Value
One thing that comes with the long pedigree of quality work, and an abundance of popular products is that the quality is always on the rise, as is the reputation, as is the price tags. But don't fret, because almost everything with a BlackRapid label on it is worth its weight in gold. These camera harnesses have a whole lot value just dripping from them. They are worth every penny. Just ask anyone that has ever used BlackRapid products.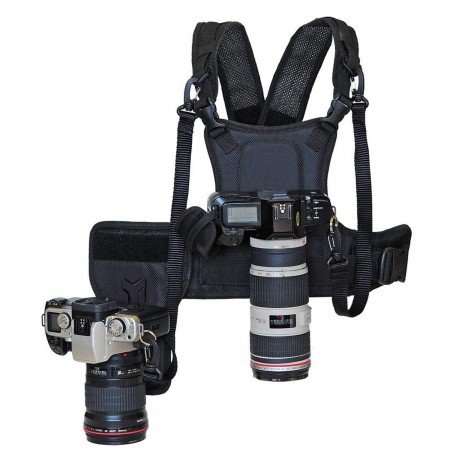 While we could have gone into something with a clever or absolutely recognized name for our number two spot on this list, we decided to head into one of the more unique and useful camera harnesses on the market, from the little-known Micnova company. They have a long line-up interesting lightning and movement triggers, hand straps, and micro, macros full reverse or push forward adapters.
Interested Duo
Part of what makes the Micnova MQ-MSP01 Multi Camera Carrying Chest Harness is that it has a classic hard-edged chest harness, keeping your camera right there, in front of you, with absolute ease of access. But it also has a side harness attached to the rig. This sits on one side or the other (you can switch it), and sits right above your hip. Both of these camera holsters make you feel like a wild west camera slinger, and are extremely handy.
Security Promises.
While the normal slide and lock mount attachment blades are the true promised way to secure your camera to things such as tripods, slings, and so much more, there is always that little voice in the photographers mind that says "your stuff is not safe here", and maybe that's not a problem all photographers have, but many do. The Micnova Chest Harness has rings, and hooks to attach your standard camera straps to for an added level of security.
Cost and Value
Though Micnova isn't the brand that invented this type of harness -- in the consumer business we call this an ode, a remake, or a budget-friendly version -- they have translated the set-up and nifty dual camera harness into the budget-friendly realm with ease, and grace. This king of harness (cameras locked to your body) isn't for everyone, it's a very well made, and affordable for almost everybody.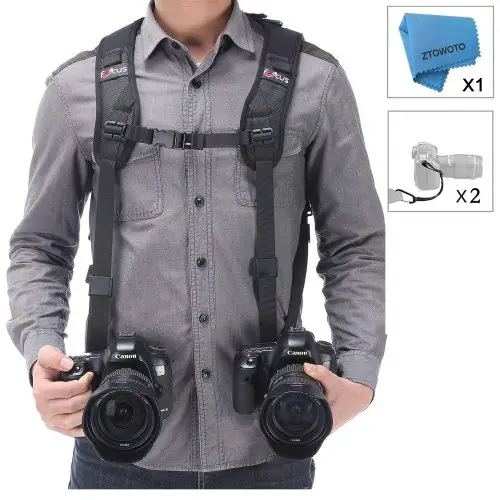 Our number three spot on this list is going to go to a very familiar camera harness, and that's because it's the budget-friendly version of the BlackRapid Dual Camera Harness that was in our top spot, and the reason we didn't deviate from the beloved very far in the top three is because this is the quintessential camera harness design, and we just can't get away from it.
Adjustable Everywhere
One thing that a lot of folks may not realize then they are shopping for camera gear and accessories is that most items are one size for all, and this is because there are usually a lot of adjustments able to be made. The Ztowoto Double Camera Harness has quick release length adjustments all over the place. From the shoulder pads, to the lengths of the camera straps themselves, everything is adjustable.
Non-slip Shoulders
There is never enough insurance that things like camera straps and harnesses will hold and not slip around all over the place while you move about trying to get the perfect shot, but the awesome folks at Ztowoto made sure that such a thing doesn't pain your mind. The extra padded shoulder harness, has a comfortable, and breathable material, but most importantly it has an anti-slip external material that keeps the shoulder harness from moving around at all.
Cost and Value
The real reason that this product is in such high regard when it comes to available camera harnesses is that it's essentially the same thing as the astounding BlackRapid dual camera shoulder harness, but at a fraction of the price. Making it a great option for those wondering if the dual strap sling-style camera harness is the right one for them, without the major investment. Who knows, maybe you'll fall in love with this one and won't desire to head down the more expensive road.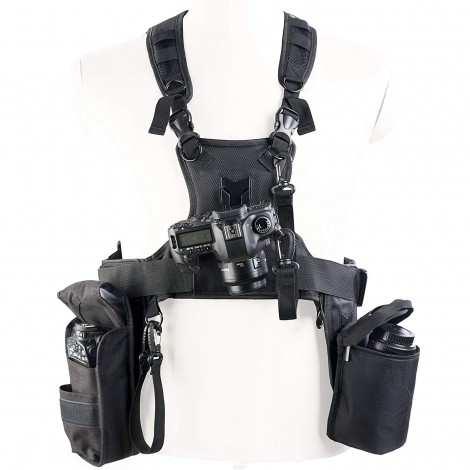 The Movo MB2000 is more than just a harness, and we firmly believe that it deserves a very high spot on this list, for taking the harness idea may be a bit too far. Some will not be able to help themselves but laugh at some of the product photos in what looks like a weird mech cosplay gone wrong, but the Movo MB2000 is looking to be the bag that straps to your body like no one's business. It's the internal bag, turned inside out, and built into a harness.
Holds Everything
Chest harnesses are a pretty popular type of camera harnesses and there isn't a whole lot of room for adaption of the style. So it's a bit of an awesome surprise when people see things like the Movo MB2000 where innovations and additions that we didn't know we wanted, are presented in droves. Not only does this camera harness have a front-mounted camera holster, but it can hold two pouches, that can be used for a flash, and an extra lens. Even the back of the harness can be used as a scabbard for your mono or tripod.
Ergonomic
Thanks to a deeply wellmade design, the Movo MB2000 boasts one of the most ergonomically friendly harnesses on the entire market. The distribution of the weight, and the gear, is key to ensuring one's shoulders, or back do not get sore over time -- which, if you've ever carried around photography gear, or even just a camera, for a few hours, you'll know just how uncomfortable it gets. So we give major props to Movo and their MB2000 for thinking of the long-term usage in their designs.
Cost and Value
Landing somewhere near the middle of the price range that some would expect to pay for a decent camera harness, the Movo MB2000 Camera Carrying System Vest with Holsters has a pretty palatable price for all of the utility and thought that comes with the product. There isn't anything premium about the make, which is why is falls under the three digit and above price-point, but that is great reason to get in on the ground floor.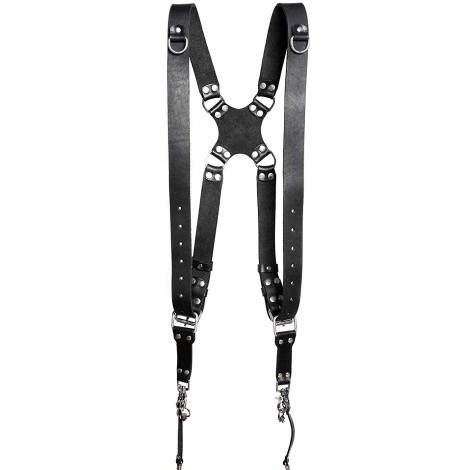 Earlier we spoke about the true blue hipster leather dueling strap harnesses and here we've finally got one to spotlight for you. This, item from Pro In Style is the exact thing one speaks about when discussing hip and cool. It's popular almost by definition, and we think it must be, at the very least, considered by all those looking to get a harness. Because it just might be the one you want.
The Style
Even though these harnesses are just as useful as most other dual shoulder and two camera harnesses, there's not avoiding the giant popular elephant in the room; hipster style. It's a huge fashion trend, and for the past decade is has been evolving even further into the leather built, handmade looking tools and accessories. The Pro In Style Leather Harness truly portrays this trend with ease and style. It's one of the coolest looking harnesses on the entire market.
Credits Roll
The ever-present downfall of putting too much time and energy into the look and feel of a product is that use and quality might drop off, but that isn't the case with the Pro In Style Camera Strap Two Camera Dual Shoulder Leather Harness (man, that's a mouthful). On each shoulder sits a strap with an adjustable length, and an interlocking mount camera pin to attach your body to via its bottom-side mount screw.
Cost and Value
There is a lot to be said for high-quality structure materials, and there's nothing more sturdy (in most cases) than the use of leather, which is why a lot of artisanal goods and accessories are made with the materials. All of these things go into producing a product that will have a higher asking price, and for the most part, it's worth it. Especially in structural integrity. Though, with cases like the Pro In Style, you do lose out on having a ton of features.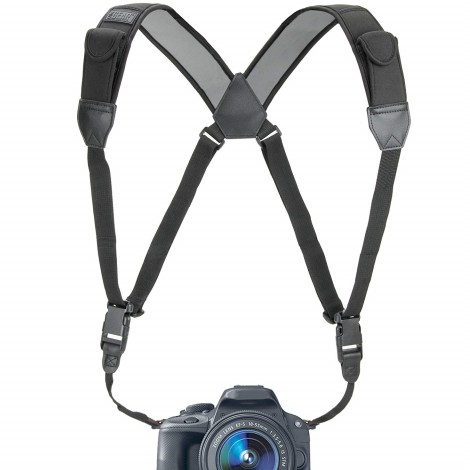 Sometimes, products are made not to simply change the name of the game, but to improve on something that needs to be improved upon. In the case of camera straps, or harnesses, one of the biggest drawbacks to dangling your gear off your body is the soreness and difficulty in usage for long periods. This, in essence, is the exact, and only purpose of the USA Gear DSLR Strap Chest Harness.
The Use
This chest harness from USA Gear for DSLR cameras isn't necessarily trying to be what we would all consider a harness, yet it is. What it's trying to do, however, is replace the common in-box camera strap, because throwing a heavy camera around your neck via a single two-inch wide strap is crazy harmful in long exposure. So, USA Gear revitalized the strap by making what is essentially the exact same thing, only one that is ergonomic via even weight distribution around the shoulders.
Extra Stash
One thing that all photographers want is more stash pockets. And it's one of the biggest drawbacks of using the shipped brand name camera strap out of the box -- other than advertising a brand, obviously -- the lack of storage. But the USA Gear DSLR Camera Strap Harness gives the wearer utility via multiple memory card storage pockets, pen pockets, anything pockets. It's not only a better update on the camera strap for your neck, but also for your pockets.
Cost and Value
Being that it's not really trying to play the same game as the rest of the harnesses on our list, and that it adds more comfort, and a few pockets, but otherwise is a normal camera strap, the USA Gear DSLR Camera Strap Chest Harness isn't going to cause fury in anyone with a high price. Rather, the budget-friendly, and neck-friendly option from USA Gear currently sits at the lower price-point on our entire top ten.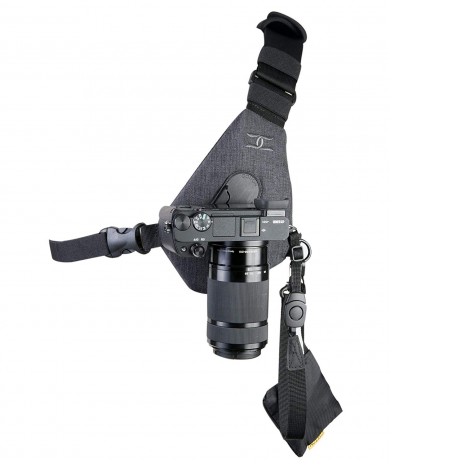 Sure, while you think about the products in a market like camera harnesses, you will come across a bunch of different and cool designs, but there isn't much that catches folks off guard. As of now, we are pretty sure what we're getting into when we think about what a camera harness will and should look like. Skout brings a whole lot of flavor to what was set to be a pretty standard run through the top ten.
Access is Key
Probably the biggest key and draw to a camera holster lock system strapped to your chest is the immediate, and fast access to your gear. Whether it be your extra, and separate equipment, or your side camera, or even your main shooter, there's a really astounding clip on the front of your chest that is never more than … well .. your check away. Keeping your best stuff really close at hand is key to getting the shot. It can often mean the difference between knocking it out or not.
The Line Grows
Even though we specifically chose the Skout for Camera, the Original Sling Style harness as a specific product, there is a lot to love about the entire line-up of chest camera harnesses in the Skout line-up by Cotton. There is a Dual Camera Harness, a Dual Camera & Binocular Harness, and even just the Skout Binocular Sling that isn't even made for cameras, and is still an amazing product for anyone that might need one.
Cost and Value
There is a lot of amazing design and function that goes into the Skout for Camera, what the company claims is the original camera sling style harness. It's a wonderful product of stellar engineering by the folks at Cotton, and proves to be one of the coolest and most useful camera holster possibly even on this list. At a bit of a premium price, there's a lot to love about this very particular camera harness.



Here we have another stellar harness, this time from Cotton Carrier here for you to look at. This is the exact thing you're thinking of when you consider what a DSLR harness would look like, and it comes with all of the amazing quality and forethought that anything that this brand makes.
Twist and Lock Mount
Thanks to a grand patented design and manufacturers locking mechanism, the Cotton twist,and lock harness clip is one of the most secure locking systems on the market. It not only ensures that your camera will remain in the lock system while the photographer goes about their active hobby, or through work without ever actually having to worry about the safety or secureness of their camera through it all. It's a tragic pain in the mind, to have a constant concern.
Sturdy On You
There are a lot of reasons why one would want to use a full two shoulder chest harness, and one of the absolute most important aspects of it is full structure and sturdiness on the body. No loose straps, no from the box camera brand strings, it's all attached, it's all very sturdy on your body. This, the Cotton Carrier G3 1 Camera Harness has an attached rain cover, quick release and connect clips, soft internal paddings, and breathable materials.
Cost and Value
Much like the last item on our list, getting into the Cotton level of quality and care put into manufacturing and materials, you're going to pay a bit of a premium. It's not a name that is well known, but it brings a huge history of amazing products, with a very precise focus on making them in the best ways, with the best stuff as possible. There comes a wide trust in quality buying into Cotton.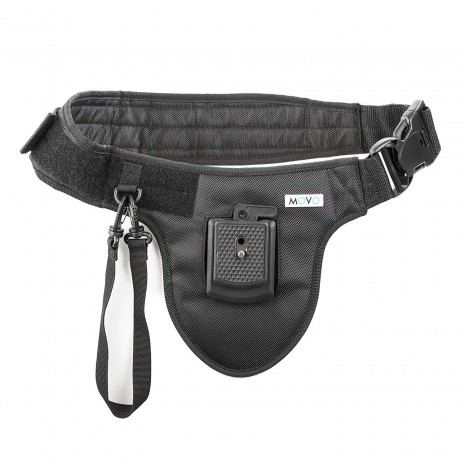 Jumping back into the Movo world, we're going to pluck out another one of their really amazing products that does something a little bit different than almost everything else they have on offer. The Movo MB800 is just that, a waist belt camera or gear hook holster, and that could fall under the "not technically a camera harness" but we think that is applies well to this list because it serves the same purpose as all of the harnesses in our guide.
Off Shoulders
It's pretty evident, and obvious that the largest positive to purchasing and using something like the Movo MB800 Camera Holster Belt is that it takes all of the weight off of your shoulders. Much like the initial purpose of waist strap gig or gear bags, or even the idea that upgrading from the out of the box camera straps, there are a million and one reasons why taking the load of heavy equipment off of certain points on your body is a very good idea. The Movo MB800 takes all of it off your shoulders, and feels like your wearing a bit of a heavy fanny pack.
Comfortable
It may not seem like a worthy adventure, but there's a lot to be said about getting a very comfortable waist bag, or fanny pack. In the same vein, it will always be a far better time to take the opportunity to pick up something more comfortable in the camera lock, harness, holster department. In fact, everything you should be vetting should be comfortable. Don't buy something that may or may not be uncomfortable. It's beyond sane reason to subject yourself to that.
Cost and Value
Movo as a brand name comes with a few pretty solid guarantees. Almost always, their products really put forth a heavy handed effort to make things as comfortable as possible for consumers and wearers alike. They are also very well thought out, meaning you will more than likely get far more unique and interesting things. They are well made, and in the case of the Movo MB800, they are made to keep your shoulders safe from struggle.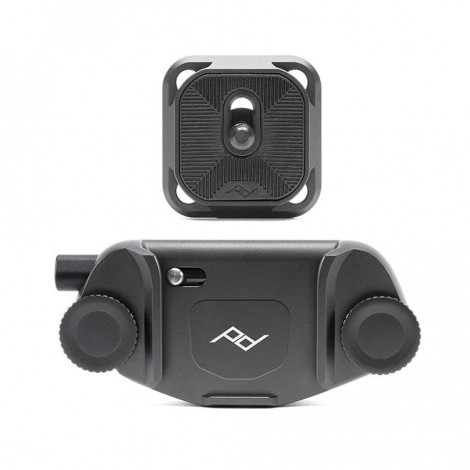 If you've read any of our camera gear buying guides, especially if they were written by me, then you know just how absolutely astonished I am, consistently, with the Peak Design offerings. No matter the type of product, Peak Design brings so much punch, so much versatility, and absolute one of the highest amount meticulous detail in the design. The Peak Design is one of the most iconic invented in recent imaging gear history.
Goes Anywhere
Whether or not you want to attach it to your pant belt, a strap from a waist bag or fanny pack, a backpack shoulder strap, or even the strap of a camera that you're already wearing. The beautiful nature of the Capture Camera Clip (now in its third iteration) is that it can almost clip onto anything. It allows users to slide and lock their camera or lens to almost any surface you wish.
Strong as an Ox
As I walk around a shoot or event with my large second shooter DSLR hanging off my hip, thanks to the Peak Design, folks always stare and ask questions about how I feel so confident regarding the safety of my expensive gear, and to be honest, I had those concerns when I started using it too. But it was quickly diffused by the extremely, alarmingly stronghold that the two pick twist lock has on whatever surface.
Cost and Value
Peak Design is a brand that is quickly taking over the world of amazing and top-tier camera gear and accessories. Their reputation as the strong and quality company that was born out of kickstarter, and has done nothing but shockingly impress with every new invention and revolution to common camera gear that has changed the future and face of this industry. The Camera Clip is Peak Design's grandest invention, and brings holding mounts for your camera to wherever you need it.

Subscribe to our Newsletter