Best Bread Makers Reviewed & Rated for Quality
In a
Hurry? Editors choice: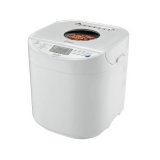 Test Winner: Oster Bread Maker

There's nothing like walking into the
kitchen
, say, on a cold and snowy morning and being met with the aroma of freshly baked bread wafting out of the oven. There's nothing quite as comforting as the tastes of a freshly buttered piece of bread, slathered with their favorite jam and washed down with a huge glass of milk. Good
food
is the best. Homemade bread is the best. Looking to get into making your own, or to replace your current maker? Great! Check out our list of top ten bread makers.
Standout Picks
Criteria Used for Evaluation
Materials
Every one of these products has baking pans included. Most are non-stick aluminum. The thing to remember is that if you want thicker, crustier bread crusts, then you are going to want to choose one that features a thick aluminum baking pan. It is also essential to choose a bread maker that has removable baking pans for easy clean-up. Most of the top-rated in our top 10 list come with removable pans that can easily be cleaned, some can even be put in the dishwasher.
Features
The kneading paddles or blades are responsible for kneading the dough that is in the machine, to begin with. You must have good quality paddles for the dough to knead properly, so you don't end up with awful tasting, lumpy bread. The top-rated on our list have proper kneading paddles, some of them even feature collapsing paddles for better use and storage.
While there is a lot to be said for express bread makers, especially, if you can't wait to have a warm piece of bread, slathered with butter and jam melt in your mouth, however, you don't always want it to be done right away and might want to have it ready for breakfast the next morning. That's when a delayed timer comes in handy. Most of the best products on the list feature delayed timers, ranging from 10 to 15 hours in total. , get your mix ready, set the timer, and go to bed. When you wake up the next morning, your bread will be prepared to eat with your morning coffee. Now, how is that for a morning treat?
Capacity
Poundage of bread it can produce is different for many units. The top-rated on the list can make anywhere from 2-pound to 5-pound loaves with ease. However, what capacity you choose should be determined by the size of your family, how much they love bread, and how many months you are going to feed. Remember, sometimes you may have friends and family come over, so it's a good idea to think ahead.
Style
As with every other small appliance that graces your kitchen, these come in different shapes, styles, colors, and designs as well. The choice of what appeals to you, and what design you want is completely personal. The top-rated on our list of top 10 come in a wide variety, to appeal to everyone, no matter the type of kitchen you have or the decor that is in it.
Value
The price of the product has to be taken into consideration as well since they do come with different price points attached. When it comes to pricing, the more gadgets, buttons, and extra features included, the higher the price of the item is going to be. If you are on a budget, there are items on our list that are high-quality and dependable in the $40 range. If money is no option, then there are a few high-end items on the list that range in the $300 category as well. All are durable, but some have more features than others do. The choice is yours on which you choose to grace your kitchen.
10 Best Bread Makers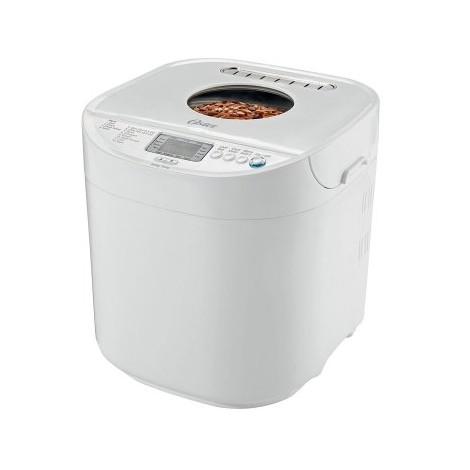 It's no surprise that the first item on our list is made by Oster. They are a well-known brand and have been trusted to put out quality products for many years now. This express bread maker is no different. The product is 650 watts and can make up to a two-pound loaf of bread, making it excellent for large families. Featuring 12 bread settings and three crust settings, this is the perfect way to make bread for the family you love.
Easy as 1, 2, 3...
This product bakes the items you love in easy to understand steps. You can set it and forget it, only having to mess with the maker when it signals you, it's time to move onto the next step in the process.
Two Ways to Bake
This product features the capability to make bread in less than two hours with the specific feature, or the set the timer for 12 hours and wake to the smell of fresh loaves wafting through the house the next morning. The choice is yours, whichever you prefer.
Cost and Value
Who can put a price on food that is fresh, tasty and full of nutritional value? Even if you did, this product is well worth the money asked for it. Never, have to eat store-bought loaves again with this handy appliance.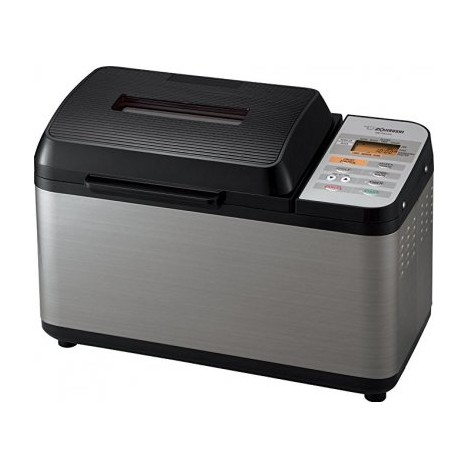 Wafting in with smells of fragrant loaves is the Zojirushi in the next spot on our list. This product is capable of baking a two-pound traditionally rectangular loaf for family and friends to enjoy. It also features a gluten-free cycle for those who want that added nutritional value. Sit down at the table with friends and family in style with these tasty loaves.
Features Dual Heaters
This item features dual heaters on the bottom and the lid of the product, ensuring even baking and browning on every loaf, every time.
Features a Large Viewing Window
No one wants to have to guess when the bread for dinner is going to be done, and many kitchen chefs enjoy watching as the loaves rise. This item features a large viewing window so that you can do just that.
Cost and Value
One of the higher-priced items in this buying guide, the dual heaters, large viewing window, and the LCD make it worth the higher price. The many menu settings are a bonus as well.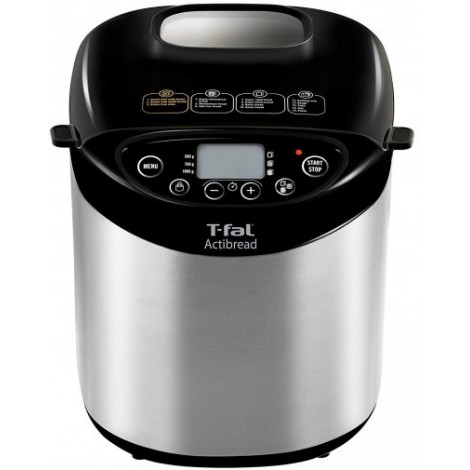 Hopping in the next spot on our list is another well-known brand. The T-Fal ActiBread bread maker is perfect for making those gluten-free recipes. It comes in elegant silver design. So, it will not only help you make nutritional, fragrant loaves but look good in your kitchen doing it at the same time. It has 15 programmable settings, three crust settings, and three loaf size options to recommend it. It's top-loading, has a display window, and features a 15-hour delay timer as well.
Extras Included
There are many extras included with this product. You will love the measuring cup and spoon provided. Also included are a hook, a kneading blade and even a recipe book with 25 different recipes for you to try.
Features a Digital LCD Display
Also, featured is a digital LCD, which makes it easy for you to see the screen and choose the function you want.
Cost and Value
While this is one of the higher-priced items on the list, the extras included, combined with the three bread sizes to choose from, makes it hard to pass this one up for sure.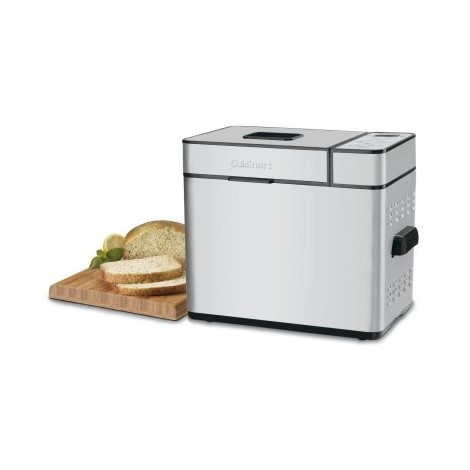 Next up is another well-known name. Cuisinart has been a household name in the small appliance department for years. This weighs in at being able to make 2-pound loaves, three crust settings, and the ability to be delayed for up to 13 hours. It also features 12 preprogrammed menu options and is said to make some of the most fragrant loaves around.
Extras Included
Not only does this product make loaves that will melt in your mouth, but it also comes with a few extras included. With handles that stay cool for added safety, there is even more to recommend this product. This maker also comes with some extras. These include recipes to try and measuring cups and measuring spoons to help you use the correct amount of ingredients to produce amazing loaves for your family and friends.
Easy to Clean
Not only does this item feature a viewing window, but it also has a removable pan, removable lid, and a removable paddle for quick, easy cleanup. Not only is making bread easy, clean up is as well with this product.
Cost and Value
One of the less expensive products in the buying guide, the name brand speaks for itself in the value department. Add in the extras and the easy cleanup, and this becomes one of the more affordable items on the list.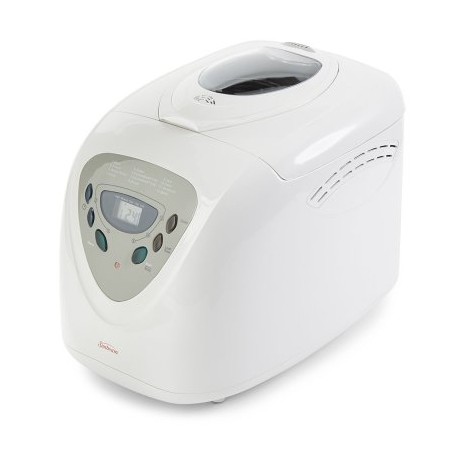 Our buying guide is chock full of brands that are the best in the market today. Sunbeam is on the list with a 600-watt programmable item that can make 1.5 to 2-pound loaves for a family. It features three-shade crust selections and 12 cooking functions for much more than baking the bread you love. It also features a large LCD, and the buttons are intuitive to take the guesswork out of your baking.
Features 12 Cooking Functions
This item features 12 different cooking functions, including whole wheat, basic bread, French bread, quick, sweet, two for different sized loaves, cake, jam, dough, sandwich, and bake. There is truly nothing this product can't do in the bread department, wouldn't you agree?
Features a Large LCD Display
Squinting to have to see buttons on an appliance is one of the worst things in the kitchen. This item features a large LCD, so you can see perfectly to use the cooking functions and more.
Cost and Value
For everything it does, this is an affordable product for sure. Just the cooking functions and the large LCD for easy viewing make this item one to watch out for.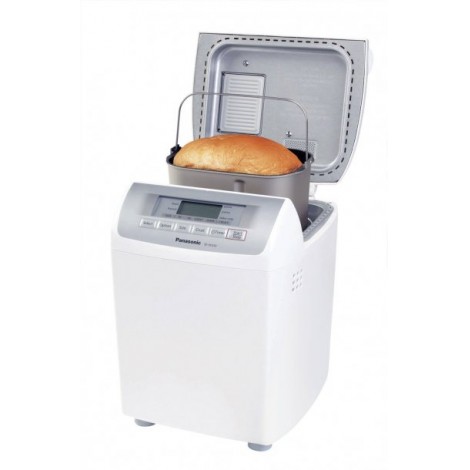 Panasonic is a well-known name that delivers quality small appliances in spades. The bread maker is no different and is a high-quality machine that features an automatic nut and fruit dispenser, two loaf sizes, and five baking modes to choose from. It also features a large LCD display screen for easy seeing.
Features a Large LCD Readout
This item features a large LCD readout, which makes it easy to set and keep an eye on the different steps in the process.
Five Different Baking Modes
This item features five different baking modes, which ensures that you have fresh bread, in different ways, no matter what day, month, or season it might be.
Cost and Value
One of the higher-priced items on the list, the name speaks for itself. The large LCD readout and fruit and nut dispenser are bonuses as well.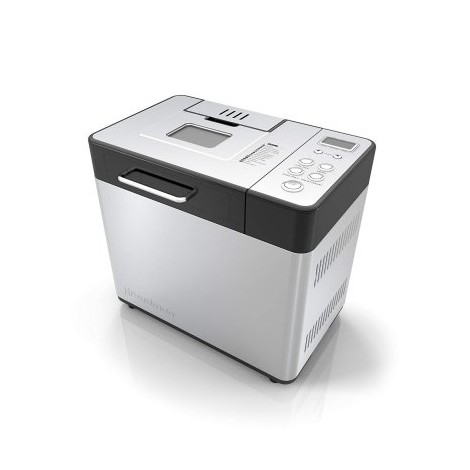 Next up in this buying guide is Breadman. It has the perfect baking technology and even features a collapsible kneading paddle. It features 15 baking functions and includes a measuring cup and spoon as extras. From the baker to the table, this is the loaves of bread that will have your family asking for seconds.
Features a Nut and Fruit Dispenser
No longer do you have to wait around to add the nuts and fruits to your more complicated recipes. This item features a nut and fruit dispenser. Put the nuts and fruits in the machine, and when the time comes, they will be automatically added to the mix.
3 Loaf Sizes to Choose From
With this machine, you can choose from three different loaf size options. Choose from 2-pound, 3-pound and 5-pound options and then choose from three colors for the loaves as well, with light, medium, or dark settings.
Cost and Value
This is one of the more reasonably priced products on the list. The fact that it comes with a fruit and nut dispenser and your choice of three different loaf sizes makes it one for the ages.

8

. Hamilton Beach Bread Maker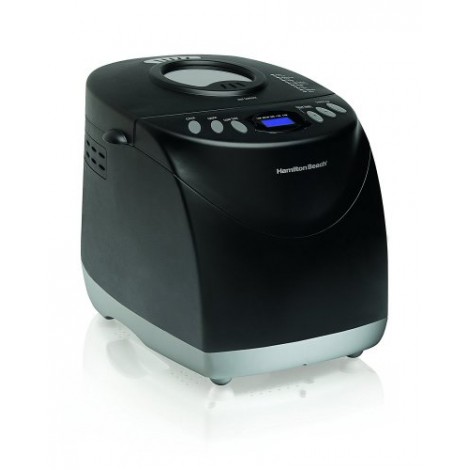 Coming in next on the list is Hamilton Beach with a product that makes fragrant bread like no other. This product features not only a gluten-free setting but 11 different settings as well. It also features a delay timer and a large easy to read display for easy setting. The item is non-stick, dishwasher safe, and even comes with an extra paddle for kneading, for a total of two.
Easy to Clean
This item not only makes excellent loaves, but it is also easy to clean because parts of it are dishwasher safe and are nonstick as well. It comes with two paddles, so you can use one, while the other is being run through the dishwasher.
12 Program Cycles
This product features 12 program cycles, so you always have something going on. From express bake to French bread, to gluten-free, there is no type of loaf this can't help you make.
Cost and Value
This is one of the more affordable items in our buying guide. Featuring 12 cycles and being dishwasher safe is a major plus in our book. Make sure to include this one in your research for sure.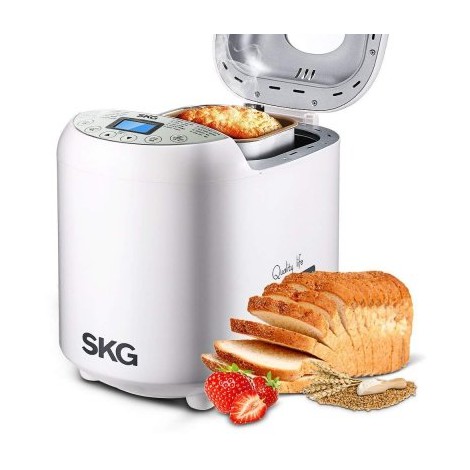 Everyone knows that nothing says home, like the smell of freshly baked bread. SKG knows it and that's why it's on our list. There intelligent automatic bread machine makes it possible for you to have these fresh loaves in your kitchen every morning, noon and night. Featuring 19 programs, a high-quality build and much, much more, this one is a must for any bread lover.
Features 19 Programs
This item features 19 different programs for the best loaves on the market today and more. You don't have to settle for bread from the store anymore.
Features Non-Skid Feet
The last thing you want is your bread maker to dance off the counter, then dump your bread in the floor. This product comes with non-skid feet to keep that from happening.
Cost and Value
This smart bread maker is worth the price being asked for it, if only for the 19 programs and non-skid feet.



Last but not least on our best of the best list is Breville with its custom loaf maker. This product features a collapsible kneading paddle, four loaf sizes, a smart LCD screen, and an automatic fruit and nut dispenser. Also, included are 46 recipes that will show you step by step how to make them for your family.
Features a Fruit and Nut Dispenser
Anyone who bakes their bread can tell you how annoying it is to have to stop what you're doing to add the fruits and nuts when the time is right. You don't have to do that with this item. Instead, put the nuts and fruit in the automatic dispenser and forget about it. They will automatically be added when the time comes!
Includes Extras
If you are looking for recipes that will do well in this product, then look no further. This includes 46 recipes to get you started in the right direction.
Cost and Value
While it is undoubtedly one of the most expensive items on our list, this baker is one that you will want to have. Between the fruit and nut dispenser and then the 46 recipes, you can't go wrong having this in your kitchen.

Subscribe to our Newsletter