Best Boot Socks Reviewed & Rated for Quality
In a Hurry? Editors choice:
Test Winner: DANISH ENDURANCE

Why boot socks? You wouldn't wear your
winter coat
over top of a bathing suit and expect to sufficiently warm and comfortable while exposed to the elements. Likewise, wearing your
hiking
or winter boots over top of ankle or dress socks probably won't be the best choice. For one, boots come up higher on the leg than running or dress shoes. To avoid painful blisters, you need more coverage than ankle socks offer. Two, boots are heavier and more substantial footwear than shoes. Dress socks, which are made from thinner fabrics, will leave your feet more susceptible to friction and chaffing, which could again cause the dreaded blister. With so many great options on the market today, picking the right pair can be daunting. We took all the guesswork out of picking the perfect pair of boot socks to meet your needs!
Standout Picks
Criteria Used for Evaluation
Comfort
Uncomfy footwear will equal a certain disaster. You won't enjoy yourself and will have to cut your activities short, which would be a bummer. There are many reasons why your socks could make your feet uncomfy. Seams that rub or ones that don't stay up and are always sliding down will annoy you. Another factor crucial to your comfort is keeping your feet dry, even in hot conditions. When they get wet, they are more prone to causing blisters as well, which are painful and take days to heal.
Breathability
Breathability is a huge factor when selecting the correct footwear, and this is especailly crucial if you will be wearing boots. Since boots are heavier and often made from more rugged materials, your feet can get pretty hot in there. Many options on our list have special panels made from mesh. The strategically placed ventilation panels will allow constant air flow to your foot. This helps your feet stay cool and dry.
Materials
The materials used is important. Wool is a great option to look at because it is very warm and good at trapping heat. Wool will also keep your feet warm even if they get wet, which is a bonus for outdoor activities in inclement weather. Merino wool is an premium version that is renowned for its ultra-light and superior insulation. Synthetics are great as well. Synthetic fibers are good for wicking moisture away from the foot, to keep you comfortable and dry. These fabrics are known to be extra durable as well as offer many odor-resistant benefits. A hybrid wool/synthetic blend will give you the best of both worlds!
Durability
Durablilty is key. You want to make sure your new purchase will last, so you don't need a costly replacement down the line. Look for options with reinforced toe beds and heels. This will help prolong their lifespan. Many of the companies we have featured offer guarantees on their products, so you can feel peace of mind knowing your are buying quality. Synthetic/wool blends offer all the warmth of wool but the rugged, longlasting performance of of sythentic.
Overall Fit
The overall fit will contribute to your comfort. The same way you would purchase shoes in the appropriate size for your feet, you should do the same for your socks. While many bargain options will come in 'one size fits all' this simply isn't the case. Not all feet are the same size, and for the best fit you want to select items in the correct size for you. Ill-fitting options could cause chaffing and blisters. They will be more likely to bunch up or slide down, which will irritate you.
10 Best Boot Socks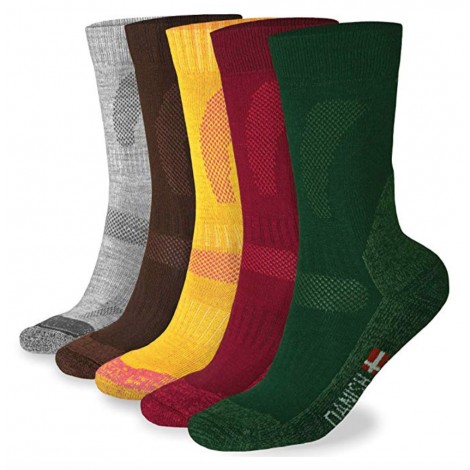 There are so many reasons why this is number one our list. DANISH ENDURANCE was founded in 2015 by two brothers, Nicolaj and Christoffer. Frustrated at not being able to find the right pair of compression stockings for marathons, the brothers decided to make them themselves. DANISH ENDURANCE is a premium outdoor and sportswear brand. They work closely with athletes, to constantly bring you cutting edge, long lasting, and high-quality products that are designed to take your performance to the next level.
Merino Wool Blend
These unisex items are made from a unique blend of merino wool, acrylic, polyamide, and elastane. Merino wool is known for being warm, as well as light which makes it a desirable fabric that will be worn with boots. It is great for regulating body temperature, so your feet won't overheat. The wool is also naturally odor resistant and antibacterial. These are two more great qualities since boots that are worn for long periods of time can get stinky.
Keeps Feet Dry
In addition to the benefits of merino wool we listed above, it is also moisture wicking. It absorbs moisture and evaporates it quickly. Another great feature to help keep your feet dry is targeted mesh ventilation zones for added breathability. Wet feet are more prone to blisters and get colder quicker, so keeping your feet dry in your boots is imperative to comfort.
Cost and Value
There are so many things about these that make them a great buy. Merino wool is a premium fabric that will keep your feet warm, dry and odor free. The unique design features extra cushioning along the footbed to absorb shocks, and mesh ventilation zones for constant airflow. They are designed and made in Europe, with quality stitching and fair working conditions for the workers. These are available in three sizes, not one size fits all like some cheaper brands. There are also many color options to choose from making these a top pick for men and women alike!



UGG is a staple in many women's wardrobes, but many people might now know the popular Australian company makes more than just shoes. These cable knit, knee-highs with a cuff were made to wear with the UGG Shaye Rain shoe, but they are so cozy and cute we think they make the perfect pair to compliment all your favorite styles.
Cable Knit
The Shaye comes in two colors, black with white speckles or cream with black. There is a large cuff at the top with a small UGG twill label tag. The intricate cable knit pattern of the Shaye gives them a cozy, sweater vibe. Paired with your favorite knit's and jeans or leggings, these are a great addition to any fall or winter outfit.
Tall Enough for Rain Boots
These were specifically made to pair with the UGG Shaye boot, but that doesn't mean you can't pair them with any tall rain boot style you already own. The great thing about this product is they will look good once you take your boots off as well. This is the perfect pair for a winter cabin getaway or lounging in the ski lodge because they would also look great with tall snow boots.
Cost and Value
We think these are a great investment piece. Brand name items are more costly than their generic counterparts, and you would obviously expect to pay a premium price for anything made by the luxury label UGG. The fact that you can wear these with all styles of boots like those for snow or rain add more value to their price. The cable knit pattern is intricate and looks great with jeans or leggings. There are so many ways to style these they can be worn all the time. The Shaye would also make a great gift for a friend, co-worker or family member who loves designer labels. If a pair of UGG boots is a little out of your budget for yourself or a gift, splurging on these is something you won't have to feel guilty about.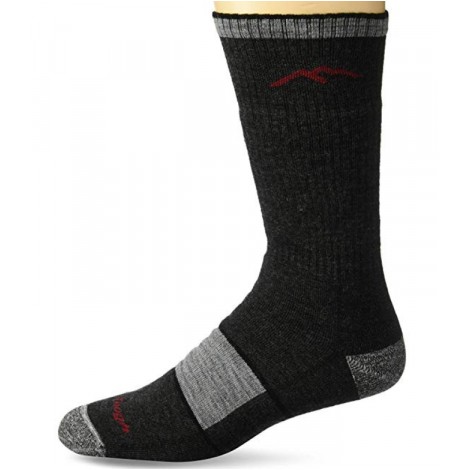 Darn Tough is a company from Vermont that specializes in one thing- making great products! Founded in a town called Northfield that is known for having some of the most adverse winters in the lower 48, Darn Tough makes items for 'all weather performance'. They are so confident that their products are the best, they offer a lifetime guarantee on every pair that they sell.
Guaranteed For Life
All items made by Darn Tough come with an 'unconditional guarantee' that is quite outstanding. If yours aren't the most 'comfortable, durable and best fitting' pair that you have ever owned, you can return them at any time. This is great news for people who wear boots for work and are constantly having to replace their supply prematurely.
Seamless and Comfortable
These are designed for the most rigorous outdoor hikes and adventures out there. The seamless design is great because it won't cause blisters or discomfort. The tops are ribbed, so they always stay up and don't twist or bunch. There is a mid-level of cushion on the bottom as well, to provide support and comfort for all-day wear.
Cost and Value
These are a fantastic choice for people who spend a lot of time in boots. While they may be a little bit on the pricier side initially, they are worth every penny when it comes to value. The merino wool blend is naturally antibacterial as well as moisture wicking, so your feet stay dry and don't get stinky. Merino is also known for being lightweight, yet warm because of its ability to trap heat. The design is perfect for serious trekking, with no seams and ribbed, reinforced uppers. To top it all off, all products made by Darn Tough come with an unconditional lifetime guarantee, so you can really feel peace of mind making an investment.

4

. Darn Tough Boot Cushion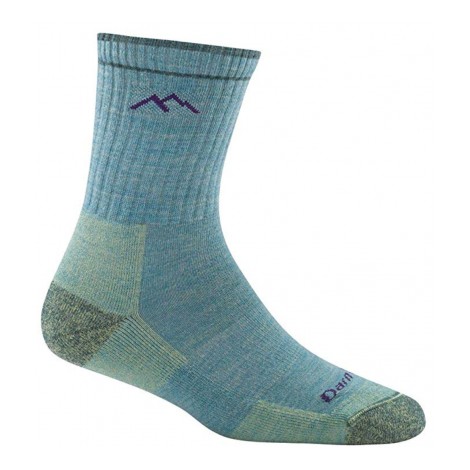 We already talked about how great Darn Tough is at making their products! They are a family owned company that has been based in Northfield, Vermont for over three generations and is proud to still manufacture all their items in the USA. These are a great pick for all women who wear boots.
Performance Fit
The Boot Cushion are seamless so they won't rub or pinch your feet even during the longest hikes. They are made from a merino wool blend that is naturally antimicrobial, warm and great at keeping feet dry. There are some fun color combinations as well.
Full Cushion
The Boot Cushion have a full layer of dense cushioning from heel to toe. This is perfect for avid hikers who are wearing heavy backpacks. The extra cushioning will keep your feet comfortable in your hiking boots all day long, so you can go further without taking a break.
Cost and Value
These might be a little bit more of an investment initially than the standard 3-pack of white gym stockings you buy at the bargain department store. But there is a load of reasons why they are a great buy. First, the unconditional lifetime guarantee. Second, they are made from a merino wool blend which will keep your feet warm and dry as well as smelling fresh. And three the performance, seamfree fit. If those aren't enough great reasons to love the Boot Cushion Sock by Darn Tough, they are made in the USA with only ethically sourced wool that comes from happy, Vermont sheep.

5

. Carhartt Extreme Cold Weather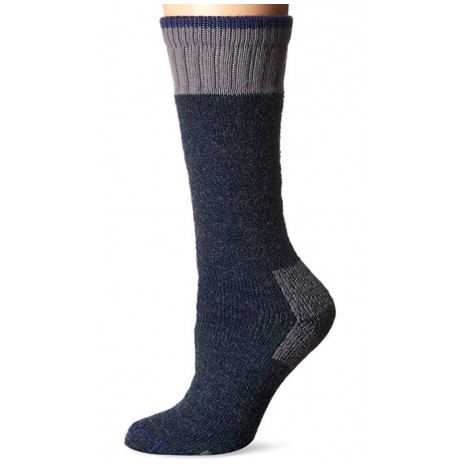 Do you need a pair to wear on winter adventures? Keeping your feet warm in below freezing temperatures requires more than just a good pair of boots. You need to invest in the right stockings as well. The Extreme Cold Weather are made by Carhartt who specialize in durable work and outerwear. They are a great pick for wearing with work boots on cold winter days.
Super Warm
Reviewers raved about how warm these kept their feet, even on the coldest of days. Anyone who has ever spent time outside in the winter will tell you it is miserable to have cold or wet feet. Even reviewers who said they were always cold called these 'super impressive' and called them 'a must buy for people who can't seem to find stockings that keep them warm'.
FastDry Technology
Adding to this product's stellar ability to keep your feet warm, is the FastDry technology which helps keep them dry. One problem with thicker, winter wear is they can sometimes make your feet too warm. Once they become wet, they won't keep your feet warm anymore. But you won't need to worry about wet feet ruining your winter fun with these because they have mesh vents for constant airflow and are made with a moisture-wicking fabric blend.
Cost and Value
Having warm feet in the winter is a must, no matter how little or much time you have to spend outside in the elements. These are a great pick that will not break the bank The mesh vents and FastDry fabric will keep your feet dry and comfortable. The bottom has a thick layer of cushioning for all-day wear, and they have a rugged heavy design perfect for braving the elements.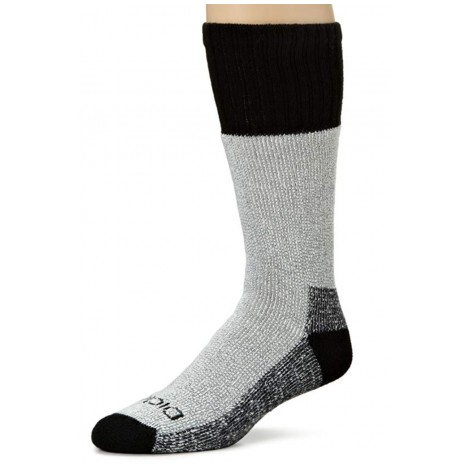 The Dickies Apparel company was founded in 1922 in Fort Worth, Texas selling workwear to farm and ranch hands. Almost 100 years later, the company is still known for its durable and rugged work apparel. Looking to invest in some new foot covers to keep your feet happy all day in those work boots? This is a great product to check out.
Extra Cushioning
Wearing boots all day might not be your first choice when it comes to footwear. They aren't as light as sneakers and they can be cumbersome and bulky to wear around all day. However, in many professions, it is necessary for safety to wear work boots for all or a majority of the day. These are made with heavy duty acrylic fibers that provide superior comfort as well as warmth.
Moisture Wicking
We love that the fabric of these is moisture wicking. Anyone who wears boots all day for work will certainly appreciate having dry feet at the end of their 8-hour shift. Keeping your feet dry will also help keep them warm. These come in a boot height which is farther up the leg, for additional warmth.
Cost and Value
These have an extremely reasonable price tag, which is one of the things we love! If you need to invest in a durable, long-lasting option for work, you should definitely check these out. They are fully cushioned along the footbed for all-day comfort, especially when wearing boots. The reinforced toe bed and heel make them extra rugged and will help them last longer. With such a great price, you can afford to buy enough pairs to last two weeks. Just think of all the time you can save not doing laundry!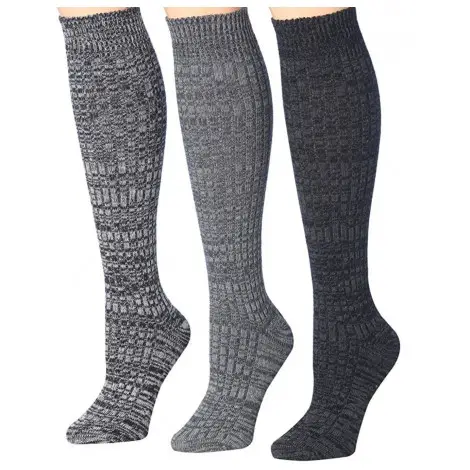 Did you think knee-highs were just for school girls in uniforms? You were mistaken! These knee-highs will look great with a wide variety of boot styles and outfits! Add a pair to your fall or winter wardrobe and see all the fun ways to style them. For women, adding a great pair of tall socks is a fun and inexpensive way to spice up your favorite looks.
Very Fashionable
The ribbed, cable knit look of these is casual and cozy chic. They are easy to style with so many outfits. You can wear them with knee length rain or snow boots. Or try pairing them with booties and a skirt in the fall. Even over the knee boots could be worn with these underneath. They are so versatile and easy to wear.
Wool Blend
These are made from a wool blend. Wool is a great material because it is a natural fiber that is very warm. Wool will also keep your feet warm even if they become wet. This is perfect for wearing with rain or snow boots during inclement and stormy weather days.
Cost and Value
Maybe the best thing about these is the price. Or it could be the fact they are so versatile and can be worn with a ton of different looks. They are perfect for rain or snow boots because they are made from a wool blend, which will keep you warm even if your feet get wet. The cable-knit, ribbed look is cozy chic and will look great with all your favorite fall or winter looks.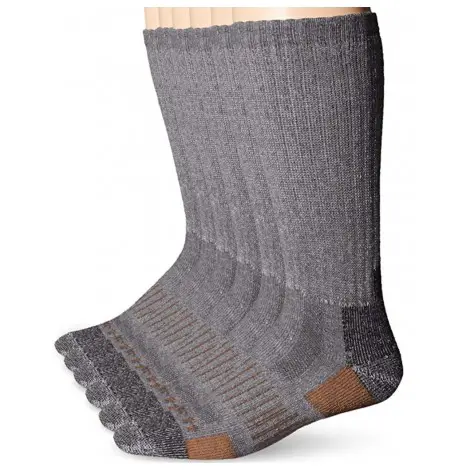 Carhartt is known for durable workwear and these meet that description. Carhartt says they made these to last as long as your boots. The All Terrain has been designed for all weather wear, so these will keep your feet happy for the entire year.
No Blisters
One thing about the All Terrain we love is the Nanoglide technology. This is intended to reduce friction inside your boots, thus preventing any painful blisters. They are made from a wool acrylic blend. Wool is great for warmth and acrylic is durable and long lasting. All Carhartt options have reinforced toes and heels to keep them lasting even longer.
Breathable
Another great factor of these is the breathability. There are mesh panels on the All Terrain to allow for constant airflow to your foot. Also, the synthetic fibers in the wool blend wick moisture away from your feet and help to keep stinky odors at bay. You will be comfortable all day long and never need to change your socks halfway through a shift again if you invest in the All Terrain.
Cost and Value
These come in 6 packs which is cheaper than buying them individually. Carhartt has been making long lasting, rugged workwear since 1889 and are known for great craftsmanship and extra tough materials. The toe and heel are reinforced in the All Terrain and there are also mesh panels for airflow and breathability. Another thing we love about this is the odor resistance and the breathable properties that the wool/acrylic blend is known for. This is perfect for work boots, which can get hot and uncomfortable during prolonged periods of use.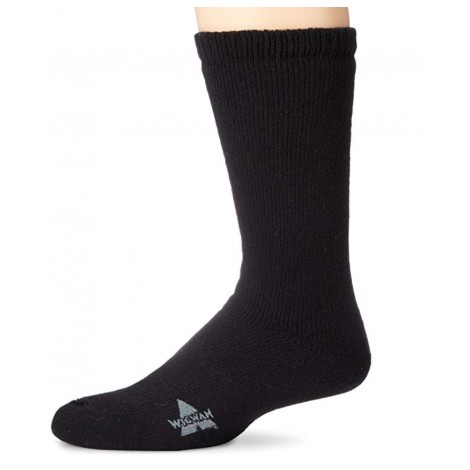 In 1905, three men founded a company that would one day become the Wigwam. Originally named Hand Knit Hosiery, it wasn't until 1957 that the name Wigwam was adopted and the companies trademark domed hut was created. Extreme winter conditions call for extreme winter gear, and the 40 Below is just what you need to keep your feet toasty warm when the temps dip below freezing.
Wool Blend
Wool is a natural fiber that is great for winter gear for a number of reasons. Wool is great at trapping and retaining your natural body heat. Also, wool will still keep your feet warm, even if they wet. This is crucial for long outdoor adventuring, where cold feet would be a certain disaster. The blend in these is 50% and the rest synthetic. The synthetic fibers give them a stretchy and elastic feel for a comfortable fit.
Stay Up Top
The stretch nylon used in the construction of these ensure they will always stay in place. Nothing is more annoying than having them slide down or twist and bunch up This is not only uncomfortable but can lead to blisters which are painful as well. We love that the 40 Below are also fully cushioned, to add even more comfort factor for your feet.
Cost and Value
The 40 Below from Wigwam is a perfect choice for anyone who spends time wearing snow or winter boots. They are engineered specifically to keep your feet warm and dry in the coldest temps. We give a ton of points for the 51/49 synthetic nylon/wool blend used in the construction of the 40 Below. This is great for not just warmth but also fit and comfort as well. With a lifetime guarantee, you will never need to worry about them wearing out prematurely again.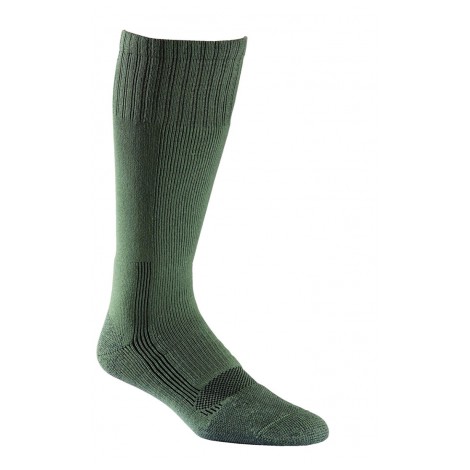 Rounding out the list, we have Fox Rivers Military. This mid-weight product was designed with deployed soldiers in mind. It is perfect for cooler temperatures and rigorous activities.
Military Grade
Fox River is America's older performance sock brand, and started out making products for lumberjacks in 1990. They now focus on making them for the military. There is even a program the company started called FoxSox, which allows customers to donate items to soldiers in the field along with personal notes of encouragement.
Keeps Odors Away
Fox River uses a special Wick Dry technology. This will keep your feet dry inside your boots so you don't have to worry about blisters and discomfort. There is also 'Scentry' technology to keep the socks fresh and smelling great. Another feature we love is the flat seam on the toe bed of this product. This won't rub or irritate your foot so you will be comfy for all day trekking.
Cost and Value
There are so many features to the Fox River that make them a great investment. Firstly, they fit great and offer just enough compression. The fabric resists odors, so your feet and boots will stay smelling fresh. There is a ton of cushioning to provide all day comfort and the fibers are also moisture wicking to help keep your feet dry even if they get sweaty. The price is great as well, these won't break the bank.

Subscribe to our Newsletter