Best Blackout Curtains Reviewed & Rated for Quality
In a
Hurry? Editors choice: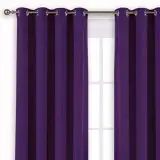 Test Winner: Nicetown Thermal

Do you wake up before your alarm? Are you always being woken up by lights from your neighbor's across the street, or street lamps or sunlight due to porous curtains? Do you always feel like it's not yet time to get out of bed in the morning? If the answer is yes, you need a blackout curtain. An ordinary curtain can affect the quality of your sleep and general well-being in ways you may never imagine. Blackout
curtains
have numerous benefits; they restrict the amount of light that gets your room and act as super energy savers while regulating the temperature of the air inside. They make you sleep better, block noises and protects= your privacy. There are many =options out there, and there is no reason not to have one in every room. In here, I have selected the top ten blackout curtains rated top by customers.
Standout Picks
Criteria Used for Evaluation
Materials
When shopping for a blackout curtain, the first thing to look out for is the material. Ideally, the material should be opaque and solid in color to block out any light. Most of these options on our list are made of polyester though there are others on the market made of voile which is a woven light fabric that is also soft to touch. Nylon, muslin, gauze and other synthetic materials are used. Before making that purchase, it is essential to find out if machines can wash the material, some of the blackout curtains used in movie theaters are not machine washable. However, most options are machine washable since it is important to keep germs at bay.
Look out for the perfect detergent; mild soaps are encouraged to prevent damage to the fabric. There are some instances you may find the material creasing or having wrinkles after washing; you can use a warm iron to straighten up. Otherwise, when new, the wrinkles will fade with time. It is important to take care of your curtains for it to last long. Opening the windows during the day and aerating the room will prevent molds from forming on the fabric.
Versatility
Blackout curtains are rated in terms of their quality and functionality. During warmer days, our days are filled with activities; it is essential to have a good night rest. Morning sun rays may also interrupt our sleep, and this might cause a feeling of tiredness which may affect the quality of work during the day. Children too are affected by too much light in their rooms and may become fussy. Blackout curtains offer a perfect solution to all these scenarios.
Blackout curtains have a variety of other uses other than blocking the Light. They have been used for giving homes that interior freshness and elegance. They are decorative due to their different designs and colors. They are capable of illuminating the colors of your house thus making your home have the sophisticated appeal.
They are also important in regulating heat in the rooms so that your summers are cool and winters are warm. If you feel the temperature in your home at an uncomfortable level, you can leave a small gap in the middle to cool the room a little bit. During winter, they will keep your home feeling warmer. Besides, blackout curtains block out unwanted noises thus ensuring you have peaceful, uninterrupted sounds.
Value
Blackout curtains darkness a room and allows you to take a peaceful nap. These curtains are available in different designs, colors, and sizes. Their cost is also influenced by the brand name and the materials or type of fabric used. Some high end curtains will cost much; however; there are some that are fairly priced. There are some additional costs to consider such as the cost of the clips and the rods. However, you can install them quite comfortably without the need for a professional.
Some stores will have discounts from time to time. Some of these offers might be crazy and may not provide high-quality curtains. Before setting out to buy a blackout curtain, take the measurements of your windows to have an idea of the ideal size, as you will find out different sizes have different prices. An ideal blackout curtain is one that is within your budget limitations and most importantly of high quality and that which will give you value for your money.
Compatibility
Curtains highlight the decorative appeal of any room. It may be difficult to choose one that matches with your home decoration. Essentially the colors should match with your home decors such as the color of the walls, the furniture, and the carpet. If your wall color is warm, pick curtains with a warm tone. You can also opt for the same color or a different shade a little bit lighter or even darker depending on the color of the items in the room. Highly thick walls will need light-colored curtains to lighten up the room. Optionally, they should also coordinate with the color of the sofa.
Durability
The best blackout curtain should be of high quality and durable. Thick material is ideal and will last long. When buying your blackout curtain, first ensure it has a quality mark, and it has a warranty. It will not only cost you less money but also save you time. Ensure it has a warranty as a guarantee for durability.
10 Best Blackout Curtains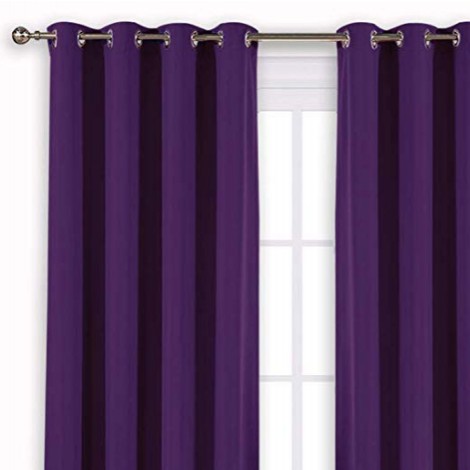 Are you limited in options on the best blackout curtain to buy? We will recommend the Nicetown. You will fall in love with them, with many colors to choose from and compatibility with your home décor. They will work so well and effectively by blocking light to your home. This product is made of polyester and has an admirable design which makes it beautiful. They come with two panels in a package and has various color options thus you will have a pick for each room. They measure 52"Wx63"L and has a design of silver grommet measuring 1.6 inches inner diameter. That is why these bring some laid back elegance in your home. They are easy to install and will not take much of your time.
Durable material
These are made of high quality and super heavy material that is fade resistant and does not crease. The material does not have irritating threads hanging all over and both sides have the same cooler.
Versatility
They are useful in blocking up to 99% of light. They also act as thermal insulators and regulate the temperature in your room. They are soundproof and block external noises; therefore, you will have up to eight hours of uninterrupted sleep. There is no need for buying a sheer style. Instead, you can choose different styles to suit your taste. These will bring some harmony to your windows and make your home warm and lively.
Cost and value
Protect your home for exposure to light by purchasing this affordable product. You will also notice a change in energy bills since you will be saving on heating and cooling costs. The most important thing is that you will have value for your money which had a night of comfort. For what you are paying, these are fabulous and will get the job done.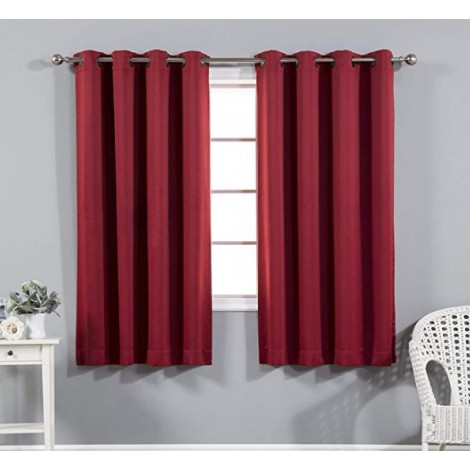 If you are a fan of a grommet, then you will choose the best homes blackout curtains. These curtains are made of polyester and the panel measures (52" W x 63 " L) while the set measures (104" W x 63" L). One set includes two panels, with each panel consisting of eight bronze grommets. The inner diameter measures 1.6" in diameter. There are also matching ties available in the set.
Material
The fabric of Best home blackout curtains is heavy duty and durable to last long. The quality of these blackout curtains is more than you can bargain. You will love the thickness, softness and fine weave. The material does not crease and is fade resistant. The drape is great, and there is no risk of the threads running. They whisper some luxury, sophistication and are beautiful for most home decors.
Versatility
The Best home blackout curtains are my top picks since they create a cool dark sleep ambiance in your home. If there are sounds that are disturbing your sleep, no need to worry as these will block them all. They come in attractive colors, and you can choose one that matches your home décor. They are ideal for blocking out sunlight and other harmful rays from the sun. They are tested for quality and guarantees insulation against cold. They are energy saving, improves the quality of your sleep and are durable.
Cost and value
These Best Home product will cost you more than regular products since they are sold in panels. However, if you have uneven window numbers in your home, it might be an advantage since you would save more instead of buying individual curtains for each window.

3

. Utopia Bedding Blackout Curtains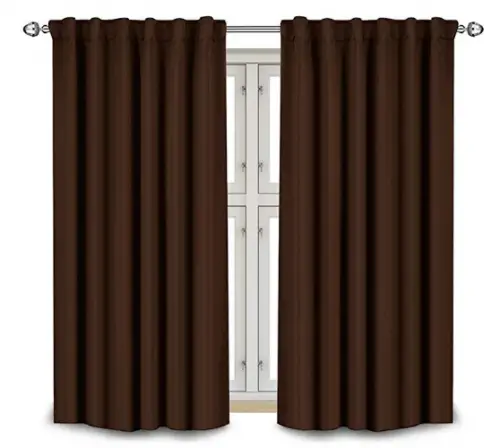 Do you have an annoying neighbor who is always hosting parties and barbecue? If noise is the main concern, try Utopia Bedding Blackout Curtains to ensure a peaceful, quiet and uninterrupted sleep for a good night rest. Each set includes two panes measuring 52"Wx63" L and a total area of 104" Wx63"L. Each panel has seven back loops and two matching tie backs. The inner diameter of the loops and rod measures 1.6 inches; thus installation is quite easy. They are made of the same material back and from thus producing an elegant appeal.
Effectiveness
The Utopia bedding blackout curtains will block up to 99% of sunlight and other lights from outside also, soundproof and resistant to wrinkles, dirt, and stain. They come in different sizes. Therefore you have a wide selection depending on the size of your windows. They are also available in different colors to match your home decor. They are thermal insulated and thus ensures heat is regulated to a desirable level. If your home has pretty large windows that reaps some pain on your utility bills, then you will settle for these energy savers blackout curtains. You will not feel the heat during summer or the horrible cold during winter. Your home temperature levels will feel the same all year round.
Quality Material
The Utopia bedding blackout curtain is made from a heavy duty curtain that is amazingly soft to touch. Their quality of the fabric is exceptional, and the weave is fine and firm, and you will notice the material does not crease. The threads are also neatly done, and the drape is fine too. The colors are great and will create a peaceful atmosphere in your home.
Cost and Value
You might be a little bit skeptical when ordering for these blackout curtains. However, the Utopia bedding blackout is cost effective as compared to several brands out there. They are available in a pack of two, and you will find different blackout curtains prices varying due to size. Nevertheless, the Utopia bedding blackout curtains are cheaper than many others on the market.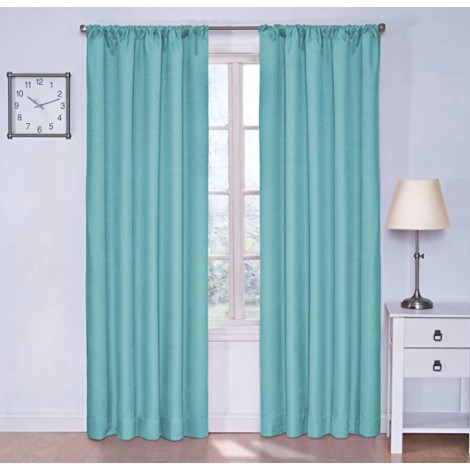 Transform the appeal of your windows with the Eclipse Kendall. They are available as single panels and will block over 90% of sunlight and another light from outside as compared to normal options. They are available in different sizes and beautiful colors to suit your specific preferences.
Usefulness
After spending time examining different varieties, chances are you are looking for one that will improve your sleeping area and bring some peace to your home abode. The color is as it appears in pictures and they will work perfectly by blocking light to your room. The fabric is of high quality, and there is a huge collection depending on the color and the textures. You will find the right size for your windows, and there is every pick for your rooms. They will work well for your Livingroom, the children bedroom, and your bedroom. You don't have to worry about the sun hitting your television and affecting your view before sundown. The shade is ideal and blocks the full glare of the sun. You will even nap right in your sitting.
Durability
What we love about these drapes is the material or the fabric. Even though they are available in different colors, the Eclipse is also outstanding and made from high-quality fabric. You will not believe how heavy and soft they will feel on your hands. The material is fade resistant and does not crease. The drape is firm and fine whereas the threads are neatly done and do not run.
Cost and value
You will love the Eclipse for the ridiculously low price. They are relatively affordable and work well by ensuring the house is warm during winter and keeping your home cool during the summer heat. Depending on your style and the fabric, they are a beautiful choice for your home considering the price.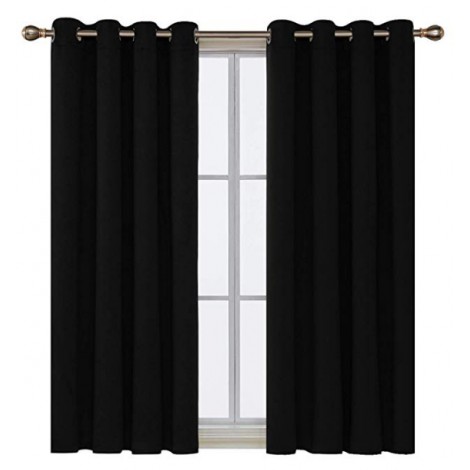 The Deconovo is available as one-panel package measuring 52"Wx63" L for each panel; If you love grommets, then you will be excited to note that each color has eight grommets. They are made of polyester and are available in different colors that will look beautiful on your windows.
Versatility
Say goodbye to high utility bills by getting yourself a Deconovo. They are also thermal insulated and will not only block out any sunlight but also preserve energy. If your room is hot and affecting your sleep due to too much light, then these drapes will work perfectly for you and your room will be cooler and darker during summer. You won't even note the difference between day and night since you can take your afternoon naps comfortably. You will love the grommets; they are just fantastic. If you are a stylish homeowner, the Deconovo blackout curtains are available in a wide collection of colors and style to lock away light and to offer more in the form of design versatility. A bonus is the length options as it allows you to choose the best size depending on the size of your windows.
Quality
We choose the Deconovo mainly due to the quality of the fabric and the ability to block out the light. You will be amazed at the number of quality varieties available on the market. The option you choose will boil down to your preference and budget. The material is high quality, silky and soft to touch; they will bring elegance and sophistication to your home.
Cost and value
The Deconovo are amazingly high quality at a great price. They are unbelievably affordable, and for the price, you don't have to break a bank to own. Fit these reasonably priced drapes in every room and experience the difference. You are guaranteed 100% money back.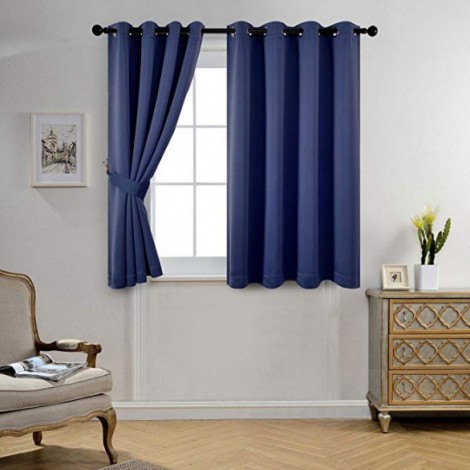 The Miuco set include two panels measuring 52"Wx63" L for each panel. It also has eight gorgeous metallic grommets for every panel measuring 1.6 inner diameters. The back and the front are of the same material making it look fabulously elegant; the lower helm is three inches wide while the side hem is one inch. A bonus is the matching tie backs. We choose these drapes due to their luxurious appeal and high-quality fabric.
Efficiency
The Miuco control the amount of light that gets to your room. It is due to the triple weave frame that helps in blocking up to 98% of light and protects against the harmful rays of the sun. It creates a peaceful ambiance in your room. It is also heat efficient in that it helps keep your room warm during winter and cool during summer. You will thus save huge bucks that will see a significant reduction of your energy bills by up to 30%. They are also ideal for controlling the amount of noise by up to 60%. In a nutshell, when it comes to efficiency, non can beat the Miuco blackout curtains.
Material
The material of the Miuco is of high quality and machine washable. It is fade resistant and does not bleach. It does not also crease, and any wrinkles will disappear after a few days of hanging. You can also use a warm iron to straighten up. The stitching is neatly done with no threads running.
Cost and value
The Miuco are undeniably gorgeous and reasonably priced. The luxurious, thick and soft material is stunning for the price. The curtains are good quality at an affordable price, and they offer a perfect saving for your bucks.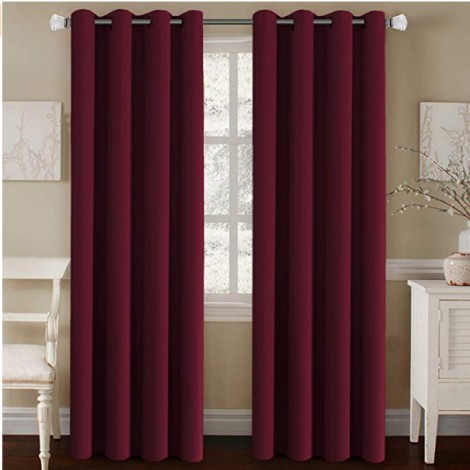 Are you looking for an option that can suit you and protect you from the bright rays of the sun, save energy and replace your antique window coverings? Well, you are looking at the right drape. The H.Versailtex is sold per package that includes two panels each. The two panels have a measurement of 52"Wx84" L while the entire set measures 104" Wx84"L. Both panels have eight admirable metal grommets with an internal diameter of 1.6".
Classic beauty
The H.Versailtex is elegantly designed with solid colors to match your home decor. There is an array of colors to choose from; some are modern while others are vintage rustic. The fabric is breathable and airy and will look amazingly great to you and your guests.
Versatility
This charming product will block up to 95% of sunlight and other lights and prevent the harmful effects of sunrays. They are of quality and are eco-friendly, safe for you and your family. The curtains are incredibly soft and will last long. The curtains are made from state of the art technology, and the yarns are neatly done. You are guaranteed of high performance by achieving your desired level of darkness. The curtains are thermal insulated, will reduce noise and are energy saving.
Cost and Value
The H.Versailtex fit the description, beautiful, long and affordable. The fabric is soft, elegant and high quality and matches the price. They will darken your room, not like a cave but sufficient darkness to enable you to have a peaceful good night. You will definitely be satisfied with the quality.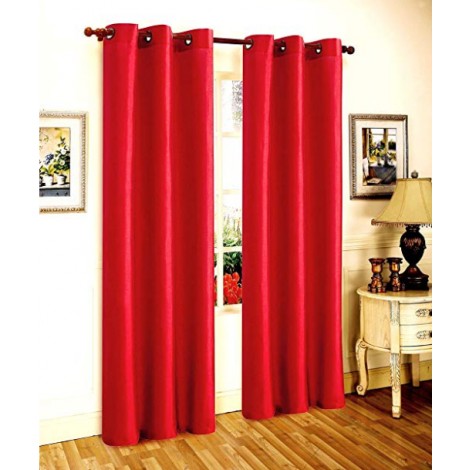 Do you feel that the amount of light in your room is disturbing your sleep? Is your room's window facing East where the sun rises and would like extra time to sleep in the morning? Grab the Gorgeous Home Linen and experience peace and some ambiance in your home. They are heavy and thick with bronze grommets and feel soft to touch. Its measurements are 37"Wx63" H. However different sizes are available depending on your preference.
Durability
The fabric is high quality and has white foam backing that restricts up to 80% of the light. It has thermal insulating property and regulates heat during hot and cold seasons.
Multiple Functions
These curtains block most of the light that gets through the window. They also offer protection from harmful rays of the sun. The length is ideal, and there is a wide variety of colors to choose from. They are also useful in reducing the amount of noise and saves a considerable amount of energy. Pick one for each room and upgrade your home with these beautiful blackout curtains.
Cost and value
This option from Gorgeous Home Linen is a perfect deal. They are a true definition of beauty, class, and quality. They are not so heavy or flimsy and have a white backing thus darkening the room. Interesting to note is the fair price and how the colors coordinate well with any home decor. For this price and quality, I would recommend them anytime.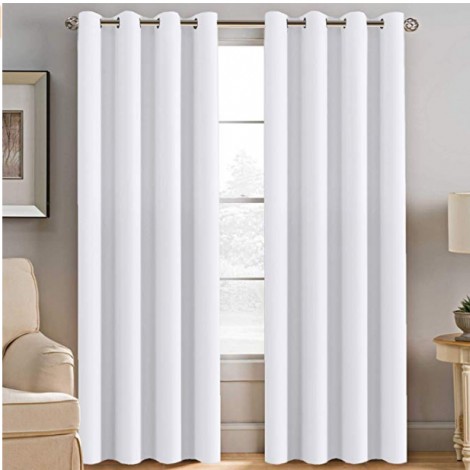 Are you thinking about replacing your vintage curtain with a modern blackout curtain that matches your home décor and makes your home elegant? If you are searching for a stylish blackout curtain, then the Nicetown Grommet is a sure bet. This type of blackout curtain is made of 99% polyester. You can buy it as a single set and is available in three different sizes 52"W x 63"L, 52"W x 84"L and 52"W x 96"L. An individual panel has eight grommets with an inside diameter of 1.6", It is beautiful and pleasing to the eye.
Quality
This thrilling thermal insulated product can block up to 80% of sunlight and prevent 100% UV rays. They have undergone lab tests thus are a mark of quality. They are also vinyl and PVC free, therefore breathable and lively to your room.
Functions
There is nothing negative about the Nicetown Grommet. These soft and durable curtains are made using the state of technology. They insulate well from the heat, ensures the room is dark, reduce noises and are energy saving. If you are planning to use them in your bedroom, darker colors are ideal.
Cost and value
The Nicetown Grommet are true blackouts and will not disappoint. They are soft, gentle, and thick and have some sheen. I would highly recommend them since they are of high quality at a great price. They might cost you a little bit more. However, you will get value for money. The cost is justifiable considering their multiple functions and high quality.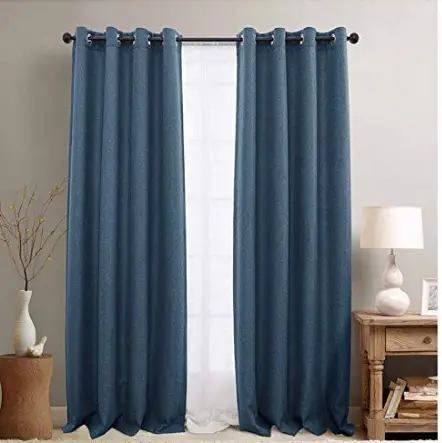 This set from Utopia Bedding is sold as individual panels measuring 52"Width and 84 "Height. Other accessories are eight elegant grommets with an inside diameter of 1.6" and decorative rods.
Several functions
Other than lighting up your home with warmth and tranquillity, the Utopia Bedding has an array of functions. They darken your room by blocking out excessive light from sunlight or other lights. They are energy savers due to their thermal insulation capabilities thus leading to a reduction in power bills. They also block out any unnecessary noises, therefore, ensuring you have a peaceful night.
Decorative
This product from Utopia Bedding is unique depending on your home decor. You can choose the color that matches with your wall, windows, carpet, and furniture. They will transform your home abode to a sophisticated or a vintage appeal.
Cost and value
If you prefer high-quality products, then this option from Utopia Bedding will guarantee just that at an affordable price. One good thing about them is that despite being low priced, they have that elegant and sophisticated appeal of higher cos toptions. They are just what you need for a great price.

Subscribe to our Newsletter