Best Bike Panniers Reviewed For Storage On The Go
In a Hurry? Editors choice: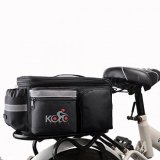 Test Winner: Kolo Sports

No matter where you're headed on two wheels, there are always a few things you need to bring along. Wallets, cell phones, and keys are three of the top offenders… especially with phones being so large these days! So, where do you put them? Spoiler alert: a pannier bag! This list is jam-packed with great options so dive on in. And don't forget: below our buying guide, we also have an explanation on how we picked these products, and what to look for, as well as an FAQ. So, without further adieu, let's get to it.
Standout Picks
Criteria Used for Evaluation
Features
There are a number of features which can absolutely make your life easier in regards to cycling around with baggage! While these may seem unnecessary to some people, or like extra "fancy" add-ons, they really are so incredibly useful. After all, the entire reason you're looking to invest in one of these is that you want a convenient storage option! It's the name of the game, folks. We're going to over three of the most important ones so that you can better understand what you're looking for. There are certainly more features that we consider "convenient" but these are the ones that stand out the most.
Storage Capacity: The amount of storage offered is obviously highly important. Whether you're looking for a little or a lot, you need an interior that can fit your needs. We looked at a broad range because of this. You'll find a selection of large, and small, panniers listed above. The biggest thing you want to make sure of is whether or not a pannier can fit your daily carries. Most of them are measured in liters because that's the measurement for total volume. Others are measured by how many pounds they can carry. Some people get confused by the liters measurement, but don't be too alarmed! You'll see it commonly with all sorts of equipment, most notably hiking backpacks.
Extra Pockets: Having extra pockets can make your life infinitely easier. You'll be able to store items more efficiently and have the important stuff right where you need it. It also makes keeping electronics, or other fragile valuables, safe. There are also pockets that are specifically designed for one item in particular. Water bottle holders, for example, are a great addition to any pannier. This allows you to keep your water bottle away from your other supplies, and within easy reach for you. Others may have a compartment made especially for your phone. This also works to keep your phone away from the other items in your bag, and within an arm's reach.
Method Of Mounting: This is entirely dependent on your personal preference. We do recommend rear-mounting overall since this is the safest option. This is why we mostly featured panniers that are, in fact, rear-mounting. Anything that mounts on the front has a risk of falling off, as do all attachments. However, when they fall off they are directly in front of you. This means that your wheels are likely to get caught up, and you're bound to go flying. Accidents happen, but we can do our best to avoid them where we can. Rear-mounting is really the way to go!
Durability
There are several factors which determine the durability of a product. The first thing you want to look at is the material which it is constructed with, as well as the overall craftsmanship of the model. The material is important because it's the first line of defense against damage. Wear and tear on a daily basis can break down cheaper builds, while more expensive threads will stand up to the abuse. When you're constantly on the go, and out in the elements, you need to ensure that your bag will hold up. There is no bigger disaster than having it fall apart when you're miles away from home and have no other way to get back. Are you going up into the mountains for an overnight trip? Imagine your bag falling apart there! That's even worse. Here are some of the things we look for most as far as materials go:
Nylon: This is a fantastic material because of its waterproof qualities. It's already water repellent, so it's a snap to completely proof it. Nylon is also highly resilient, and resistant to wear and tear. This is one of the best materials you can find in this on-the-go storage solutions.
Polyester: While this isn't as great a pick, it's definitely a commonly used material. Polyester construction may be cheaper, but it's also a sign that the product may not be as resilient. We recommend polyester only to those looking for a bargain, who care less about durability.
Padding: Keeping the contents of your pannier safe is of utmost importance. After all, if everything is broken by the time you get to where you're going, what's the point? Damage can befall items that have little protection to the hard casing. Look for padded options which create a softer environment for your possessions.
Stitching: This is less important, but still something to look into. Stitching should be carefully inspected on arrival. Look for nice, tight, clean connections between materials that aren't fraying or, worse, coming loose. If you find any sign of wear on arrival, send it back for a replacement or refund.
Water Resistance
Perhaps one of the most important criteria on this list is waterproofing! This ensures that your possessions are safe from water damage. You never know when a storm will strike, or when you'll accidentally ride through a sprinkler. There are so many ways for moisture to be introduced into the mix. Protect your belongings by ensuring you have a waterproofed model that is sealed up tight.
If the material isn't particularly good at keeping moisture out, however, there is still hope! You can easily use several solutions to waterproof it yourself, provided they are safe for the material in question. When you receive your product in the mail do a quick test to make sure it lives up to the standards set by the manufacturer. Run some water over it, and see if anything gets in. If you want to be super thorough, you can hold it under your shower head at a far enough distance so the spray mimics rainwater. If you notice any signs that the bag is not holding up the way it's supposed to then return it, or add in a waterproofing solution to the mix.
Top 10 Bike Panniers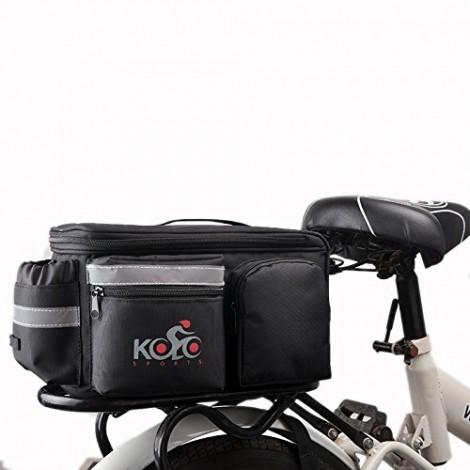 Kolo Sports is setting the standard today! They wow us repeatedly with great products at great prices, so their number-one placement today comes as no surprise. We trust them absolutely to continuously deliver some of the best gear around. Today we are talking about a Kolo Sports model that absolutely stole our hearts, and is coming after yours next! Keep reading to find out why you absolutely need this product in your life. Click that "Expand button" for more info!
Doubles As A Satchel
Even the biggest biking fanatics normally have to take their car to the store. This is not only a matter of storage but also a matter of not being able to keep their belongings on them safely. Kolo Sports crafted this sack to double as a satchel! This means you can remove it from your bike and carry it with you anywhere. No matter where you go, you know that you have everything you need right at your side both on your bike, and off.
Can Weather Any Storm
Waterproofing is such an important quality for these sacks to have. Sometimes Mother Nature can be unpredictable and, ultimately, unforgiving. This is especially true for those of you who may live in constantly changing climates. If you get four seasons it's even more likely that you'll run into bad weather while pedaling around. Luckily this sack is made out of a waterproof Nylon that will keep your valuables safe even in the pouring rain,
Cost & Value
Not only is this the best product we've found overall, but it's also incredibly reasonably priced! The rave reviews speak for themselves. This sack has earned a huge following and many people now trust Kolo Sports with their biking needs. On top of these reviews, it also has a laundry list of desirable traits! All of this for a reasonable price; what a deal! We definitely recommend this as one of the best products on the market. However, make sure to keep reading. You might like something better more down the line!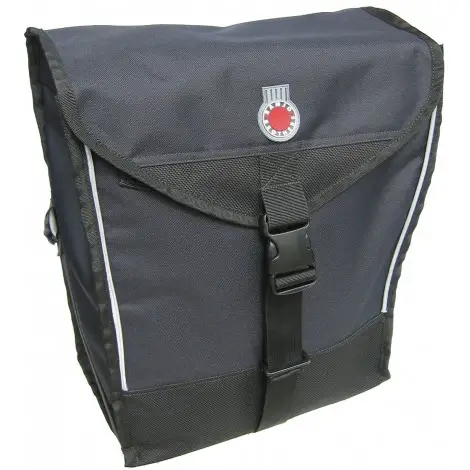 Banjo Brothers certainly has a name that sounds like music to our ears! Sorry, we just couldn't resist. On a more serious note (Get it? Like a music note?!), we can't say enough about this product. Their Market model is a great alternative to the Kolo Sports model if you don't need a more on-the-go option. This Banjo Brothers sack also has some great features, some of which aren't seen in our top product. It was a really close second, we'll tell yah!
The Right Size
This is reported as being "roughly the same size as a paper grocery sack". Essentially, that translates it into being a very easily portable option. It's large enough to carry along what you need it to, but it isn't going to weigh you down.
Reinforced
This option comes with reinforced panels for added durability. This makes the sack a little more rigid so there's no chance it'll get stuck in your tire's spokes.
Cost And Value
This is definitely a more expensive option, which is part of the reason we dropped it to the number two position. Quite frankly, it might be a little out of reach for somebody on a budget. It does boast some great bonuses, however, and we deem it worth every penny! If you need a more affordable option, make sure to head down to the number three model! It's rated for best value.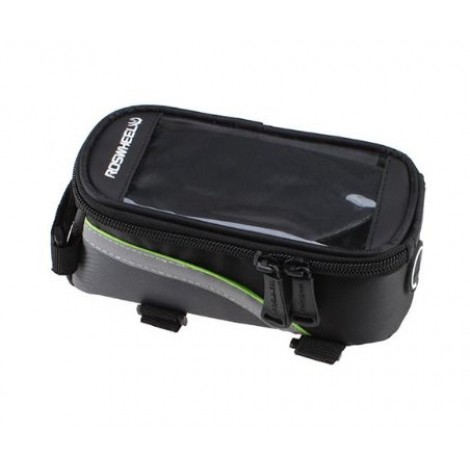 This little package packs a powerful punch. While it is specifically engineered for carrying cell phones you can use it for other items, too. It's the perfect model if you're looking for a lightweight option that carries the bare minimum. We love the sturdy design and the fact that it's offered at exactly the right price. There's so much more to this model, however! We'll go over some key features below.
Clear Window
This model by Roswheel comes complete with a clear PVC window. This allows you to see your screen phone at a glance. Call coming in? No problem! Just glance down and you can see exactly who needs you. This window is highly convenient and gives you complete control on the go. The window is waterproof, so no worries in that regard!
Front Tube Access
Even though you're on the move you don't have to sacrifice easy access to your possessions. This model attaches securely to the front tube of your bike, which means it's right within vision at all times. This can also ease concerns about it coming detached without you noticing! It also helps with you being able to see your phone in case an important call comes in... which is a great addition to that PVC window!
Cost And Value
There's a lot of value to be had here! The price is the lowest on the list, which is probably due to its usage-specific purpose. However, don't be fooled by this. You could just as easily keep a wallet and keys in there, even alongside your phone if it's small enough! Overall, we're really in love with this model by Roswheel that truly puts the "fun" in "functional"!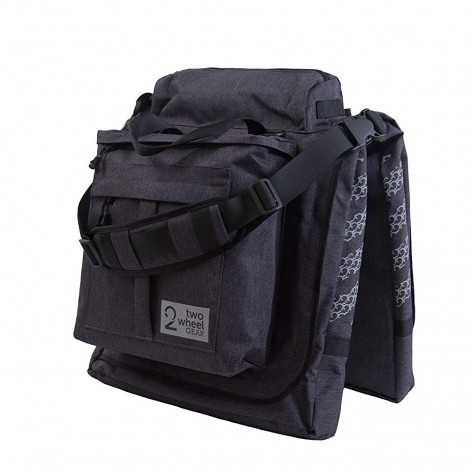 Two Wheel has us way too excited to announce this pannier as next on our list. Their Gear Classic model has a lot to be admired! Space, functionality, and style all come together to form this basically perfect sack.
Perfected For Commuters
Millions of Americans are choosing different methods of transportation. A very popular choice, of course, is biking! Whether its commuting, moving between campus, or just getting out to enjoy the day, this is the perfect pannier for you.
Huge Storage Capacity
Because of its commuter-specific design, this model packs a whallop in the storage department. It fits up to 55 litres for storage space, which is perfect to carry everything you need. Theres even a dedicated laptop pocket for professionals on the move! Youll never run out of space for all of your daily carries.
Cost And Value
We arent going to lie to you, or try to circumvent the fact of the matter. This is a very expensive model with a hefty price tag. However, for what it offers, we think it is very reasonably priced. You may not want this model, however, if you dont need a dedicated travel sack of this size. It also depends, again, on your budget. However, if you need a sack that can go the extra mile, this is the one!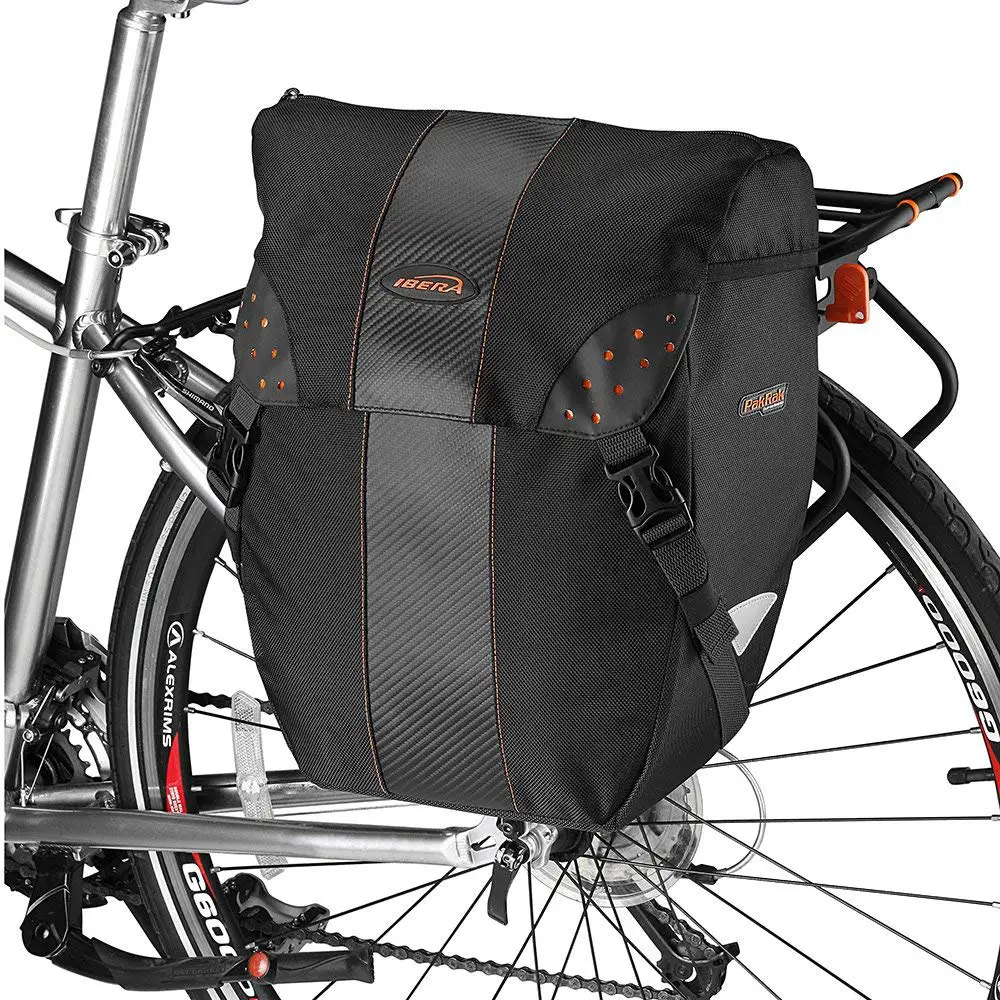 Ibera is coming in strong with their answer to all the adventurers out there. It is becoming more and more common for people to take their bike up a mountain, and to stay overnight to do it. Of course, this also makes it great for commuters who may need to bring a uniform with them, or are looking to change out of their works clothes as soon as the shift ends.
Ultimate Storage
We highly recommend this option to people who are doing overnight trips. This is because you can carry almost 20lbs of (almost) whatever you want! This gives campers especially a leg up since you can easily accomplish an overnight trip without forgetting anything.
Compatibilty
The Ibera PakRak Clip-On model is a dream for those who need even more storage than it already provides. It is compatible with top-mounting products! This gives you even more storage and even more reason to invest in this crazy spacious design.
Cost & Value
This is, as you can imagine, on the upper end of "affordable". While it is true that this sack may be just out of reach for some, it's fantastic for others. We recommend this to those who like to do overnight trips on their mountain bikes. It gives you ample storage space. Be warned that it can be bulky, however!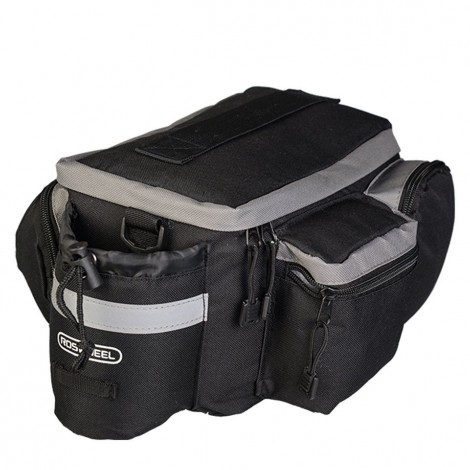 This is a brand we have featured multiple times in the past. They provide affordable solutions to your everyday life. This design by them is absolutely no different. It mounts to the rear seat, which is highly convenient. You'll certainly appreciate the storage options, security, and affordability this model offers.
Multi-Function
Worried about not having a sack once you "get there"? Luckily, TopSun made sure that this would be a multi-function option to take care of you the entire way. It doubles as a sack for on-the-go usage. So, going to the grocery store, or the farmer's market? This sack is perfect for use as a reusable sack while shopping, and won't break the bank while doing it!
Side Pockets
It's no secret that small items can get lost in the fray. TopSun crafted this product with side pockets so you can keep smaller valuables close at hand. This provides easy access to your phone, keys, wallet, and more! Whenever you have a small item that you don't want in the main compartment, the side pockets are there.
Cost & Value
The real value in this product lies in the price. Unfortunately, it's durability is questionable. The low price obviously dictates that cheaper materials were used in the production of this product. However, that doesn't mean it isn't worth it. If you're saving up for a better model, for example, this is great in the meantime! It's also great for those just looking for a bargain.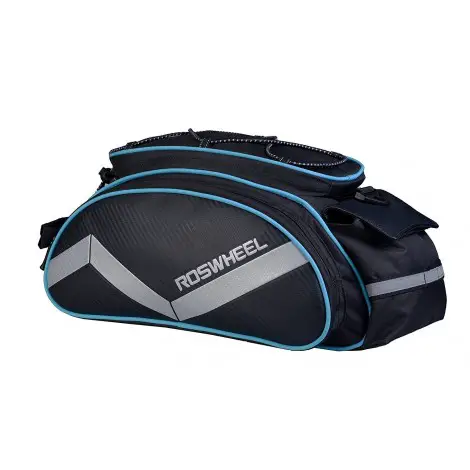 Give yourself the best time of your life with the vacation of a lifetime! There's no time like now to travel, after all. But be sure to invest in this model by Roswheel before you go. Many cycling enthusiasts go on trips abroad with the intention of touring by bicycle. The Roshweel is the perfect product to accompany you on any trip, anywhere.
Takes On Touring
Are you planning on going on a tour soon? Whether it's overseas to a European retreat, or just out to Sonoma for wine, make sure you bring the Roswheel Bike Rack model along! This is a fantastic option for anybody who's biking around and needs to bring the essentials with them.
PE Cotton Padding
There's nothing worse than having your gear get banged up on a hard casing. This Roswheel model will give you peace of mind in that regard! Feel safe putting fragile items inside of it because of the PE cotton padding. This softens any blow and keeps your belongings safe.
Cost & Value
For what it offers, this is entirely affordable. It's especially great because of where the price point specifically falls. You won't have to worry about ruining it during your trip, or losing it, because it's fairly cheap. It's just expensive enough, however, to ensure good craftsmanship and durability.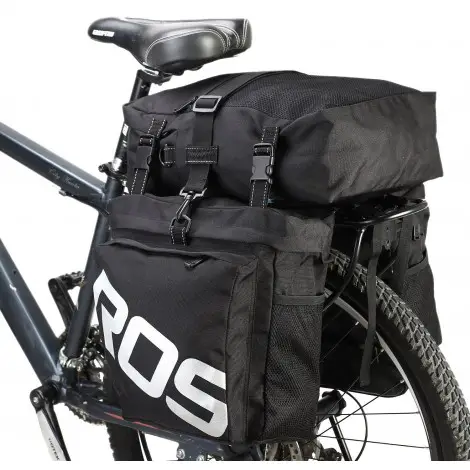 Fear neither the rain nor the snow with this bad boy in tow! This water-resistant option by ArEnCiel is sure to please anybody who gives it a go. It has several features which put it in a class all it's own, and makes it highly desirable to consumers in general. You'll hardly find a usage that can't be answered easily with this ArEnCiel model on your side!
Overnighters Are A Breeze
Although the name is a mouthful, this is a great brand to buy from. In fact, this model can fit a mouthful itself! Like most other products by ArEnCiel this is a high-quality option that'll see you through any overnight trip. Don't hesitate to throw this bad boy on your bike and move on out.
3-In-One Function
ArEnCiel provides three different ways to use this model, providing the ultimate form of convenience to the user. There are two humungous side satchels which can be detached and used for off-bike carrying. There is also a sack that attaches to the top rack of the bicycle. This is all attached by straps, allowing you to pick and choose what you need to use.
Cost & Value
Although it boasts several amazing features, you'll be surprised to know that this item doesn't come at a premium. It certainly isn't cheap, but it's feasible for those who really need this much room. Since it's technically three sacks in one, we rate it at a fairly high value.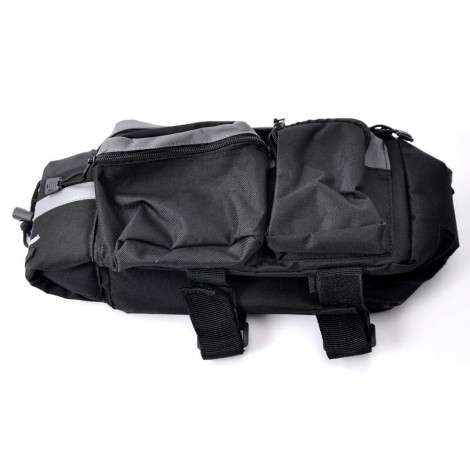 Housweety lives up to their name by providing sweet products at a sweet, sweet price. Today we're going to introduce an item they crafted that is no outlier in those regards! This multi-function option gives you ample storage space, the ability to carry it anywhere, reflective strips, and more. You'll never regret such a great purchase!
Water Bottle Pocket
It can be super awkward to throw your water bottle into the main cargo space. Although, this is an awkward, sometimes terrifying way to go about it! After all, what if that water bottle leaks on the other contents? That's no good! This is why Housweety includes a dedicated space for your water bottle.
Waterproof Polyester
There's more than one way to keep your contents safe from water damage... and Housweety covers both! They constructed this model with polyester and waterproofed it. This means that no matter how frightening the weather, you won't be inviting unwanted moisture in.
Cost & Value
Housweety, like we said, offers their buyables at a sweet, low price. This makes them highly affordable to the everyday consumer. We recommend this model mostly to students who need to get around campus. You can easily stash your supplies in the main compartment, snacks in one of the side pockets, and keep your water bottle close at hand. This gives you everything you need, at a price even a broke college kid can afford.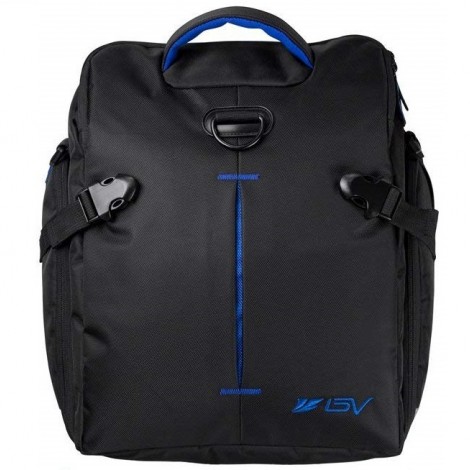 Complete your back-to-school shopping list with this bag suitable for any student! Whether you bike to and from high school, or you're a college go-er on the move, this may be the perfect model for you. There are so many amazing features to go over, but we're going to highlite the two we like most below. Click that "Expand" button to find out more!
Absolutely Huge
When you have both units installed you're looking at a total of 28L for capacity. That is unbelievable, and makes it a great choice for anybody looking to move a lot of stuff. It's especially great for students who may have large textbooks to bring to class!
Stylish Design
This may be the best looking model we've seen today. BV really tried to appeal to a younger audience by bringing in some simple stylistic choices that make this a trendy favorite. We especially love the flat black material, as well as the clever placement of the straps and buckle system. The green accents are the nail in the coffin, so to speak, that really gets us going.
Cost & Value
The storage capacity and fashionable aesthetic may appeal to students... But the price won't. Let's just say that this is better off as a birthday gift, or Christmas present. Put it on your college gift registry, even! Although it may be on the higher end of the scale, we really still recommend it. It's a helluva product, after all!

Subscribe to our Newsletter