Best Bee Hives Reviewed & Rated for Quality
In a Hurry? Editors choice: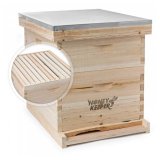 Test Winner: Honey Keeper 20 Frame

Who doesn't admire thriving and self-sustaining bee colonies in our apiaries? Even so, it all begins with a wide selection of the best beehive. Whether you are a veteran who intends to scale up or new to this game and want to
kick-start your beekeeping enterprise
, you need to ensure an ideal environment that will allow your bees to nourish, multiply and cater for themselves.
Not all beehives are made equal. You will be overwhelmed at the list that pops out every time you search for the best hives in a crowded market. We've outlined our top ten picks of the best beehives currently on the market. We also have a buying guide that's designed to help you figure out all the aspects of caring for a hive that will work for your situation.
Standout Picks
Criteria Used for Evaluation
Materials
The material used determines the longevity, insulation, and weight of the beehive. Wood is the most commonly used material in the construction of hives thanks to its insulation power, lightweight and food grade. Pinewood, cedarwood and fir wood are the most common.
Make sure the wood used is of premium quality and treated to stand up to mites, warping and rotting. Other hives are built of heavy duty plastic. Ensure all the materials used in the parts that come in contact with the honey are food grade and safe for you and your family.
Accessories
Different parts play different crucial roles that boost the overall productivity of the colony. It is essential to check that the hive incorporates most of these desirable features. Inner covers, for example, insulate the hives and prevent the wooden frames from protruding to the outer cover. Hives that come with a queen excluder have one particular draw. The excluder prevents the queen and drones from accessing the honey so the queen cannot lay eggs in the honey collection supers.
To add on that, hives that have plastic or beeswax foundation encourage the bees to build the honeycombs inside the frames. Entrance reducers will prevent looting and keep away insects and mice that may want to enter the hive while also regulating air circulation and controlling the temperature. Using the hive shouldn't be a difficult job either. Prioritize beehive boxes that come with view windows for easy inspection, feeders for convenience when you want to feed the bees.
Durability
The design and construction and material of the hive determine the durability, ease of setup, use, and harvesting. Consider hives that are well constructed to ensure long-lived service. Ensure the roof offers adequate protection from elements of nature like rain, snow and temperature changes. This ensures that the inner parts don't rot or warp.
Size
The larger the hive, the larger the colony it can accommodate and the higher the productivity. If you are a beginner, consider going for a sizeable box that will allow your colony to expand before you can add another beehive. The hive should limit drone production while maximizing the production of honey and brood. Check out if you can add more frames when all the available frames have been used.
Style
Before you settle on your ultimate choice, ensure you determine which type of hive it is. There are 3 main types of hives.
Langstroth Beehives are the most common type of beehive named after the pioneer of modern beekeeping, Rev. Lorenzo Langstroth. The style entails boxes with a removable plastic or wooden frames where the bees build combs. They have plastic or beeswax foundation, which encourages the bees to place the comb inside the frames. These units have telescopic covers, which are roofs that keep off the rain. Langstroth beehives help maximum productivity by minimizing drone production and maximizing brood and honey production. Rearing queens are easier, and the collection of pollen and propolis is easily achievable.
Top Bar Hives are the oldest type. They feature simple designs with boxes that have lids and screen for access on the ends. You need to elevate the box off the ground with legs or a stand. Wooden bars rather than frames are placed horizontally inside the boxes where the bees build the comb from the top bar downwards. You do not need a foundation with this type of beehive.
Warre Beehives have bars placed vertically inside the boxes. The bees then build the honeycombs from the top downwards inside the boxes. An empty box is situated at the bottom of the arranged stack. The bees are free to create combs anywhere on the foundationless frames giving them more control leading to more productivity. The hives do not demand regular inspection and monitoring. Honey extraction is difficult. It is hard to feed the bees since they lack feeders.
10 Best Bee Hives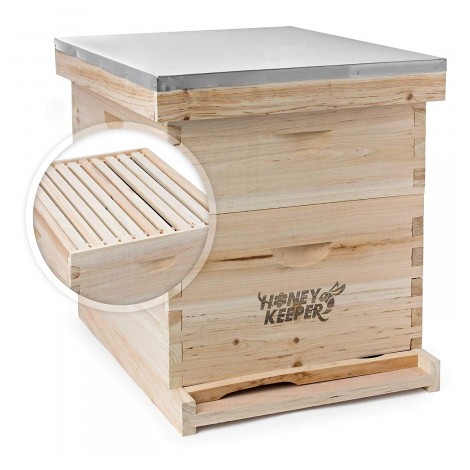 Honey Keeper has continually served the beekeeping fraternity with modern and up to date beekeeping supplies; this set is no different. Don't be deceived by the simple and basic look of this kit, the habitation, and convenience it provides to your bees is unmatched. It is a complete kit that offers more than the name can indicate.
Long-Lived Service
The frames are coined from white pine wood that can stand up to the harshest conditions and deliver long-lived service. The pre-assembled, galvanized, and metal capped telescoping rooftop is useful in ensuring that water and weather elements don't get close to your bees.
You can expect to find a solid bottom board that is mite-resistant and an inner cover, which allows for ventilation. It is a reasonably sized beehive measuring 23 × 18.3 × 19.8 inches (L×W×H) with ample space to allow for a growing colony.
Easy Assembly
This unit is a Langstroth beehive and requires assembly before use. The slight assembly required to set up this unit should not discourage you. It is easy and straightforward and doesn't require any special skills or tools other than the included pre-cut finger joints and heavy duty nails.
Another functional feature worth mentioning is the entrance reducer. This part keeps off mice and mites from intruding the bee colony and regulates the movement of air. Inside the package, you will find ten mid-size frames, ten deep frames along with a pre-cut frame that is unwaxed for the foundation.
Cost and Value
This beehive isn't the cheapest the market has to offer, but quality products on the market seldom are. It is more costly than the competition but if the price tag doesn't bother you, why not go for the very best.



Mann Lake did a remarkable job in balancing between quality and convenience at an achievable price point. It is a decent and practical home for your bees and a complete beehive solution with most of what you will need in this exciting venture.
Premium Wood
The premium quality wood used to craft this unit will hold up to any condition for ages and remain as good as new for the longest time possible. What's more, if you care about looks, you will want to know that this unit looks excellent and elegant too, of course, nobody desires an ugly-looking beehive.
In addition to the high precision cut it sports a minimalistic design that is easy to transport and position. The structure measures 22 inches in length, 18 ½ in width and has a height of 13 1/7 inches.
Second Beehive
How thoughtful of the company to allow for the addition of a second beehive so this unit can grow with your beekeeping business. You can insert your second deep hive body when you notice there is little left to draw from the initial foundation. There are ten sturdy frames in the package that can stand up to decades of serious use. The makers care about your safety and offer a full line of protective clothing to keep you safe from bee stings.
Cost and Value
You cannot do better than this piece if you are on the market for a hive that delivers like the very best of them yet costs less than half of the premium competitors. This product will hugely boost your potential for growth as a beekeeper and keep your colony of bees healthy and nourished.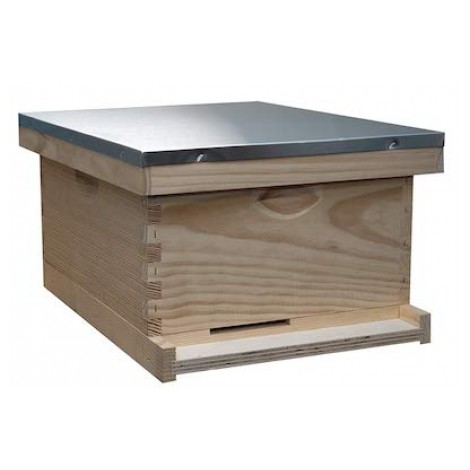 We couldn't resist adding another entry from Mann Lake. This unit is another beehive we found to be well worth your money. The manufacturer retained most of what the earlier model offered with a few notable add-ons. This beehive kit cares for everything you will be doing for beekeeping, making it a decent choice if you intend to start well without exerting much pressure on your wallet.
Top Quality Materials
The company used top quality and treated wood to make the unit and ensure it defies wear, rot, and mites and deliver a dedicated service for years. You need not worry about the pieces losing their glossiness or appeal, as they are not painted. To save you the hassle of assembling the entire unit, the manufacturer delivers the beehive pre-assembled.
Meet this well-made beehive with dimensions of 22 × 18.5 × 13.1 inches (L×W×H). It sports a compact basic design and, like its predecessor, it comes with ten 9.1 inch frames. When access to the inside is needed, it is easy and quick thanks to the telescoping cover. The metal plated cover denies entry to water and weather elements and keeps your bees protected.
Ventilation
There is an inner cover for ventilation. A solid bottom board is dedicated to keeping insects and mice at bay. More so, you will get an entrance reducer that prevents foreign invaders like mites and mice from entering and moderates air circulation hence temperature as well.
Inside the box, you will find all the tools master beekeepers use from set up to honey extracting. To save you the extra cost of purchasing protective clothing separately the company also provides them in the package.
Cost and Value
This complete kit may look a little too costly for its size, but that is the price you have to pay for everything you need for your beekeeping needs. It is another decent option that is well worth the bargain.

4

. Little Giant Farm & Ag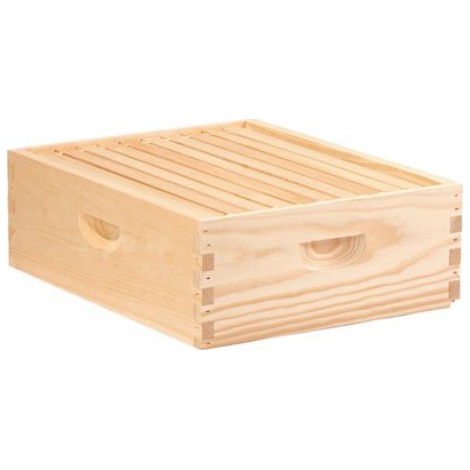 Whether you are on the market for a brood box or honey super, this beehive box from Little Giant Farm offers a suitable habitat for your bees to thrive. This hive is another decent addition to any apiary owner who wants an upgrade. You can easily fit a 10 frame Langstroth hive to the medium super or honey super to get the best results.
Robust Construction
Even under adverse weather conditions, this unit is robust and solid enough to take just about anything courtesy of the superior quality pinewood used to construct it. This unit is sturdy and long-lasting thanks to its solid build. The solid build and high strength are further enhanced by the interlocking joints that have been precision-milled.
You will also want to know that the makers offer it without paint to allow you to paint it corresponding to your beehive or apiary. With dimensions of 19.9 x 16.5 x 6.6 inches, you have sufficient real estate for the steady growth of your growing colony.
Wax Coated Foundation
The manufacturer wants to make honey harvesting something you look forward to by a pre-installed colored plastic foundation. The foundation is wax-coated so that bees can easily get attracted to the beehive. No assembly needed since the hive frame comes fully assembled and ready to use, perfect for beginners.
Cost and Value
You have absolutely no excuse not to take this unit home, at least not the price. The price is nothing compared to the large size, sturdy construction, and functional features.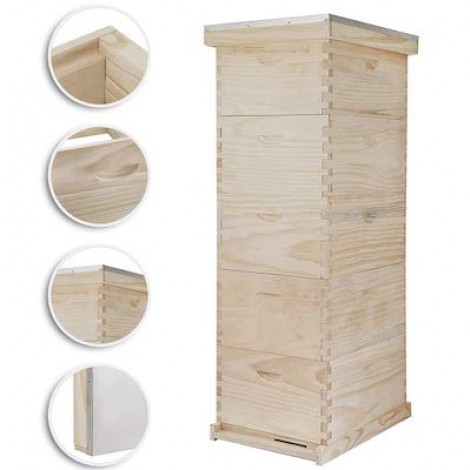 Splendid innovations have of recent seen Happybuy fast becoming a popular household name, and this 5 Box Bee Hive is one of them. The last thing any apiarist wants is a beehive that suddenly starts becoming too small for your growing beekeeping needs but this unit won't. This unit was created to surpass all space constraints.
Quality Pinewood
The box kit is made from 100% top-end quality pinewood that has been treated to enhance strength and prevent cracking. As you'd wish, there is a telescopic top cover with a metallic plate that keeps off the water and other destructive weather elements that can harm your bees.
It also offers easy access to the inside if the need arises. Your nourished colony is also well-protected insects and other predators by an included mite-resistant bottom board. Not just that, the finger joints add to its stability and resilience while making it easy to assemble. Standing tall at 24.5 x 16 x 20 inches, it is a sizeable unit that can stand up to the ever growing needs of beekeeping for years.
Different Sized Boxes
The box kit offers a deep box and four medium boxes, so you have more than ample space for population growth of the colony and honey storage. It is a 10-frame beehive although you should expect no frames and foundation so you may have to spend extra bucks to purchase them. If you wish to have a glance of the inside, without opening up the entire cover and disturbing your bees use the clear end-frame view.
Cost and Value
If you are willing to sacrifice some extra bucks for extra space and quality, this is a wise choice. It is one of the most expensive in our shortlist, but for what you get, it is worth the sacrifice.

6

. Happybuy Wooden Automatic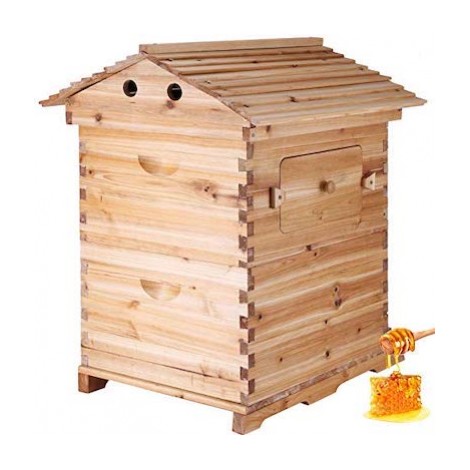 Happybuy lives up to its reputation as one of the top sellers in beekeeping supplies and continues to cement their dominance with the practical Wooden House Automatic Honey Bee Hive. The manufacturer made this unit with both the end user and the bees in mind. It sports an attractive design of a house and is perfect if you intend to keep large colonies of bees.
High-Quality Fir Wood
The entire structure is a product of high-quality fir wood, which can stand up to water, mites, cracking, and stays put even in the toughest of situations. It comes with a wooden roof which slants from the middle-peak for draining away not just rainwater and snow but also keeps out dirt, dust, UV rays, bird droppings and more. Dimensions of 25.98 x 16.93 x 9.45 inches are explicit assurances that your colony of bees will seldom run short of space to grow in population.
Stainless Steel Excluder
The company was fair to include a stainless steel queen excluder that prevents that queen from moving to upper sections and laying eggs in the honey. Additionally, the reducer regulates air movement and keeps out insects and mice. Similarly, the insect-resistant bottom board keeps out insects. From the quick check window, you can easily feed or check on your bees without creating any disturbance to the hard-working insects.
Cost and Value
With this hive, you get real value for your money. It is conveniently priced for what it offers, it is a worthy investment and highly recommended. The unit is shipped to the buyer unassembled so you will be required to do assembly before adding the beehive to your apiary. Fortunately, the assembly is simple and straightforward. Whether or not you have assembled a hive before, you can be sure to put this one together.

7

. Collections Etc Hanging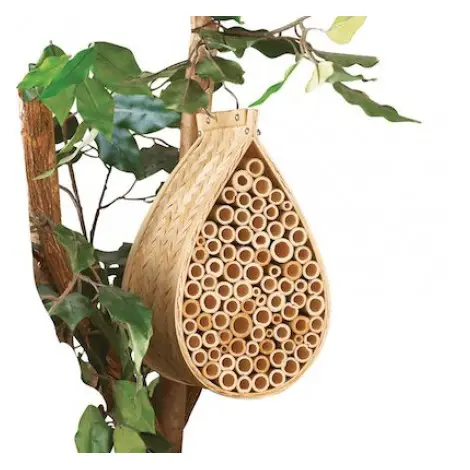 Collections Etc brings you this robust Bamboo Mason Bee Hive to give fierce competition to other premium top class beehives. It is designed for the beginner or pro mason beekeeper who is willing to purchase other beekeeping supplies separately.
Stable and Robust
The makers used plywood and bamboo inserts to craft this innovative piece making it robust and stable and can serve you for years. It is worth mentioning that you can replace the bamboo inserts if need be.
The manufacturer has high confidence in their product and backs it with a 60 day Money back return policy. So in case, this is not what you expected, contact the company for a full refund upon return. It is a reasonable size for a medium size colony with dimensions of 6 x 5.75 x 13 inches. The bamboo tubes offer plenty of space for your growing colony.
Included Hanger
You will find a hanger for hanging the beehive on a wall or tree branch. Hanging is advantageous since the colony will be protected from running groundwater, dust and crawling insects. It is pretty easy and straightforward to install and use this hive. It comes fully assembled and ready to use.
As mentioned earlier, you will find a hanger for mounting it. It is easiest to monitor the colony with this bamboo beehive. The tubes are open at the ends and easy to inspect.
Cost and Value
If you are on a tight budget and would still wish your bees to enjoy premium quality habitation, then this is your best shot. It is the cheapest hive we came across and may not be the best there is, but for what it costs, it would almost be rude not to buy one.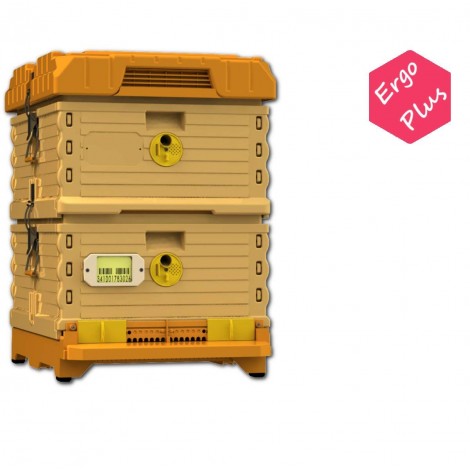 Apimaye designed this beehive with your bees in mind and left very little to be desired. Both the pro and the novice beekeeper are assured of maximum productivity from their bees once they start or add this well-done beehive to their apiary.
Food Grade Plastic
The beehive has been created from premium food-grade and UV-resistant HDPE plastic with anti-static plastic. Unlike wooden hives, this one won't warp or rot making it sturdy and long-lasting enough to last a lifetime. Like you would expect, there is a screen bottom board, but it comes with pollen trap and drawer that keeps off insects and mice. Pull the drawer to colleen fresh pollen.
The baseboard is effective in combating Varroa mites and small hive beetles. The manufacturer insulated this unit to tolerate extreme weather conditions of cold winters and hot summers and eliminate any moisture build up creating a favorable environment for your bees.
Entrance Reducer
Like other top quality products in its class, this one also features an entrance reducer that bars insects and mice from entry and prevents looting. Moreover, a queen excluder regulates movement and protects the honey from the drones. An improved top feeder means you will not have to open the beehive and disturb the bees each time you want to feed them.
You will also find 2 division uniting board for dividing the colony and frame spacers to keep the frames firm and stable. Did we mention the top cover feeder which lets you feed the bees without interrupting them?
Cost and Value
Although the hive lies on the higher end of the price scale, it is worth every penny you sacrifice. Since the company does not provide frames, you will be required to purchase plastic or wooden frames separately before you can set about. You need not worry about spending extra cash painting the beehive since it is already painted.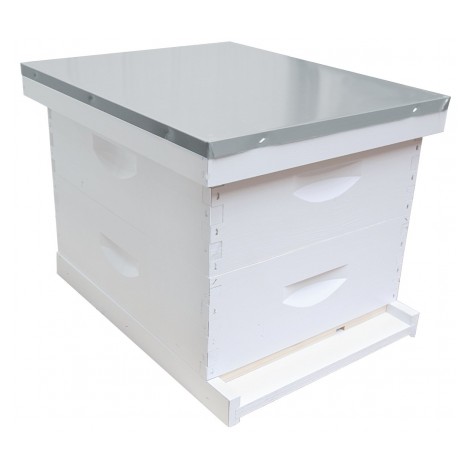 No surprise to see Mann Lake making waves in the beekeeping supplies' market; it's one of the areas where their brands excel. This unit does wonders when it comes to providing a favorable habitation for your bees. Two is better than one. That's right. This set offers two boxes to cater to your growing beekeeping needs. This means a more massive colony and more honey.
Weather Tolerant
Made from top quality pine wood, this box can tolerate to sun rays, moisture, wear and tear, and any other destructive elements without ripping apart. The hive measure 22 × 18.5 × 13 Inches providing sufficient space for the colony to grow.
Twenty Frames
The company included 20 wood frames with a yellow waxed RiteCell foundation to appeal to the bees. The telescoping cover with a metallic plate is useful in holding off the water, sun rays, and other weather elements. Not just that, the inner cover enhances ventilation. The bottom board also keeps away insects and mice.
In addition to that, the package comes with an entrance reducer to prevent looting and prevent insects and mice from invading the bees' territory. The manufacturer takes great care of your safety with free protective clothing.
Cost and Value
As one of the priciest options out there, this hive from Mann Lake is well worth the sacrifice. The solid build, functional features and ample space couples with the good looks to justify the extra bucks you are required to pay. If you are ever complaining about spending the additional cost to paint wooden hives, be comforted for this unit comes painted. Since it comes fully assembled, you will have very little to do upon delivery.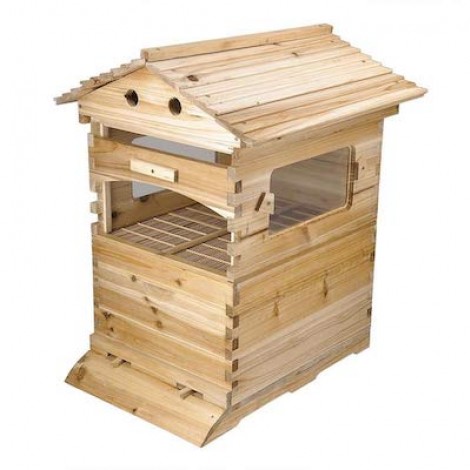 Mophorn purposes of fulfilling every beekeeper's housing needs with this beehive house. Bearing a close resemblance to the Automatic Beehive House from Happybuy, this one is also sure to impress beginner, hobbyist, and professional alike in many aspects most importantly size, convenience, and longevity.
Durable Unit
Superb quality fir wood has been used to make the entire unit making it durable without adding much to the weight. To keep at bay water, dust, and dirt, ensure the interior is cold, and dry all year round, there is a wooden top cover. Standing at 20 x 16 x 10 inches, space should not be any of your worries with this helpful piece.
Removable Excluder
Like its premium competitors, the company also included a removable stainless steel queen excluder to regulate the movement of the queen. A bottom board ensures no insects gain entry into the bee colony. The frames are designed to automatically draw honey from the combs making it easier for you.
You can't help but notice the quick-check view window that lets you check, feed and collect honey without disrupting the bees.
Cost and Value
This hive is moderately priced and well within reach of the average beekeeper. It is an excellent compromise between quality, convenience, and price. To make it safer when shipping the beehive, the company does not assemble the unit for you. This means that you will need to put the parts together before you're good to go

Subscribe to our Newsletter