Best Beds With Slides Reviewed & Rated for Quality
last updated:
Mar 24, 2019
One of the most exciting inventions for beds is in the form of bunk beds with slides. Beds with slides were designed specifically to give playtime to children, with the opportunity to sleep in a bunk bed that descends from the top.
There are a variety of kid's bunk beds with slides that children will love. They are constructed so that the slide can be erected on the left of the bed to ensemble the bedroom layout. The experience of getting to slide out of bed is one of the most amazing ways to start your kid's day. With these styles of slide beds, you could add additional excitement to your children's bed, thus giving them the royal treat they deserve.
It comes in different dimensions and sizes well tailored to suit your choice and preference. This can be one of the best presents you could get for your child.
In a Hurry? The test winner after 8 hrs of research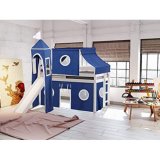 JACKPOT! Castle Low Loft
Why is it better?
Stylish bed
Affordable
Fast shipping
Slide can be placed on either side
It is durable
In a
Hurry? Editors choice: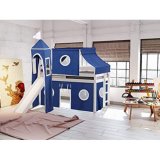 Test Winner: JACKPOT! Castle Low Loft

30
Researched Sources
1600
Reviews Considered
8
Hours Researching
10
Products Evaluated
Materials
Style
Product Purity
Size
Ease of Use
By Default
10 Best Beds With Slides
1

. JACKPOT! Castle Low Loft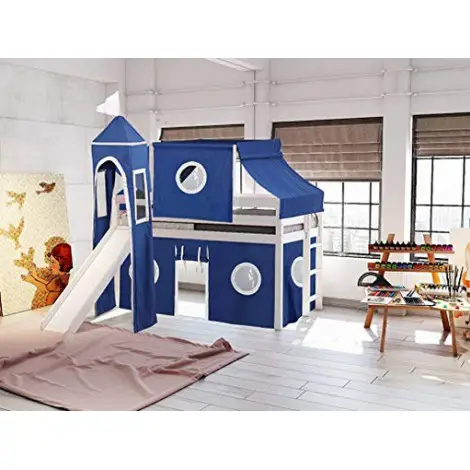 Stylish bed
Affordable
Fast shipping
Slide can be placed on either side
It is durable
No mattress
Assembly required with tools
This Castle loft bed with an accommodating end ladder comes in white and blue curtains, a tower, top tent, and a slide. It is highly recommended for kids who are 6 years old and above. This castle is constructed out of sturdy wood. You can place the ladder and slide on the left or right side of the castle bed. It weighs in at 131 pounds, and has an overall measurement of 80 x 84.8 x 87.5 inches.
Made With Solid Wood
It is constructed with a solid wooden material which makes this piece of furniture last for a very long time. It also contains 'knot free' New Zealand pine. This castle bed is well balanced and positioned.
Assembly Required
This castle bed comes in dismantled parts and will require you to assemble it following the instructions on the manual. You also require tools to assemble it as well. The loft bed, slide, and tent are easy to couple together. However, you will be required to purchase a mattress.
Cost and Value
You can get more information about this furniture through the manufacturer's website. You can get your questions answered regarding warranty or money back policy by contacting the seller. The price of this castle is truly affordable and well worth its value!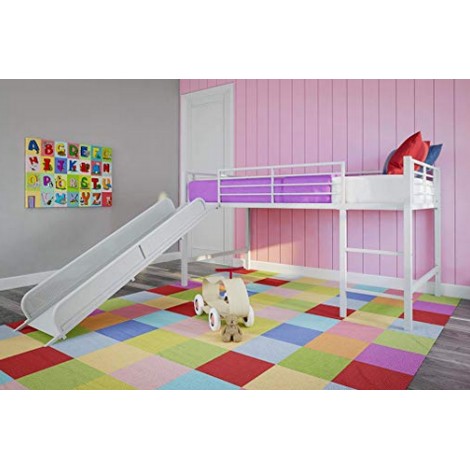 It is great for little ones
Sturdy construction
It is affordable
Very comfortable
It is firmly stable
Slide and ladder doesn't fit well
Difficulty in replacing parts
The DHP Junior twin metal loft bed with accommodating slide literally transforms your room into a suitable environment that children will find appealing. It is crafted with a box spring, slats, and a sturdy metal frame. It comes with curtain (not shown) for privacy. It generally has a weight limit of 200 lb. there is a hidden space further down the bunk bed where books and small toys could be kept. Weighs 84.5 pounds, and measures 77.5 x 41.5 x 43 inches.
Guardrail
This twin metal loft bed with slide has a multifunctional design. It comes with a crash barrier that springs around the length of the bed. This serves as a safety measure protecting and reducing the risk of the child falling off. It houses one standard sized twin mattress, which is sold separately.
It Is a Space Saver
This bed with slide is created with smaller rooms in mind, without ever giving up on design and comfort. Whether for a children's room, or a spare room, this bed can be used for different areas.
Cost and Value
The amount of money you are paying for this bunk bed is worth it, compared to the value your child will have while using it. Make your child's dream come true by buying this piece of furniture that is readily available and affordable. For further details about this product, you could easily reach out to the seller through their page.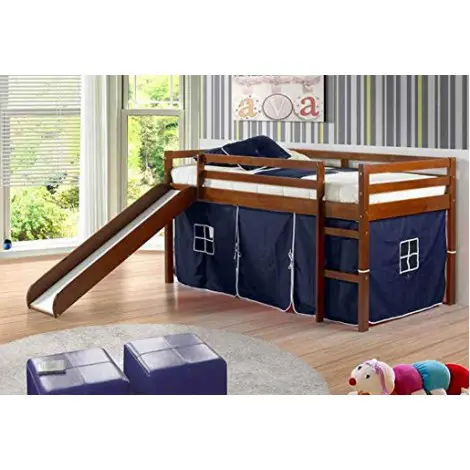 The bed slides
Highly durable
Very affordable
Comfortable
Parts are easily replaced
Slide can easily break
Assembly process is long
The Donco bed with slide is constructed with solid pine wood and an integrated ladder to give it a very comfortable positioning. It is made with a long lasting wax finish specifically to protect surfaces from crumbling easily. This bed will encourage innovative play in children with its blue under-bed tent. It comes in light espresso/blue. The product weighs 46 pounds, and has an overall dimension of 75 x 14 x 3 inches.
Durable Wax Finish
Most products constructed with solid pine wood have a risk of the surfaces wearing off easily. However, with the long-lasting wax finish the covers the Donco loft bed, you are guaranteed maximum protection against surface wearing. This coverage will make this tent bed last for a very long time.
Includes a Mini Slide
Apart from just being a tent bed with slides and slats, this unique piece of furniture additionally comes with a mini ladder. Although it already comes with a tent and a regular ladder, the mini ladder creates much fun to the children as it aids in launching children out of bed every morning. This could be an awesome experience for kids.
Cost and Value
Generally, the price of this model is quite affordable. This product could be yours with just a few dollars. Your child will really enjoy the features of the slide bed. You could easily reach the seller for any questions about the product. You can also inquire about warranty and returns, if applicable. The product is readily available to order.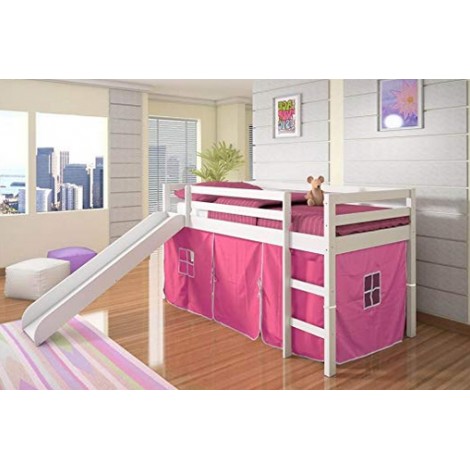 Stylish bed
Pinewood construction
Price is competitive
Perfect dimension
Bed is durable
Warranty lasts only 30 days
It is non returnable
The Donco tent bed is well built with solid pine wood and integrated with a ladder to give it a very comfortable positioning. It is made of durable wax to protect surfaces against crumbling. It comes in white with an accommodating pink tent. Encourage innovative games for children with their pink tent under the bed. The furniture has a weight of 46 pounds, and has a total dimension of 75 x 14 x 3 inches.
Durable Wax Finish
Products mostly made from solid pine wood can wear out over time. The good news is that with the long lasting wax finish that covers the frame of the tent bed, you are assured of maximum protection against surface wear.
Comes With a Mini Slide
This amazing piece of furniture is designed with a mini ladder in addition to having a tent with slides and slats. Although it already comes with a tent and a ladder, this extra mini ladder provides a lot of fun for children as it helps guide children out of bed each morning. This could an exciting adventure for children.
Cost and Value
The Donco loft bed is highly affordable and available just exactly when you need it. Once shipped, it is non returnable. However, their warranty policy is fully operational. For information about this product or for policy rules and regulations, you can reach out to the seller for more information.
5

. Coaster Home Furnishings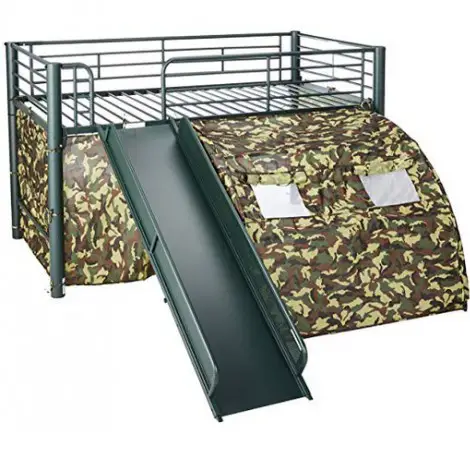 The price reasonable
Well constructed
Fun for little soldiers
It is sturdy
Good metal frame
The fabric easily tears
Guardrails are too low
This awesome piece of furniture is finished in army green with camouflage fabric color. Captivate your little ones with this furniture. It does not require assembly. One set comprises of one loft bed. It is made of metal and fabric. It generally weighs 132 pounds, and comes with a dimension of 115 x 100 x 50 inches.
No Assembly Required
The experience of getting to purchase a bed, only to spend hours trying to couple the parts together to assemble it, could be quite time consuming and frustrating most times. Save yourself all the rigor and go for the Oates lofted bed with slide and tent in army green and camouflage. This bed is well tailored and suited to give you and your child the best experience of comfort and maximum satisfaction.

Army Green Finish
This unusual lofted bed which is finished in army green and blended with camouflage fabric, is just the perfect choice for any little kid soldier in your life. This piece of furniture will further inspire and motivate your kid who is passionate about the army to be conscious and deliberate about pursuing their dream.
Cost and Value
For warranty information about this product, money back policy, and returns, you can refer to the seller. The Oates lofted bed is highly affordable and available. The price is very competitive, but well worth it!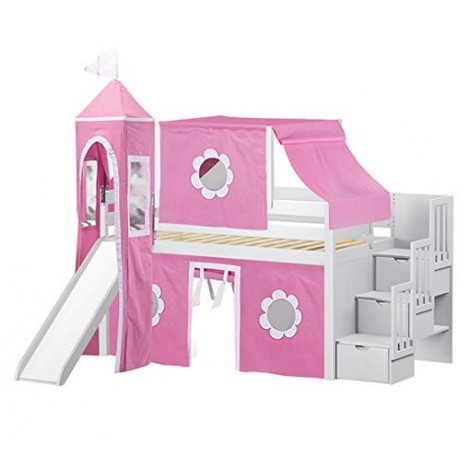 Stylish piece
Bed is sturdy
Valuable price
Comfortable
Durable
Assembly takes long
Screws are too short
The JACKPOT! Princess loft bed with slide comes with a white finished wood. The bed consists of a slide, top tent, tower, a 3-step stairway, and curtains. It is constructed with durable, solid wood. It is a twin loft style bed and not really a bunk bed. The item weighs 222 pounds, and has a total dimension of 98 x 84.8 x 87.5 inches.
Made with Solid Wood
This princess bed is constructed with solid wood, which include knot-free New Zealand pine. The solid construction makes this model very durable. As such, it will last for a long time. Provision is made for the slide and ladder to be placed at the left or right side of the bed.
Bunkie Board or Mattress Not Needed
One key aspect of this piece of furniture is that it comes with a complete set of slats. There will be no need for a Bunkie mattress or board. It comes with the loft styled bed since it is not the standard style bunk bed.
Cost and Value
If you are looking for a bed where the price is affordable, then the JACKPOT! Princess stairway loft bed is what you have been waiting for. It is readily available for purchase. The seller can be contacted for all resolves concerning the warranty and refund policy.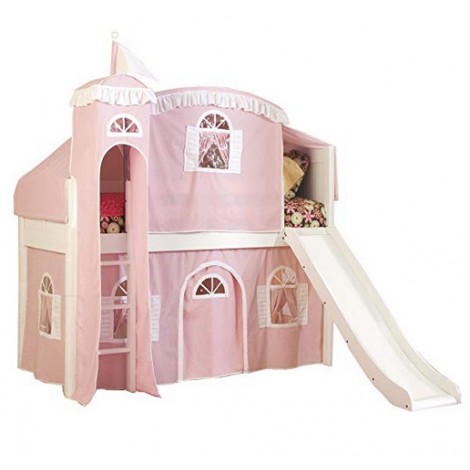 Stylish bed
Perfect for your child
Price is worth the value
Highly durable
Very comfortable
Some parts are missing
Parts are not easily replaced
This is a children's loft castle bed in a white finish. This bed comes with tower, top tent slide, and curtain in white/pink. It also consists of a playhouse curtain, tower, and a slide. It is highly constructed to last long with its solid frame construction. It does not require any necessary support as it comes complete with a slat roll. It weighs 64 pounds, and has an overall dimension of 79 x 98 x 78 inches.
Solid Frame Construction
One beautiful thing about this Bolton furniture bed is that it is uniquely constructed to last for a very long period of time. With its solid frame construction, you are guaranteed that your child's castle bed is sturdy and will not easily deteriorate.
Metal to Metal Connection
Once the Bolton Furniture 9811500LT6PW castle bed is assembled together, you can be rest assured that it will remain that way. The bed coupled with bolts and nuts, with metal to metal, gives it a firm grip and positioning.
Cost and Value
Considering the well elaborate features of this furniture, the price is definitely worth its value. It is highly affordable and available for purchase when you need it. For more details about the product, you can contact the seller. You will get an instant response regarding their warranty and return policy.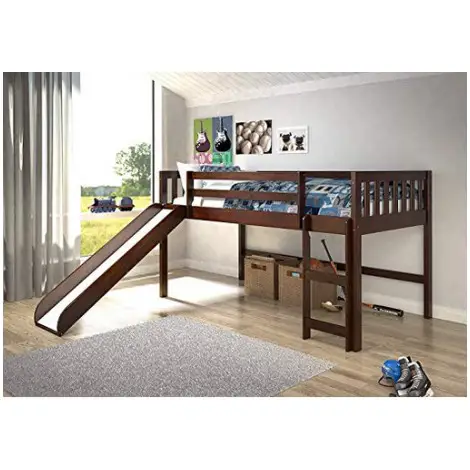 Comfortable and fun
The height is perfect
Good quality construction
Used as a bunk bed
Suitable for toddlers
The tent falls off the bed easily
Does not last long
The Donco Kids 715-Tcp Mission tent bed in dark cappuccino is furniture that offers great value for children. It comes with an overall measurement of 78 x 42 x 43 inches, and weighs 92 pounds. It comes with a protective finishing. This makes it a very attractive piece of bedding furniture for children.
Made With Pine
It is constructed with mainly pine. This further enables it to be very strong for play time, yet comfortable for sleep time. Additionally, a ladder can be attached to it for children to easily roll down every morning.
The Perfect Sleeping Bed
Looking for a bed that has a stairway bunk and is very comfortable as a day bed, Captain Bed, and a trundle bed? Then the Donco Kids 715-Tcp Mission tent bed will be the perfect choice of furniture for your child's room.
Cost and Value
For more information about regarding this model, or about the warranty, returns policy rules and regulations, you can contact the seller. This kid's bed will provide great value for your child and is readily available for purchase.


Sturdy metal frame
Perfect size
Great bed
Very easy to assemble
Safe for children
The guardrail easily falls off the bed
Mattress is sold differently
This is a great kid's bed with a unique make up and design. Its red finishing gives it a very attractive and appealing look. It has a silver metal frame with red slides and meets the safety specifications of the ASTM and CPC. The stamp of approval means that this bed is highly safe for kids. It has a dimension of 78 x 41.5 x 42.5, and weighs 45 pounds.
Has Guardrails
The Dorel Boys' Fire Department twin loft bed with slide comes with a guardrail which specifically runs along the bed's length and provides safety for your child. It prevents the risk of your child falling off from the bed.
Silver Metal Frame
Everyone wants a bed that is strong, comfortable, and lasts for a long period of time. With a silver metal frame, this bed will provide a backbone of support that makes it firmly rooted.
Cost and Value
You can order this bed for your child anytime you need it because it is readily available. The price is superb and worth the value. You can get more information about the product, along with its warranty and return policy from the seller. This bed will provide great value (and memories) for your child.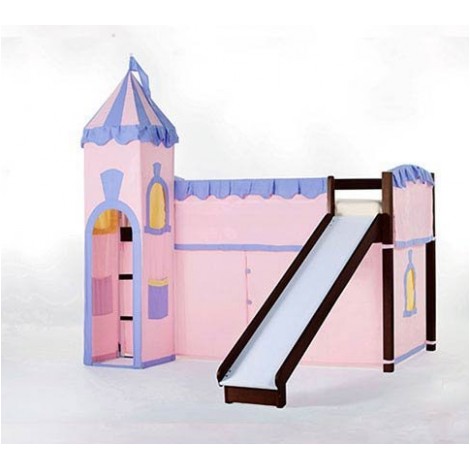 It is well made
Perfect for your child
Has a great bed frame
Durable
No foundation required
Parts of the cover are too loose
Some parts don't stay in place
With this beautiful piece of furniture, you can give your child the princess royal treatment they deserve. The bed comes with a slide and a ladder. It was constructed with a barrel bolt construction. The mattress is readily available with a total slat system (no foundation required). It weighs 183 pounds, and has a dimension of 84 x 45 x 15 inches.
Slide's Border Outlined in Chocolate
If you are wondering how to treat your child like a princess, then the NE Kids School House Princess loft bed is your answered prayer. It was designed specifically for this cause. It's pink finishing and touches of chocolate, gives it a more feminine look.
No Foundation Required
One amazing thing about this bed is that it a does not require foundation as the mattress is crafted with a complete slat system. It is well tailored and suited for this purpose. The bed is very comfortable.
Cost and Value
The price of this bed is well worth its value for your child. It is very affordable and available for purchase. For more information about this product, or to inquire about returns or warranty, customers can contact the seller.
Criteria Used for Evaluation

Materials
The material used in constructing a bed goes a long way - telling how long the item will last. Nobody wants to buy a bed to sleep on that will not last for the long run.
Hence, one of the things to check out for before purchasing a one is to check the material it was made from thoroughly. Go for a bed that is made from sturdy materials like a strong wood and a metallic frame. These make the bed to be firmly supported. Never choose a bed without thinking what mattress you will be using on it. Spring mattresses are recommended for spring beds. Slat beds teams up with foam mattresses. It is ideal to purchase a new bed and mattress at the same time. A new mattress on an old bed will not last as long.
Each material has both advantages and disadvantages, so it's critical to be knowledgeable of this when deciding which material is the right one for your child
Wooden beds come in a vast array of different wood types, from pine to cherry to hardwood, as well as a variety of finishes, making it easier to find a bed to blend with any design style. The sturdy and durable frame of wood beds means they will last for years to come; but that also means these beds can be difficult to move.
Metal frame beds are usually made out of tubular metal and are lightweight when compared to wooden beds. They also tend to be more affordable, but can begin to squeak over time. Metal beds tend to be sleek, favoring a minimalist and a more modern design style.

Style
Beds with slides come in many different styles. The designing and construction process takes into consideration the different preferences and choices of individuals.
There are varieties of patterns well tailored to suit your need and satisfaction. Some come in form of army camouflage, which is suitable for little soldiers. Some others come in form of castles for princesses - to give your girl child a royal princess treat. These examples are a few of many styles to choose from. Your choice of which slide bed to buy will directly relate to its functioning and how it is to be used (sleep and play).

Product Purity
A lot of products don't match the description as given by the manufacturer. You only get to discover this after purchasing and delivery. This is one of the most annoying things that could ever happen. This is why it is of upmost importance that you always check thoroughly to see that the product matches the product description given by the manufacturer.
Some also have been faced with the challenge of buying a product only to discover that some parts are missing and they can't return the product because it is non-returnable. A good manufacturer should always have some form of warranty and return policy.

Size
When it comes to size of your slide bed, it generally means two things; the dimension, (height, width, length and weight) and the overall product weight. You must always make sure that you carefully check to see that the dimension and weight tallies with what was written on the product description manual. There are cases where the length and height is way too small and cannot accommodate children above or below a certain age. To avoid false advertising, always perform a cross check.
Listed below are the different bed sizes:
Twin over Twin: When one twin bed is placed at the top, and the other twin bed is placed at the bottom. This arrangement is often the most popular choice for accommodating two smaller children.
Twin over Full: This is when one twin bed is placed at the top, and one full bed is placed at the bottom. The twin over full arrangement is recommended for one older child who sleeps in the same bedroom with a younger child or sibling.
Full over Full: This is when one full bed is placed at the top and the other full bed is placed at the bottom. The full over full arrangement will give two smaller children sleeping space they eventually will grow into.
The Twin loft: This is when one twin bed is placed at the top and there is a space underneath for storage, desk, and other accessories. This arrangement of a twin loft takes advantage of needed space while providing style.
How much additional space is there from the ceiling to the top bunk? Before making a decision on a bed, be certain that the ceiling is high enough to place one. It is recommended that the space should be 30 inches, at minimum, from the ceiling to the top bunk.
How thick of a mattress you need? It is not necessary to purchase a special mattress. Make sure the bed size and the mattress size both match.

Ease of Use
One of the profound factors to consider before purchasing a product is to know how easy it is to climb into it, assembling the parts together, and utilizing its functionalities to the fullest. Make sure that your child's sliding bed has all the safety functions such as headboard footboard, and guardrails.
Another consideration is the child's age. The American Academy of Pediatrics suggests that children 6 years of age and under should not sleep on the top bunk. A younger child tends to wake up through the night. Sliding is a learned skill and not that is performed easily while he is mostly asleep. It is also important to explain to your child the right way to get in and out of the bed safely.
Expert Interviews & Opinions
Most Important Criteria
(According to our experts opinion)
Experts Opinion
Editors Opinion
Users Opinion
By Default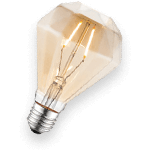 Shipping And Delivery for International Orders
When you are making an order from an international company, there is always a form of custom duties and extra shipping charges in addition to the price of the product. So it is of utmost importance that you always confirm whether there are any extra shipping charges or custom duties so that you will not be taken unaware.
Warranty And Returns
Over time, there have been a lot of complaints from customers who get stranded upon buying a product and not being able to return it back to the seller or manufacturer upon detection that some parts are missing. This normally happens simply because there is no warranty policy and the product is non-returnable. To avoid such occurrences, you must always make sure you check and confirm whether the product has a warranty and if it is in full operation.
Protection Plans
In place of, or outside the product warranty, bed manufacturers provide protection plans covering accidental damages; such as stains and tears, punctures and bumps, cuts, and watering rings. These types of plans do not cover damages caused by the owner's abuse or negligence. Also, they do not cover additional exclusions that are listed in the warranty. Protection plans may include complete repairs with or without a deductible. Most packages are optional. They are available in different lengths of coverage at varying prices.
Weight Capacity
The weight capacity of the top berth will be significantly lower than the weight of the bottom berth. A metal bunk bed, for example, can support up to 200 pounds up and up to 500 pounds down. Remember: weight capacity is for both the bed and the mattress. As a result, lighter mattress types (such as memory foam models and some spring models) are more suitable for bunk beds than heavier ones (latex, hybrid or inflatable models).
Current Standard for Bunk Beds and Safety Concerns
Bunk beds sold in the United States are regulated by the US Consumer Product Safety Commission (CPSC). Manufacturers and importers of bunk beds for children must submit bunk beds to a third party laboratory approved by the CPSC for safety testing. They obtain a child product certificate certifying that the bed complies with all safety standards and regulations in force.
Other Factors to Consider

Durability
Consumers feel confident in purchasing a bed for their child and enjoying its usage. The main objective is seeing that it serves its purpose for a very long time without it breaking down easily. Always select a bed that has been tested for durability and safety from a trusted brand. It should have some form of guaranty. At least you will be rest assured that should something go wrong, you will have the option of exchanging or returning it.

Features
Beds with slides come with amazing features. All come with guardrails, which is a safety and support tool. Others can come with ladders; some beds have storage spaces underneath the bed where you can keep kids toys and books. It is best to go for sliding beds that are multifunctional in design and nature.

Effectiveness
Children's spaces are typically too small for the mounds of valuables they have. A bedroom has to be both innovative and useful to provide the space they want. At the same time, take into account the performance factor as well.
Multipurpose beds with slides offer a storage area or a desk under the stairs. Or you can choose a loft style bed for your one child, understanding that she or he will accept absolutely nothing less.
Beds with slides are highly effective in providing a very comfortable space for children to sleep, while serving as a playroom for your child. Choosing a quality slide bed can be confusing at times. There are so many factors to consider. If your child's room is small, or you occasionally host other children, it is ideal to find a bed that provides maximum utilization of space. A trundle bed that sits beneath, can be drawn in or out upon use.
These types of beds save on storage space. Some have drawers or an attached desk where your child can store clothes along with other items.

Adjustability
One of the most challenging aspects of selecting the right bed would be to choose one according to their age. The silver lining of this process is that it tightens the factors to the most strong and safe beds.
An additional tip regarding smaller children is to take the stairs versus ladders. This is because of the fact that they are easier to go up, and they usually come with security rails attached to them.
Age does matter likewise, when it comes to style - even though it would suggest draining your wallet. At eight years of age, girls will likely put in a request for a 'My Little Pony' themed bed, and boys in the same age bracket will request for an aircraft bed. However, each child will choose not to keep their beds after one year or so.
For this cause, you may wish to discuss how to pick a bed that is more practical – one that will grow with them.

Safety Hazards
Bunk beds take advantage of empty space in your child's room and can create a casual, fun environment. However, due their elevated construction, these styles of beds come with a certain risk factor. Bunk beds are made to include safety features to reduce this risk. Being aware and adhering to safety guidelines are important for minimizing the risk of injury.
Mandatory standards are set in place to improve safety for the thousands of children who use bunk beds. The U.S. Consumer Product Safety Commission requires that all bunk beds styles sold in the US has to comply with the following guidelines.
Every bunk bed is required to have a warning label on them that rules against placing children under 6 years old in the upper bunk.
Guard rails on both sides of the bed are required.
Bunk beds that are taller than 30 inches must have a guardrail on the side of the bed that hits the wall.
Openings on the lower and upper bunks must be small so that a child's head, limb or torso cannot pass through them.
Frequently Asked Questions
q:

Why would a child need a bed with slides?

a:

Beds that come with slides provide many benefits for the child as well as for parents. Slide beds in general, can fill a considerable number of uses and roles. As might be expected, their predominant purpose is for sleeping; but bunk beds with a slide can also blend in and become an integral part of the child's playroom. It can also serve as an extra sleep space when your child has guests. A tertiary but useful component is that slide beds provide storage.
q:

Does the slide bed come with a mattess?

a:

No. Most often than none, you will be required to buy the mattress separately as the bed does not always come with a mattress. However provision is made for a sleep surface.
q:

How thick should a mattress be for a slide bed?

a:

While a typical double mattress usually measures between 7 1/2 and 12 inches in height, a bunk mattresses at the top bunk should measure over 6 or 7 inches. Otherwise, the surface of the top mattress will measure above the height of the guardrails and will put sleepers at risk of falling out of bed.
q:

Are bunk bed mattresses the same as twin?

a:

A typical bunk for a kid's room consist of two twin mattresses. A double mattress measures 39" width and 75' length. But another style of twin mattress exists. That is a twin XL. The extra long style measures the same width, but has an extra length of five inches and a total length of 80 inches.
q:

Can you use regular mattress on bed bunk?

a:

You can use an ordinary mattress without the box spring. You can just use a normal mattress with the spring for the lower bunk and a single mattress for the top bunk. As long as the mattresses are the right size for the bunk bed, you only need the box springs.
q:

Do you need a bunkie board or bunk bed?

a:

Some beds have only three or four battens and require a piece of plywood or a padded bed panel. But if there are about 15 or 20 battens, the bed is designed to allow you to lay the mattress directly on the battens. This will not hurt the mattress because most of today's mattresses are designed for platform foundations.
Subscribe to our Newsletter