Best Bed Rails for Kids Reviewed & Rated for Quality
last updated
Aug 22, 2019
Your little one has outgrown his or her crib and it's time to transition to a "big kid" bed. This is a big milestone in terms of growing up, and your child is undoubtedly proud and excited; eager to help you choose his or her new bed. As a parent, this can be a disconcerting time; what could be more frightening than the thought of your child falling out of bed? Bed rails for kids are a necessity to ensure that your little one doesn't accidentally fall.
Nighttime falls are a common cause of injury among toddlers and small children. Installing a bed rail is your best method of preventing such an incident as your child adjusts to sleeping in a bed.
In a Hurry? The test winner after 9 hrs of research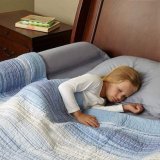 hiccapop
Why is it better?
Includes machine washable waterproof cover that stays safely in place
No carcinogenic, toxic, harmful or unsafe chemicals or materials are used in the manufacturing process
Takes mere seconds to install
Fits everything from toddler-sized beds to king-sized beds
Works perfectly with fitted sheets
In a
Hurry? Editors choice: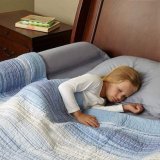 Test Winner: hiccapop

12
Researched Sources
11k
Reviews Considered
9
Hours Researching
12
Products Evaluated
Effectiveness
Style
Safety Hazards
Value
Durability
By Default
10 Best Bed Rails for Kids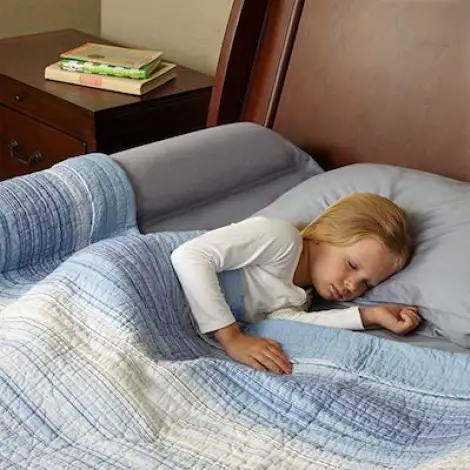 Includes machine washable waterproof cover that stays safely in place
No carcinogenic, toxic, harmful or unsafe chemicals or materials are used in the manufacturing process
Takes mere seconds to install
Fits everything from toddler-sized beds to king-sized beds
Works perfectly with fitted sheets
Railing may not expand to 6" in height as advertised
Railing may not stay in place
The hiccapop is a soft, foam-filled pillow pad that acts as a protective bumper. Not only does it keep your little one safe from accidental falls; it is soft to lean up against. If your child should roll up against the bumper, it will prevent him or her from falling to the floor, and it will not cause your child any discomfort in doing so.
A Smooth Transition
The transition from a crib to a big kid bed can be a difficult one for a child. The presence of metal bed rails can sometimes exacerbate the problem by making the child feel caged in or trapped. The hiccapop, however, makes the transition easy with its soft, pillow-like texture and appearance. Your child will feel safe, comfortable and at ease, instead of frightened or claustrophobic.
Responsibly Manufactured
The folks at hiccapop are very particular in the materials with which they choose to construct their products. The bed rail is made without any harmful, toxic or carcinogenic materials including formaldehyde, phthalates, TCEP, PBDEs or TDCPP flame retardants, lead, mercury or heavy metals. Hiccapop simply does not cut corners when selecting materials; the company chooses only the sort of items that they would allow their own children to have on their beds.
Cost and Value
The railing boasts an impressive 4.5 out of 5 stars based on over 4,000 customer reviews, and the price is incredibly fair. Kids seem to truly enjoy having the hiccapop on their bed; it is comforting, soft and protective instead of being cage-like and restrictive. All in all, it's an excellent value and comes highly recommended.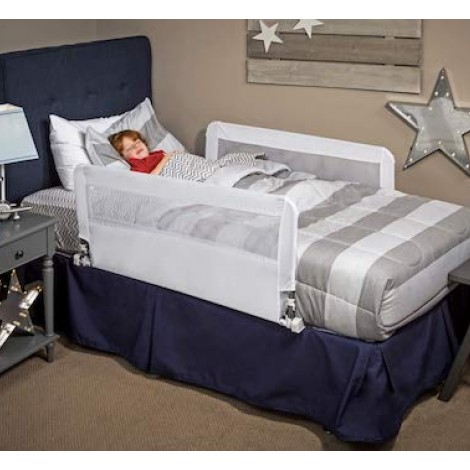 Reinforced anchor safety system
Can be used on a twin, full, double or queen sized bed
Rails can be folded down during the day, hence "hideaway"
The rail guard is aesthetically pleasing and features a bright white exterior
Installation can be completed in minutes
The guards reportedly do not fit all mattress sizes
Several complaints about rail not being tall enough to adequately protect child
The Regalo is a moderately priced, well-reviewed hideaway rail guard. It's easy to set up and fits securely. The rail guard itself is painted bright white and has an overall pleasant appearance; while it's a traditional guard, it doesn't look cage-like or confining.
HideAway
As its name suggests, the rail guard can be folded down during the day and is virtually out of sight, leaving your child's bed looking perfectly tidy. This features also makes it extremely easy to put fresh linens on the bed or simply make the bed in the morning.
No Tools Required
The rail is very simple to install. Assembly can be completed in minutes. Even better, no tools are required. The rail is easy to securely install in place, keeping your little one secure on both sides of the bed. Even if the bed is up against the wall, the installation will not be problematic, and the sides of the railing can still be easily folded down during the day.
Cost and Value
The rail guard has an average rating of 3.3 out of 5 stars; a mediocre score. The price is competitive compared with other rail guards on the market. All in all, there is nothing about the guard that makes it particularly stand out, other than the fact that it can be easily hidden away during the day. Therefore, like its rating, the rail guard is of an average value.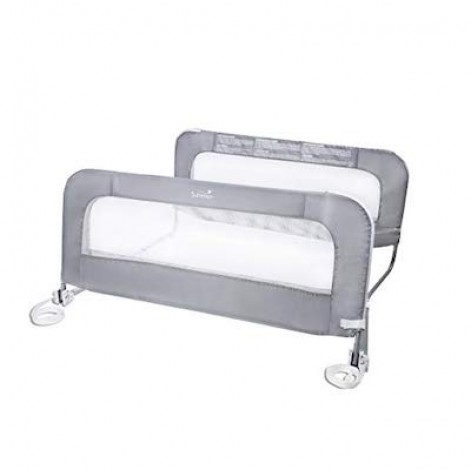 Easy, quick assembly and removal; portable
Suitable for a wide variety of mattresses, from toddler to queen
Easy and convenient to change the linens
Easy for a parent to sit on the side of the bed and read to their little one before bed
Safely and securely hooks underneath the mattress
Smart design and manufacture composed of metal and polyester
Cannot be used with a bunk bed, water bed, trundle bed or air mattress
Several complaints about the side rail being extremely difficult to operate
The Summer Infant Double Safety Bedrail is a simple, basic, effective option that is ideal for transitioning from a crib to a matress bed. The price is fair, the reviews are positive, the installation is simple and the protection is very effective.
Strong & Comfortable
The rail itself is made of metal and polyester. The railing is strong and durable enough to stand up against the weight of a child without a problem. The metal components are covered with a soft, polyester mesh-like covering that provides padding, thus cushioning the bed rail.
Versatile
The rail fits on everything from toddler-sized beds to queen-sized mattresses. The railing is easy to install, fastening underneath the mattress on either side. The railing does not interfere with fitted sheets, nor does it hinder the bed making process. It's also quite easy to remove and travel with, and portability is always a plus.
Cost and Value
The railing boasts an impressive 4.3 out of 5 stars based on over 350 customer reviews; an excellent score. Its price is competitive with the market; falling right in the middle of the scale. Based on the enthusiastic reviews, fair price, high rating and the manufacturer's solid reputation, the railing represents a smart purchase and an excellent value; highly recommended.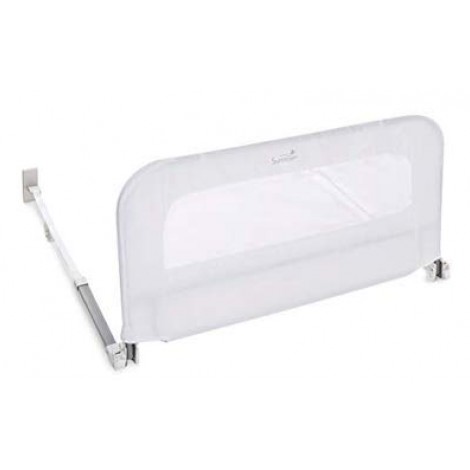 One side folds down; making it convenient to sit on the bed or change the sheets
The railing is incredibly lightweight, compact and portable
Meets all safety standards and criteria set out by the CPSC
Unisex; works with virtually any bed (up to queen sized)
Easy installation and assembly
One customer stated that the assembly instructions are incorrect and difficult to follow
The Summer Infant Single Fold Safety Bedrail, as its name suggests, folds down on one side to allow a parent to sit on the edge of the bed to read to his or her child before bed or to facilitate making the bed or changing the linens. The rail is quite simple in its design; minimalistic and functional.
Safety Standards
The railing is quite basic in its design and minimal in appearance. However, according to the manufacturer, it meets all of the safety standards and manufacturing criteria set out by the Consumer Product Safety Commission. This includes the rail's dimensions, weight, and the materials used during the railing's construction.
Lightweight
The railing is incredibly lightweight; it weighs in at a mere six pounds. It is compact and easy to transport. The railing is extremely portable, though this does not diminish its ability to adequately protect a child from falling. It is surprisingly durable and effective against accidental falls, despite its minimal weight.
Cost and Value
The Summer Infant earned 4 out of 5 stars based on customer reviews. Its price is right in the middle of the market, making it competitive with other railings. There is nothing about the railing that makes it stand out, and there are no glaring problems with it. All in all, it's an average product of average value; neither thrilling nor terrible.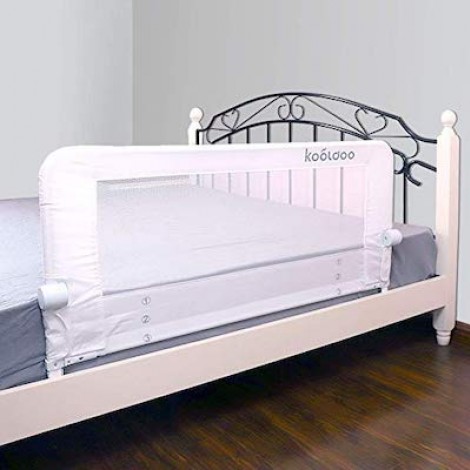 Superior, advanced safety standards
Sky-high customer reviews; hundreds of recommendations
Double fold-down sides for added convenience
Highest quality materials and fabrics used during manufacture and construction
Easy to keep clean; hypoallergenic; strong and cushioned
Will not work on a bed with a metal frame
Railing may be loud
The KOOLDOO rail is a favorite among customers, who have submitted hundreds of enthusiastic reviews extolling the virtues of the rail. It is easy to assemble and install, works quite well and folds down for convenience. Overall, it provides superior fall protection for children, with hassle-free assembly and installation, all at a reasonable price.
High-Quality Fabric
The fabric used to cover the railing is soft to the touch, making the railing comfortable for your child. It is also quite durable; stretch and tear resistant. It is also easy to clean and maintain. Don't let the bright white color deter you; keeping the railing in pristine condition is absolutely doable, even for the busiest of parents.
Superior Safety
The railing has advanced safety features, including belts that secure the railing in place; affixing it to the mattress so that it will not wiggle or budge or accidentally become dislodged. The railing stays in place exactly as it should, thereby providing superior fall protection for your child.
Cost and Value
The KOOLDOO has earned 4.7 out of 5 stars, an exceptional score. It is a favorite among customers for many reasons, including its ease of use, durability, ability to fold down on both sides, softness, comfort, and the way it stays securely in place. Priced quite competitively, the railing is a superb value and comes highly recommended.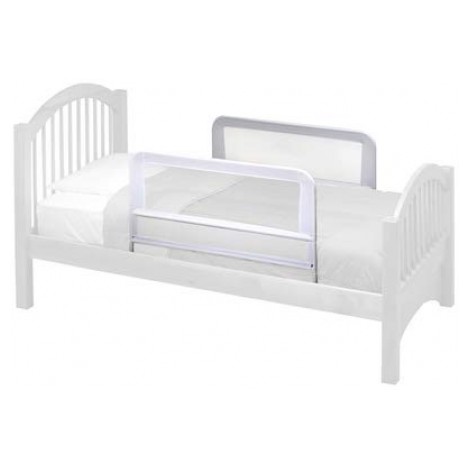 Unisex; works for all toddlers
21" in height; works with thick mattresses
Telescopic expansion; fully adjustable
No tools are needed for assembly or installation
Fits all mattresses from twin to king
It is reportedly difficult to fully extend the railing
The KidCo is telescopic, meaning it expands, is adjustable, and fits all mattress sizes, from toddler-size to king. No tools are required for assembly or installation. It is bright white and unisex; suitable for any child's room. It is intended for children aged two years and up.
Telescopic
The railing is telescopic, meaning it extends in length and is adjustable. This allows it to fit beds of all sizes, from twin to king. Additionally, no tools are needed to assemble or adjust the railing, a bonus when your child transitions to his or her next bed.
21" Tall
The railing measures 21" in height, which is much taller than the majority of railings reviewed here. This added height increases the safety offered by the railing, and is suitable for children who are two years old and above. Additionally, the railing's height allows it to be used with thick mattresses; its height still provides adequate protection.
Cost and Value
The KidCo has earned 4 out of 5 stars, a respectable score. It is priced right in the middle of the market; it's not a steal nor is it a rip-off. All in all, it's a decent railing sold at a fair price, landing it somewhere in between mediocre and good on the value scale.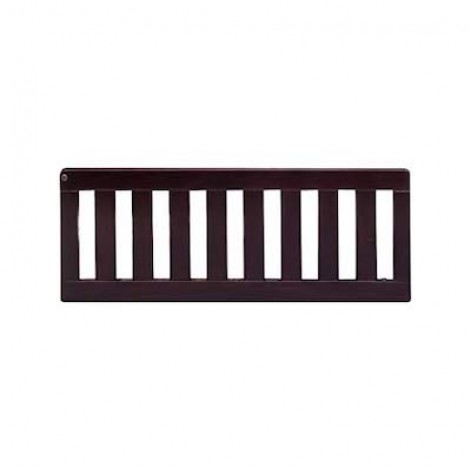 Beautiful espresso finish
Sophisticated, mature appearance
Possibility of several repurposing projects
Meets all safety standards, criteria and regulations
Built with high-quality, sturdy wood
Not as comfortable if a child were to roll against the railing; no padding
Considerably more expensive than the majority of railings reviewed here
The Simmons railing is, aesthetically speaking, the most sophisticated rail reviewed here. It is solidly constructed of high-quality wood and painted with a handsome espresso-colored finish. It has a ladder-like construction, and as far as guardrails go, it's quite elegant.
A Sophisticated Appearance
Guardrails may be intended for young children, but that doesn't mean they cannot be designed in a sophisticated, classy and chic manner. That is the case for the Simmons. Simple wood construction with a dark, espresso-colored finish and an appearance similar to a ladder, the guardrail adds an air of maturity and sophistication to your child's room.
Repurposing
The majority of guardrails are not ideal for repurposing; however, the Simmons is undoubtedly the exception to the rule. You will not want to part with the two elegant, sturdy railings. So, how could they be repurposed? One possibility is the trend of creating ladder bookshelves, a simple enough project that would allow you to keep the rails while displaying your favorite books in a unique and stylish manner.
Cost and Value
The railing has a score of 3.8 out of 5 stars based on 31 customer reviews, which is a very limited sample size. The price of the Simmons is considerably more expensive than the majority of railings reviewed here. So, in terms of value, it all depends on what you are looking for. The Simmons meets all required safety standards and criteria, and it is solidly built. It looks great and can be repurposed. Is it worth the extra cost? More likely than not, yes, it's worth it; making the Simmons a high value item.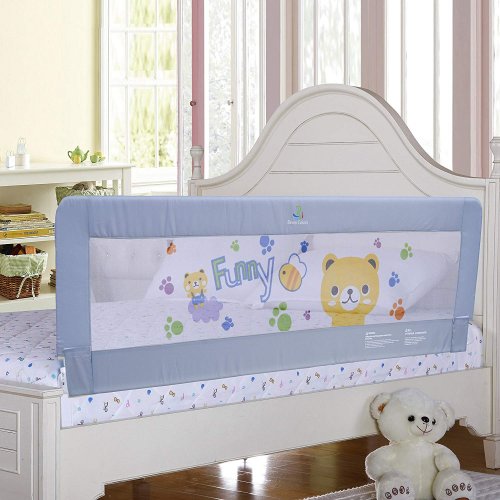 Fits all bed sizes from twin to queen
Railing measures 70" in length; more than adequate to fit any bed
Unisex; neutral grey color
Adorable, charming and whimsical teddy-bear fabric
Folds down for convenience
One customer described the railing as flimsy
One customer stated that upon unboxing the railing, they found that the fabric was torn
The Seven Colors Grey Baby Bed Rail is, in a word, charming. It is a neutral, warm grey color and would work for a girl or a boy. The fabric is embellished with an adorable teddy bear design and colorful pawprints. It's inviting and warm, and will undoubtedly delight your child.
Whimsy
The railing is definitely the most whimsical and charming model reviewed here. With an adorable teddy bear and colorful paw prints, the fabric is warm and inviting. Embellishing the fabric was an intelligent decision by the manufacturer. In the event your child is frightened by the prospect of transitioning from a crib to a big kid's bed, he or she will undoubtedly find the railing comforting, soothing and inviting.
Fits Everything
The railing fits everything from a toddler's bed to a king-sized mattress. It does not hinder making the bed, and it does not interfere with fitted sheets. The railing is easy to move and adjust, making it as convenient as it is charming.
Cost and Value
The railing has earned 3.7 out of 5 stars based on 21 customer reviews, which is a very small sample size. The reviews are rather polarized; customers appear to either really like the railing or strongly dislike it. In terms of price, it's a little on the expensive side, but not outrageously so. It's hard to gauge customer satisfaction based on so few reviews; however, looking at the manufacturer's specifications, detailed product description and images, the railing appears to be a moderately priced item of good value.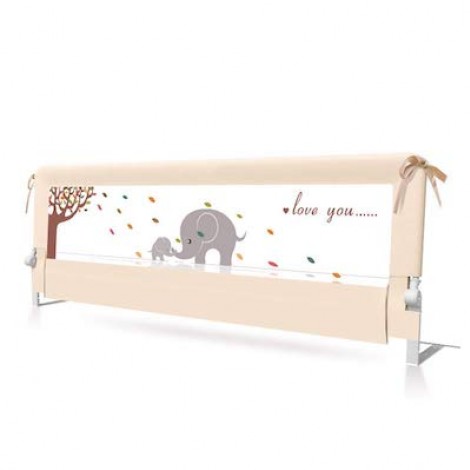 Fits every bed size from toddler to queen
Generous 59" in length
Charming elephant print design
Unisex; suitable for a little boy or girl
Neutral color; works with any decor
Requires brackets that attach to wood
More expensive than the majority of railings reviewed in this article
The BABY BBZ is a charming, unisex, sturdy, well-built railing that is highly reviewed. It has advanced safety features and is guaranteed to keep your little one sleeping safe and sound at night with no risk of accidentally falling. It's easy to assemble and remove, and gets high marks all around for convenience.
Strong and Sturdy
The railing is lightweight and compact, yet deceptively sturdy and strong. It is more than adequately strong enough to prevent your child from falling, and more. It can withstand a great deal of force without giving, thanks to its sophisticated design and advanced safety features. Lightweight, yes; flimsy, no.
Ventilated Mesh
The ventilated mesh construction helps to keep your baby safe and protected from falling while comfortable at the same time. It prevents your child from having any sense of claustrophobia or being trapped or caged in, while providing the same secure feeling that he or she would have from sleeping in a crib. It is also perfect for co-sleeping and does not take up any extra space from the mattress itself.
Value
The BBZ has a high score of 4.7 out of 5 stars; however, the score is based on a mere nine customer reviews, so the score needs to be taken with a grain of salt. That being said, the nine reviews that there are all enthusiastic and extremely positive. The BBZ is a bit on the expensive side, but based on all the reviews, specifications and manufacturer's description, it's worth it. The BBZ is an excellent value.
10

. Summer Infant Home Safe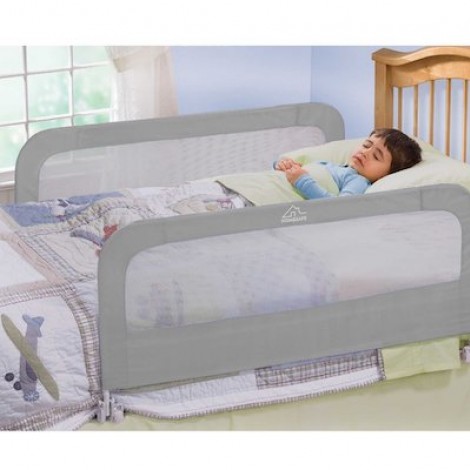 Sides fold down
Unisex and neutral
Portable; easy to attach and remove
Advanced safety features; no chance of gaps forming
Sturdy and stable; will not wobble
More customer reviews are needed to adequately report the cons (multiple popular websites were checked)
Lack of information to accurately describe the railing's performance, positive or negative
The Summer Infant Home Safe Silver Night Double Roll is an excellent choice. It is easy to assemble and set up. The railing affixes securely to the mattress, without allowing any gaps to form. It is comfortable, convenient and affordable.
Ease of Use
The railing is quite possibly the easiest railing reviewed here in terms of assembly and setup. You can go from unboxing to being completely done and good to go within minutes. The railing is simple to remove and reattach, making it portable and versatile. It also fits all mattress sizes.
Safety
The railing appears to have some of the most advanced safety features out of all the railings reviewed here. A common problem with railings seems to be the formation of gaps between the railing and the mattress. Many parents attempt to remedy these gaps by filling them with pillows or blankets. Disturbingly, this actually increases the danger of the situation and poses a high risk of suffocation, should a fall occur. This particular railing is virtually gap-proof and stays securely in place, giving you some serious peace of mind.
Cost and Value
The railing has 5 out of 5 stars based on four customer reviews; a perfect score from a very small sample size. The four reviews that were submitted were all glowing and enthusiastic, but more people need to review the railing to get an accurate idea of its quality and performance. That said, based on the information at hand, considering the railing's fair price and perfect score, it seems we've saved the best for last. The railing is truly an excellent value.
Criteria Used for Evaluation

Effectiveness
As previously mentioned, nothing could be more frightening for a parent than the sound of a child falling out of bed. However, nighttime falls are a true danger during the period of time when a child transitions from a crib to a big kid bed.
Effectiveness is the most important consideration when choosing a bed railing. It doesn't just have to work; it has to work well. The railing needs to be strong enough to withstand the weight of your child rolling onto it at full force and not give. A flimsy railing is not an option, period. A railing that allows gaps to form in between the railing and the mattress is absolutely unacceptable. When it comes to choosing a bed railing, don't settle for anything but the best; your child deserves a bed railing that meets the highest, most rigorous and demanding standards that there are.


Style
While function is more important than fashion when choosing a bed railing, the way it looks is nonetheless something to consider. You spent time decorating your baby's nursery. When your baby grew to be a toddler, you took time and effort to decorate his or her bedroom. So, when choosing a bed railing, there is no reason to settle for something that is not aesthetically pleasing.
Fortunately, you do not have to choose between fashionable and functional when it comes to choosing a bed railing. There are many options and styles available so that you have lots of choices when the time comes to actually make a purchase. Whether you want something whimsical with an animal-print embellished fabric or a rustic looking, basic wooden railing, you will be able to find something that looks great and works well.


Safety Hazards
Do your homework before making a purchase. Check for product recalls. Read through the existing customer reviews. Watch out for words that signify major red flags like "flimsy," "gaps," "ripped," "inadequate" and so forth. Not all railings are created equal.
There are a lot of nice options that are affordably priced; however, do not be tempted to go for the least expensive option in order to save money. Make sure you're buying the railing from a reputable brand with no safety recalls. Ask for recommendations. Check to see what is popular online. Do everything that you can to ensure you are buying a bed railing that will keep your baby safe and secure at night, and you will be extremely happy that you did so. It's worth it for your child's safety and your own peace of mind.


Value
The value of a bed railing is determined by a number of factors. The price is a consideration, but it is also determined by customer reviews, ratings, safety reports, advanced features, versatility, ease of use and so forth.
An expensive railing that doesn't stay in place very well is essentially worthless. An inexpensive railing that stays securely in place is virtually priceless.


Durability
A bed railing should not be flimsy. It needs to be able to withstand the force of a fall and then some. There are many types of construction and manufacturing used to make bed railings. There are pros and cons to metal railings versus plastic ones, polyester fabric versus cotton and so forth.
What matters here is strength. Durability factors into effectiveness and safety hazards, so, again, if a bed railing is not durable, it is useless and a waste of money. You are literally putting your child's safety on the line when you choose a railing. Therefore, strength, durability, sturdiness and reliability are qualities that you simply cannot compromise about.
Expert Interviews & Opinions
Most Important Criteria
(According to our experts opinion)
Experts Opinion
Editors Opinion
Users Opinion
By Default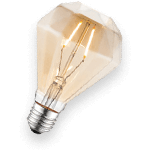 Ease of Installation is a Double-Edged Sword
While easy, tool-free installation is tempting, railings that tie on, or affix using velcro or clips may not be as stable as railings that are nailed into place or require brackets. The same goes for railings that are portable and/or extremely lightweight. While they are convenient, they may not be as strong and stable as the more labor intensive railings.
Read the Fine Print
Some railings do not work with trundles, bunk beds, waterbeds, or air mattresses. Some railings are also incompatible with headboards and certain types of bed frames. Also, others will not work if the bed is flush against the wall.
Check for Recalls
Check to see if the bed railing you are considering has ever been recalled, or if any other similar products made by the manufacturer have. This information is provided by the Consumer Product Safety Commission (CSPC), whose website can be found here.
Other Factors to Consider


Brand
Only buy a bed railing from a reputable brand. Rule out no-name brands. If there are no product reviews whatsoever, do not consider the railing. Check out the brand's reputation for customer service, returns, and exchanges. Do not rely on just one website; the more sources you check, the more accurate your information is likely to be. Take your time and do your homework, and choose a trusted brand that is one of the most popular on a website you consider reliable.


Materials
Bed railings are made of different materials; some are metal, some are wood, some are plastic, some are fabric; polyester, cotton and so forth. There are pros and cons to every kind of material. That being said, since the rule of thumb is the sturdier the better, it is recommended that you opt for a wooden or metal railing covered with protective padding and a layer of material that is washable. You need to be able to keep the railing clean without compromising the durability of materials that form the basic structure of the railings.


Advanced Features
In general, advanced features mean safety features when it comes to bed railings, and the more, the better. The more engineering and thought that goes into making a bed railing safe, the better. Otherwise, the railing may wiggle and not stay in place. It may allow gaps to form between the side of the mattress and the railing. It may make noise every time your child moves. Modern advancements have made the railings safer, easier to affix and more convenient to use


Adjustability
Adjustability is important because as your toddler grows, he or she may need a new bed. You may go from a toddler size bed to a twin to a full and so forth. The majority of railings reviewed here can be adjusted easily, or are simply long and tall enough to work with any mattress size. However, be cautioned. If a railing is adjustable, there is a greater risk of instability, so if you do make adjustments to the railing, double and triple check that it is securely locked in place.
Frequently Asked Questions
q:

At what age should I transition my child from a crib to a big kid bed?

a:

According to experts, the age varies from one and a half to three years old. Children develop, physically and mentally, at different rates.
q:

Where do I check to see if the bed railing I'm considering has ever been recalled?

a:

You can run a search through the Consumer Product Safety Commission, found here.
q:

How can I make the transition from sleeping in a crib to sleeping in a big kid bed easier for my child?

a:

Choose a railing that your child will find comforting. This may mean choosing a cushioned, upholstered railing with animal prints or bright colors on it. You may want to stay away from railings that appear cage-like, as these may make your child feel trapped, claustrophobic or generally uncomfortable. Friendly, inviting looking railings tend to provide the same sense of security that cribs provide, thus making the transition easier.
q:

How much weight do most bed railings support?

a:

It varies, so be sure to check the manufacturer's specifications. Typically, the weight limit is approximately 40 lbs.
q:

How common are baby/toddler falls, and is it really necessary to invest in a bed railing?

a:

Yes, investing in a bed railing is a necessity for a toddler. Unfortunately, accidental falls are a very real problem among toddlers, and can result in serious injury. Bed railings are relatively inexpensive and are absolutely the right choice for a responsible parent to make when your toddler is learning to sleep in a bed.