Best Arrow Wraps Reviewed & Rated for Quality
In a Hurry? Editors choice: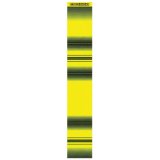 Test Winner: Bohning Carbons

You may be thinking to yourself: Why use arrow wraps? Well, if you've ever been hunting with friends, then you'll know what a pain it is trying to keep your arrows separate during target practice. Not to mention going hunting and trying to find a stray, all-black arrow in the woods!
That's where arrow wraps come in. These sticky little friends are the best way to help you tackle those specific
challenges of arrow hunting.
These handy wraps make your arrows easier to see and find, and they also help to personalize your arrows so you can tell arrows apart. You can number these wraps as well to help you keep track of your shots. And, of course, they just add a little bit of flair so you can stand out from the pack.
This is definitely
gear you don't want to leave behind
.
Standout Picks
Criteria Used for Evaluation
Application
When considering the application of the products on this list, we took a two-fold approach. One consideration we made was how easy it is to install each product and in what way you need to do so. We also looked at whether a product as better intended for hunting, for target practice, or for both.
When looking at how to install each product, there were a few different installation methods that we encountered. One was with simple adhesive and one heated installation.
We value products that have consistent adhesive (meaning the adhesive is evenly and thinly distributed) across the board. We also love those that roll on with minimal air bubbles and bumps.
We feature a few different heat shrink products. Some of them require you to boil water and work super fast. Others can be water-activated or you can use a hairdryer. Some only require a hairdryer. In this process, the adhesive is either activated by the heat or a shrinking process occurs to secure the wrap.
In terms of hunting versus target practice applications, most of the products we feature can be used for both. However, some wraps are less durable and are therefore more applicable in target situations.
It is worth mentioning that one of the premium products on our list that changes color when in contact with an animal (to distinguish a gutshot from a vital shot) can be used for target practice, but it would be a waste of the technology.
Color
When making this list, color was a major consideration for us. While style usually takes a backseat for hunting gear, the importance of color cannot be overstated here.
Color matters for a few reasons. For one, you'll want to be sure you are getting a color you can see well. One of the main reasons for using these products is to better enable you to locate and identify your wraps. The brighter the color, the easier they are to see at a distance.
For another, you may be looking for a reflective wrap if you are planning on hunting in minimal light scenarios. These reflect even the faintest lights so that you can find your arrows in the dark.
Of course, you may also just want to deck out your arrows to make them look fun and snazzy--and color's always good for that too!
Size
Size matters! At least for arrow wraps. We consider size in 3 dimensions here: length, width, and thickness.
The length of a product refers to how far along the shaft it runs. For example, we feature products that run anywhere from 4 to 7 inches (and sometimes even longer) on the shaft. This is not really a functional difference and more of a preference. Although the more color there is, the better you can see.
The width of a product refers to how wide the wrap is and corresponds to the diameter of the shaft. This is an important functional measurement. If the width is less than the total diameter, your wrap is basically going to be useless. Conversely, if the width is longer and overlaps the diameter, you will be a-okay.
The final size consideration we look at is thickness. This tells how thick the vinyl (and sometimes the laminate) is. This is important to consider as a thicker product may put more weight on the back of your arrow which will take away from some of the bend.
Materials
When considering the materials that go into each product, we look mostly at adhesives and types of vinyl.
We value products with super long-lasting and sticky adhesives as these need to be replaced less frequently and won't peel in the meantime.
We also value products that have glossy finishes on the vinyl so that they are more aerodynamic and allow the arrow to fly with speed.
Value
We are always looking to bring you the best valued products. We are happy to report that most of the products on our list come in sets of 12 (though one comes in 13 and few more in 15). The exception to this rule is the Gut Check Wraps. That being said, you get plenty of wraps to work with and these will last until you need to fletch your arrow again.
10 Best Arrow Wraps
We kick off our list with the best arrow wraps for sale out there Bohning Carbon Wraps. These wraps come in tons of wild color options that will make you the envy of all of your friends, and they are built to last so you can enjoy them season after season.
Lucky Number 13
Each package of Bohning Carbons comes complete with 13 full wraps. Each one measures 7 inches long. They come only in standard size for standard-sized arrows. They measure 1.125 inches wide. This makes them a great option for shafts measuring up to 19/64 inches.
Makes Fletching Easier
Installation with this product is a breeze. For the extra money, you get a super consistent product that features a smooth, thin, consistent adhesive across the entire wrap. This makes rolling the product much easier and helps to eliminate bumps and bubbles.
This is a key feature as even slight imbalances on the arrow can cause the arrow to veer off target. Plus, you don't want any heavy adhesives weighing your arrow down either.
Reviewers found that they preferred fletching their arrows to these wraps because they were easier to line up and because they adhered just as well to the wrap as the body of the arrow. Plus, they found it easier to re-fletch by removing the wrap, rather than having to wrestle the vanes directly off the body.
Cost and Value
The Bohning Carbon Wraps ring up at the top of our price range and we love their value because you can tell the quality difference in the lifetime of the adhesive, as well as in the consistency of the adhesive. Plus, they are easy to install and look super nice as well.

2

. Elevated Archery Crestings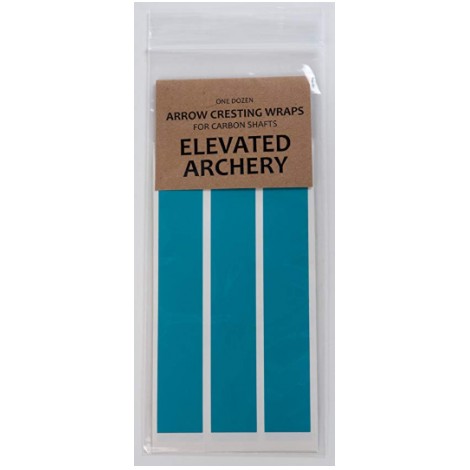 The Elevated Archery Crestings are another killer set of traditional arrow wraps that come is a dazzling array of colors to fit any hunter's style. Whether you're looking for neons or mattes, there's a color for you that will match perfectly with and pop off your vanes.
12 Per Package
The Elevated Archery Crestings come with 12 per package. This will allow you to adorn 1 whole rounds worth of arrows. Each one is 6 inches long and 1 inch wide. These are intended to be installed on carbon arrows like your Easton arrows. Some mention noticing a bit of extra weight, but most regard this as minimal.
Made in the USA
The Elevated Archery Crestings are made right here in the USA, so you know you're getting a quality product that you can rely on. These are easy to install and aren't prone to bubbling so they go on smooth.
Reviewers love how they make their arrows pop, which not only adds some definite cool factor as they sit in your arrow rest but which also makes arrows so much easier to spot and retrieve.
Many reviewers also found that fletching was easier with these on their shafts, though the Loctite adhesive did not pair super well with the vinyl.
Cost and Value
The Elevated Archery Crestings ring up at the bottom of our price range and we love their value because you get a full rounds worth of arrow wraps made right here in the USA for about half of the premium set listed above with tons of color options to boot.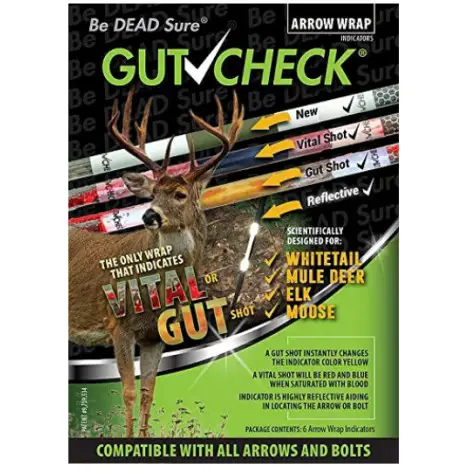 The Gut Checks is an excellent hunting companion if you're going after deer, turkey, bears, or hogs. Not only is it one of the best reflective arrow wraps out there that can be seen in very little light, but it actually changes color based on where you make contact with your hunt.
Special Formula Changes Color
The Gut Checks are specially designed to change color based on where they make contact with your hunt. The initial color of the product is white and blue. This is how the product will continue to appear until after it has made contact with your hunt.
If you strike a vital organ on your hunt, the product will turn a deep red and blue as the blood saturates the arrow. However, if you make a gut hit, special enzymes in the stomach of your hunt will combine with the specialized formula in the wrap and turn a bright orange color. With the reflectiveness of the product, you will be able to see this from a distance.
Why is this important? A few reasons.
For one, a vital shot will result in the animal being killed swiftly, and won't require additional shots. A gutshot, on the other hand, will require additional shots to kill the animal. As hunted animals are often dangerous (especially wounded ones), and as it can be hard to tell exactly where an arrow has landed from a distance, this feature is particularly helpful. It also serves to be more humane for the animal.
And don't worry. This product won't leach any hazardous substances into the meat of the animal.
Highly Reflective
The Gut Checks are also highly reflective, in addition to being outfitted with a special formula. That makes your shafts visible in almost no light, which is a huge bonus.
With your purchase, you will receive 6 total wraps. Each one has a 4-inch indicator area.
These are designed to have a universal fit for all shafts ranging from carbon to compound bows. And they are designed especially by hunters to ensure that they don't alter the action or direction of your fires.
Plus, they're just as easy to stick as any of the others on our list.
Cost and Value
The Gut Checks ring up on the high end of our price range and we love their value because they actually help you to see where you have struck your hunt and are so reflective that you can see your arrows in practically zero lightings.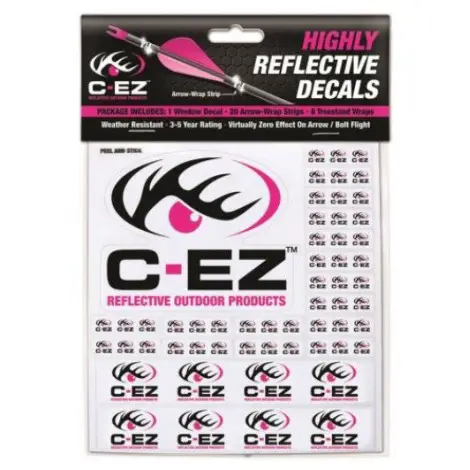 The C-EZ Reflectives are a little different than the other wraps on our list. They are not traditional wraps in the sense, but they are great for adding reflective pieces to all of your hunting gear.
Lasts Between 3 and 5 Years
The C-EZ Reflectives are high-quality products at a low cost. In fact, once stuck, they have an expected lifetime of lasting anywhere from 3 years to 5 years time. With tons of weatherproofing, that means you can rely on these for seasons to come without worrying about having to replace them.
Fully Loaded Package
The C-EZ Reflectives come in 2 cool color sets: pink (pictured) and green.
Each package contains 1 sticker for your truck or car window, 20 arrow wraps, and 5 deer stand wraps.
The arrow wraps are not traditional style wraps that you have seen on our list so far. They measure 1 quarter of an inch by 1 inch large.
These are not intended to assist in the fletching process. Rather, their sole purpose is to make your arrows easier to distinguish and find, even in low lighting situations. These are still meant to be installed at the end of your shaft, and you may even choose to install more than one for even greater visibility.
We love that the kit includes bonus wraps for easily finding your way back to your tree stand as well.
These can be easily installed on crossbow bolts and on basically any shaft.
Cost and Value
The C-EZ Reflectives ring up at the bottom of our price range and we love their value because they offer a wider array of installation configurations and because they can be relied on to have a super long lifetime.
5

. New Archery Products Quikfletch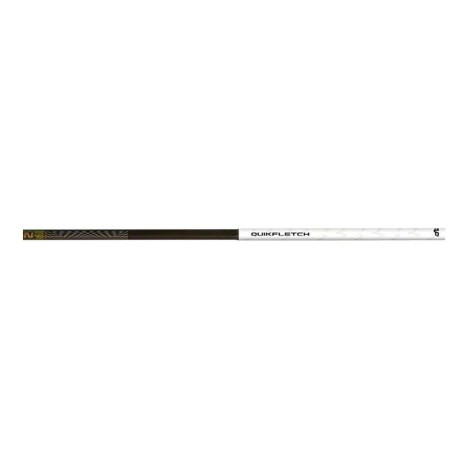 The New Archery Products Quikfletch feature an application process that doesn't require adhesives or glue. In fact, installing is just as easy as boiling water.
Just Boil and Shrink
The New Archery Products Quikfletch are a little different than most of the other products on our list. Rather than relying on adhesives and glue for installation, all you'll need to do is be able to boil a pot of water.
Once you've boiled your water, place the Quikfletch around the crest of your shaft. Dip the crest into the boiling water, and in just a few seconds, the Quikfletch will shrink to the exact size of your shaft. No glue needed! You can expect to be able to crest 12 arrows with the 12 wraps provided in no more than 5 minutes time.
And we love that this product is one size fits all.
Great for Tricky Vanes
The New Archery Products Quikfletch is a great option if you're having trouble getting your vanes to stick to your shaft. Whether you have highly varnished the wood or you're using an aluminum shaft, you won't have to worry about not being able to effectively adhere your vanes to your shaft anymore!
Cost and Value
The New Archery Products Quikfletch rings up towards the bottom of our price range and we love its value because it takes the hassle out of installation and because these help to ensure that you can fletch without worrying about whether or not your adhesives are going to stick and hold.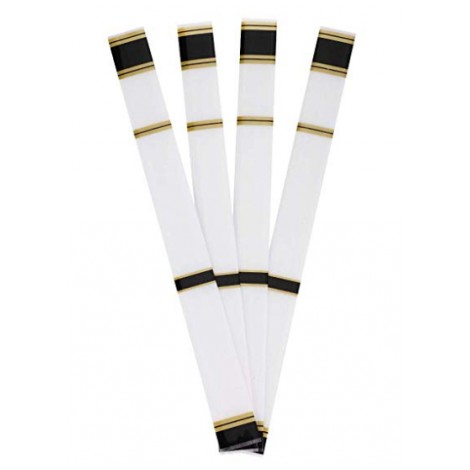 The Tihebeyan Archerys are another heat-shrink option, though these you won't have to boil water with. If you are looking for the best value, this could be your winner, coming with a whopping 15 total wraps per package.
Heat-Shrinking Adhesive Install
The Tihebeyan Archerys are also installed using heat. But you won't have to boil water this time, which may be a relief to some of your bachelors out there. Instead, you can activate the heat-shrinking adhesive by using a hairdryer.
There are specific folding points for you to get the approximate size of your shaft. Fold to this point, slip over the shaft, and then use the hair dryer to shrink the product on until it fits airtight and super snug.
This measure 7.7 inches long and 2 centimeters or .8 inches wide, making them a great fit for practically any sized shaft.
Easy to Mark On
The Tihebeyan Archerys are also easy to mark on. While they have a nice design, they offer up a bit of white space. This can come in handy if you wish to write your name on the product or if you want to number your shots. Using a sharpie will allow your markings to go on smoothly and will not smear or fade easily.
Cost and Value
The Tihebeyan Archerys ring up on the lower end of our price range and we love their value because they are a universal fit for practically any shaft and because you get a whopping 15 total wraps with each purchase. Plus, you can further personalize them to keep track of your shots.

7

. White Water Archery Laminated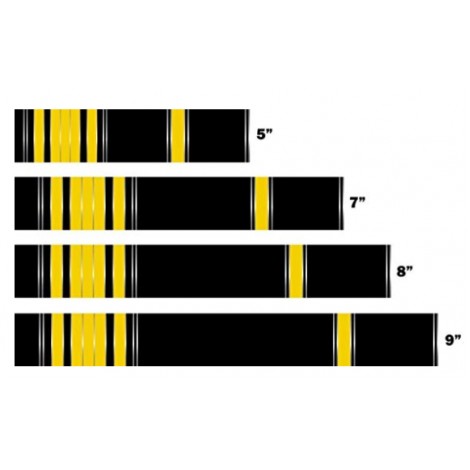 The White Water Archery Laminated offer up the most variety in sizing out there. They also feature a fully laminated wrap that makes their product one of the best and protecting the shaft when you are firing shots that are likely to land super close together (and potentially knock into each other).
Multiple Sizing Options
The White Water Archery Laminated comes in a huge array of sizing options.
To begin with, you can choose between a variety of lengths. You can order this set in either 5, 7, 8, or 9 inches long. The total length is pretty much a user preference and will not affect the functionality of the product.
You will also be able to choose between different width sizes.
You can order this set in either .75 inches, 1 inch, 1.25 inches, 1.12 inches, and 1.4 inches. .75 inchers are intended for only the smallest of the small diameter shafts. 1 inchers are great for most carbon shafts. 1.12 inchers are for stiffer spines. 1.25 inchers are for fatboys. And finally, 1.4 inchers are for the largest of the large on the market.
It is super important that you order the right diameter width. If you are between size options, always go with the size up! A little overlap never hurt anyone, but getting a product that does not, in fact, wrap all the way around will render the product useless.
Insane Durability
The White Water Archery Laminated are some of the most durable options on the market. The initial vinyl product measures 2.5 millimeters thick. There is an additional layer of super protective laminate on top of this that measures an additional 2.5 millimeters thick. This is a little thicker than your average product, but it is more protective as well.
When you order, you will receive 15 individual wraps. They come in a wide variety of color options to choose from. You may also choose the vinyl-only wraps which measure 3 millimeters thick.
Cost and Value
The White Water Archery Laminated ring up towards the top of our price range but we love their value because they are crazy durable and work to protect your shafts from damage if you are shooting close rounds together.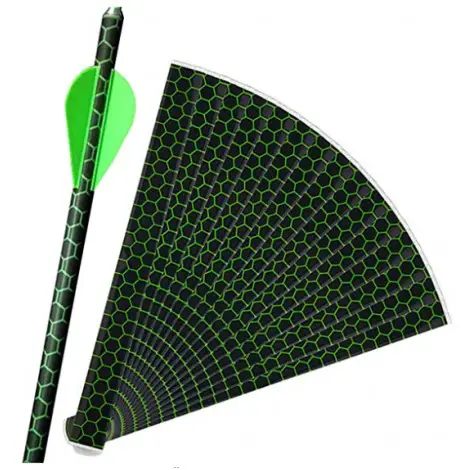 The HRCHCG Arrow Sticker is another heat shrinker. This means you can get the just-right fit for your shaft and you can be sure that the adhesive isn't going to give or go anywhere before you want it to. Plus, this is a super cost-efficient option so you won't feel bad about having to peel them off when you want to change your fletchings.
Larger Size for Universal Fit
The HRCHCG Arrow Sticker is an amazing option because it comes loaded with units--15 to be exact. You can choose between two great colors: yellow etchings and green geometrics. Either is eye-catching and will set your shafts apart.
This product is a bit larger than others on the market which makes it a great universal fit. It measures 7.55 inches long and .66 inches wide so you can basically use it on any sized shaft.
Think Shrink
The HRCHCG Arrow Sticker is another that requires heat to be applied. You can either use hot water or a hairdryer--whichever you find easier. Simply wrap the product securely around the shaft and apply heat for a few seconds and you'll be good to go.
Cost and Value
The HRCHCG Arrow Sticker rings up at the bottom of our price range and we like its value because it comes loaded with 15 individual units and because they are one size fits all.

9

. Perfect Strike Premiums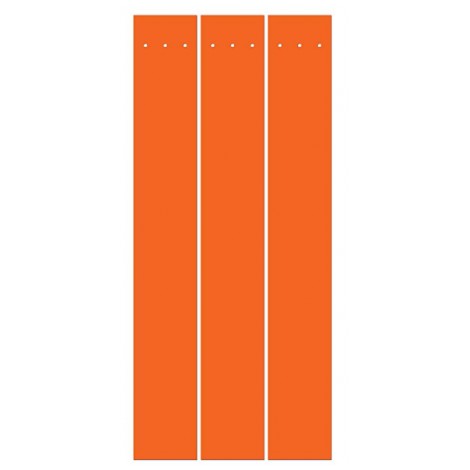 The Perfect Strike Premiums are just that--premium quality products. They come in an array of colors that are super contrasting so you can always find the location of your shot. Plus, they make fletching that much easier.
Waterproof Vinyl
The Perfect Strike Premiums are made using premium materials. With waterproof vinyl, you can rest assured that this product can weather the toughest hunting elements without peeling or showing wear and tear.
The glossy finish on the product makes it super aerodynamic and it will fly straight as can be.
Each purchase comes with 12 units. You can order these in 4 inch long units or in 7 inch long units.
Super Easy Fletching
The Perfect Strike Premiums feature dots that allow you to precisely fletch your shaft. This feature is unique and not found on other products on our list (and in few others on the market). We like that it makes fletching your shaft that much easier and that it saves some time as well.
Cost and Value
The Perfect Strike Premiums ring up at the bottom of our price range and we like their value because they are designed to be super long-lasting and easy to see. Plus, they make fletching a breeze no matter what style or how you do it.

10

. Pine Ridge Archery Nitro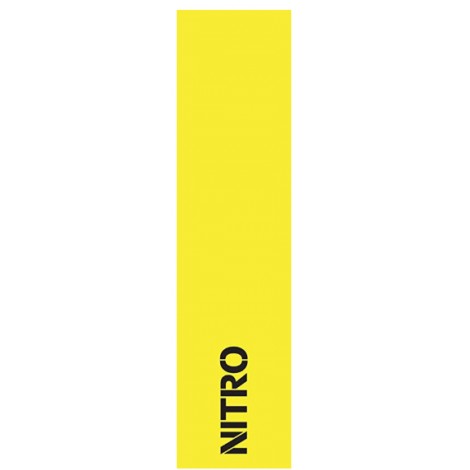 We close out our list with the Pine Ridge Archery Nitro are a great set if you are looking to add visibility during hunting. These units come in brightly colored options like neon yellow, neon pink, and neon orange, to ensure that you will never lose another arrow again.
Really Increases Overall Visibility
The Pine Ridge Archery Nitro is designed and intended to increase the visibility of your shaft. Whether you are using them for target practice or when hunting, you will always be able to find and place your shot.
For Standard and Small Carbons
The Pine Ridge Archery Nitro is sized to fit most standard carbons and small carbon shaft diameters. They are best compatible with Nitro Vanes, though they can work with others as well. Each unit measures 4 inches long.
Some reviewers mention that these are not the most durable of products and that they can peel off if the vane makes hard contact with another object.
You receive 12 units with your purchase.
Cost and Value
The Pine Ridge Archery Nitro rings up at the bottom of our price range and we like their value because they add a ton of visibility to the shaft and because you get 12 units per purchase.

Subscribe to our Newsletter