Best Army Pants Reviewed & Rated for Quality
In a Hurry? Editors choice: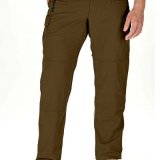 Test Winner: 5.11 Tactical Stryke

One of the best-known pieces of clothing items from any army are the cargo pants. These pants are known for being durable, comfortable, and reliable. These same pants can now be bought at a fair price for use outdoors or to keep up with ever-changing styling trends. So regardless of your intended use, army cargo pants can be an excellent addition to your wardrobe. You can wear them to get a tough look or use them for the great outdoors. You can usually wear these pants out one day for hunting and then later on when you are shopping. They are strong, durable, and look great in just about any situation.
Standout Picks
Criteria Used for Evaluation
Materials
It's incredibly important to look at the material and fabric used to create a pair of army pants. In truth, the material will play a critical role, depending on your needs. For example, if you are purchasing these pants to be in extreme environments, whether heat or cold, you will want to find a pair of army pants that come with some climate resistant features. Additionally, depending on your need, you may need to look for a product that comes with lightweight features, or heavyweight features. As we scrolled through the many different types of army pants on the market today, we only chose to highlight products that were constructed from the very best materials and fabric. Understanding your need will make it easy to find pants with the desired materials and fabrics. In our research, we did discover that products that are more costly often featured the most advanced pant design and material. The contrary is true as well.
Again, army pants are nothing like a standard pair of pants or jeans. With that being said, the way that an individual would take care of a pair of army pants is different. Evidently, when purchasing a pair of army pants, you don't want to pick out that requires extensive or timely maintenance. For example, should you accidentally stain or get your pant dirty, you should not need to spend hours getting the stain out before washing and drying the pants. Understanding how a product can be cared for and cleaned is a notable consideration.
Comfort
It's safe to say that we all enjoy the comforts in life. Would you want to buy a pair of army pants that are uncomfortable, especially if you intend to wear them all day? Of course not. In evaluating for the best army pants, it's important to look out for products that are offering different features focused on comfortably. This may mean offering non-stretch cotton or even added comfort in the waistband.
Features
As with any product that consumers purchase, it's important to look at the different added features or infused innovations. When it comes to this market, we anticipated that some manufacturers may use different or unique patented designs. With that being said, as we began to survey the landscape, we noticed that the best army pant providers tried to provide consumers with a wealth of comfortable and tactical features. This includes lightweight designs, durable and rugged exterior material, and unique innovations. For example, as you read the article, there are some pants that were intently designed to Army standards that have unique drain holes. In other pants, companies infused unique stain resistant technology to minimize the amount of cleaning or maintenance you needed to do. Evidently, the more features and advanced innovations will drive up the costs. This is why it's important to figure out what features are important to you and how much money you are willing to spend.
Size
When it comes to any pair of pants, one of the biggest complaints that a consumer has, revolve around the sizing and fit. Most of the time, this is not at the fault of the actual consumer. The sizing and the fit problem stems directly back to the way that the company built and constructed the pants. With that being said, when picking out a pair of army pants, it's important to always stay keen on the sizing and the way that they fit. For example, do they hug the waist or do the rest loosely on the waste? Are the pants straight-legged or loose-fit? This is probably the easiest thing that a consumer can do to alleviate any sizing problems and eliminate any surprises. Should you ever have questions regarding sizing, don't simply purchase the product. Contact the manufacturer directly and get your answer.
Color
Like any other type of pants you purchase, it's important to evaluate the different patterns and colors that a manufacturer offers. Additionally, it's important that, if you are purchasing army pants for a specific reason, you purchase the right pattern and coloration. The best way to ensure whether the color or pattern is quality is to read what previous customers have said. Typically, these consumers will share images as well to highlight any major concerns. Moreover, when evaluating for the best army pants, we thought it was important to look for companies that offer multiple different options for consumers. This also helps for when someone is really happy with a product, they could buy different pants from the same provider.
15 Best Army Pants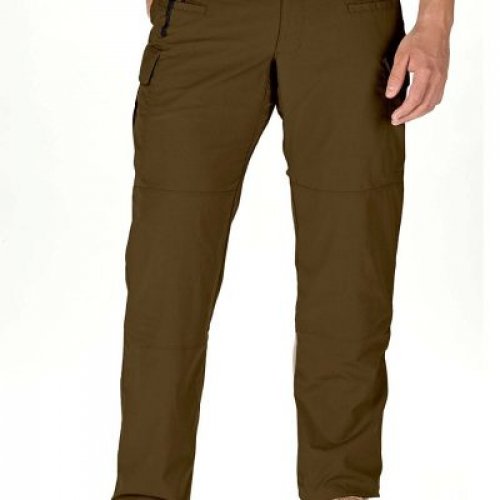 The 5.11 Tactical Stryke pants are loaded with features including Teflon fabric treatment, twelve pockets, and durability. They are made from a blend of 65% polyester and 35% cotton rip stop fabric so that they are lightweight and durable. The Teflon fabric treatment protects the pants against staining and soiling so that the pants continue to look new. These pants also feature triple-stitch reinforcement
Twelve Pockets
These pants come fully loaded with twelve pockets, making them the perfect pants for outdoor activity. You will have more than enough room for items such as keys, wallet, or your phone. Large capacity cargo pockets also provided additional room for your gear.
Teflon Treatment
The material is a 65% polyester and 35% cotton blend and is treated with Teflon. The Teflon fabric treatment keeps the pants looking new by resisting stains, spills, and soiling. This helps make these pants highly ideal for outdoor activity.
Cost and Value
You should plan on spending more than average when purchasing these pants as they are very expensive. They are worth their sticker price because they have features such as twelve pockets, Teflon fabric treatment, and extra stitching. You can expect these pants to be highly durable and long-lasting.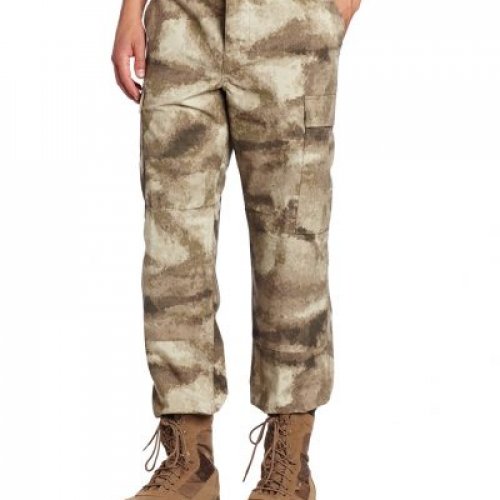 Propper BDU Tactical Trouser pants offer an authentic army fit. They are sewn to the mil-spec MIL-T-44047E and have a six pocket design. Four of these pockets have flaps that can be buttoned and bellowed pockets with drainage ports. The knee area and seat are reinforced with the outseam, the inseam, and seat seam felled for additional durability. These pants also come with adjustable waist tabs.
Sewn to MIL-T-44047E specification
The pants are sewn to the MIL-T-44047E specification so you can be sure they provide an authentic fit and function. You can also expect them to be long lasting and highly durable.
Battle Rip Fabric
The material used to make these pants is composed of 65% polyester and 35% cotton. You can expect these pants to avoid ripping, tearing, stretching, or wrinkling. The seat and knees are reinforced for additional durability.
Cost and Value
These pants have an average price. The authentic fit gives them plenty of value for the price because they have an authentic look and durability. You will also find many other useful features such as drawstrings and plenty of pockets.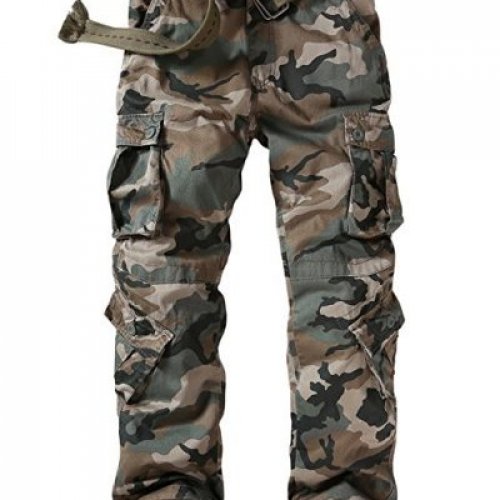 Match Wild Cargo pants are an ideal example of army pants. They are made from 100% cotton and come with cargo pockets and drawstrings on the waist and legs. These pants are ideal for spring and autumn casual wear as well as outdoor recreation. They make great pants for activities such as paintball, climbing, or hiking, and come in a variety of colors and fits to match your comfort and style.
Six Pockets
These pants come with six pockets. You will find two slant pockets, cargo pockets on the thighs, and finally two pockets on the legs. Having plenty of pockets provides you with plenty of space to items from your keys and wallet to hunting knives or ammunition.
100% No-Stretch Cotton
The pants are made out of 100% no-stretch cotton for both comfort and durability. Not only does the cotton feel good against your skin, but it's highly breathable so that you don't feel too warm or sweaty. The no-stretch has the benefit of keeping your pants from feeling loose while you wear them.
Cost and Value
These pants have a medium price. Their value comes from their stylish look, plenty of cargo pockets, and they are made from 100% cotton. The pants should be long lasting and can be machine washed cold to help them stay looking new.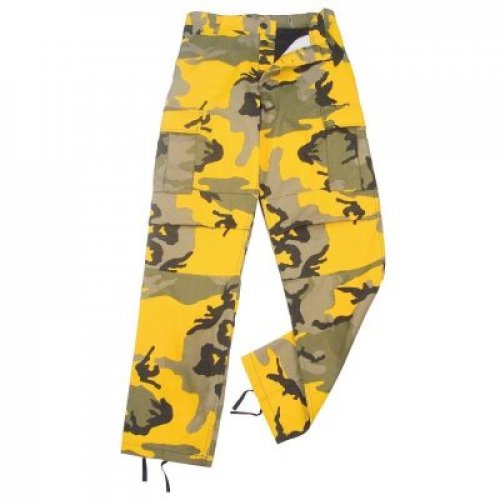 These pants feature a wide variety of different mask colors including traditional colors such as green and sand to brighter colors such as purple and ultra-violet. They make ver ideal hunting pants since you can pick a color that best matches your hunting environment. The pockets are made of the same material as the pants themselves so that they are more resistant to shredding or forming holes from items such as keys.
Lots of Colors
Many people who hunt or play paintball need clothing that helps them blend into their background. These pants feature patterns in multiple colors so that you can pick the color that best suits your needs.
Reinforced Knees and Seat
The knees and the seat are reinforced to add extra durability. This helps keep your pants from tearing when you have to climb into a tree stand or crawl on the ground while outdoors.
Cost and Value
These pants have an average price point. They are comparable to other pants that are sold in at a similar price. They justify their value by providing you with a large choice of colors. These pants also have six pockets and are made to be long-lasting and durable.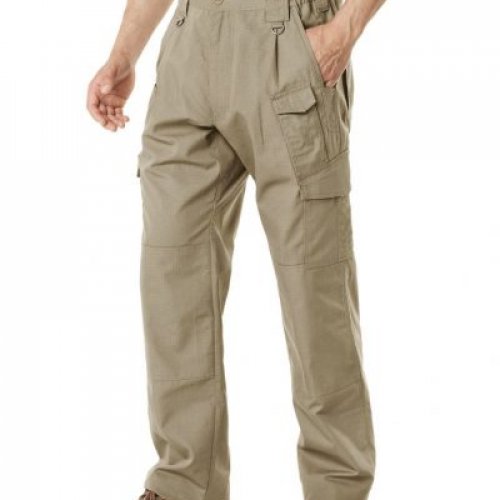 With law enforcement designs inspiring the construction, these tactical cargo pants are built for high-performance situations. There is a snap button and zipper that is made of metal allow for high strength. The fabric is treated with Duratext which repels liquids and stains. Finally, there are eight multi-purpose cargo pockets. These pants are long lasting and resist fading, shrinking, and wrinkling.
Duratex Fabric
The pants feature a 65% polyester / 35% polyester cotton blend of materials. The Duratex fabric keeps these pants long lasting by repelling soils that would stain or make the pants look worn out.
Eight Pockets
You will find eight multi-purpose cargo pockets on these pants. They are velcro fastened and spacious allowing you to put any gear you may need for your day in these pockets.
Cost and Value
These pants have a slightly below average price and pack plenty of features into them. They get their value from features such as the Duratex fabric that resists staining, fading, shrinking, and wrinkling.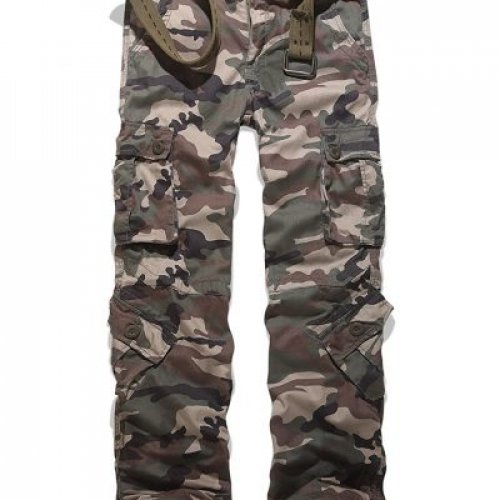 These athletic fit cargo pants offer a wide variety of colors. They are classic style cargo pants that offer multiple cargo pockets. They sit nicely around your waist and come in either a regular fit or a straight leg fit. The pants are made from 100% no-stretch cotton so you can expect them to feel comfortable and continue to fit well.
100% No-Stretch Cotton
These pants are ideal for casual or outdoor wear because they are made from 100% no-stretch cotton material. This material is comfortable, fits well, and can be machine washed cold.
Variety of Colors
The pants are sold in a variety of different colors. This allows you to pick the proper pants for your tastes and style. Outdoors people will especially enjoy the variety of options.
Cost and Value
These pants are extremely affordable and offer an excellent value at their low price. You will find that they have many of the same features as higher priced pants but at a much lower price tag. This makes them an excellent value.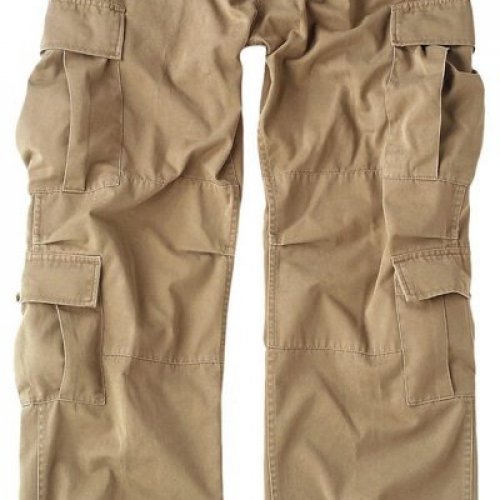 The Rothco Vintage Paratrooper Fatigues are an excellent choice for army cargo pants. They offer eight pockets to help you carry all of your gear. The pants are super soft yet highly durable so they will feel great and last for a very long time. There are drawstrings attached to the leg openings plus two 2" waist tabs.
Eight Cargo Pockets
The pants come with eight cargo pockets so you shouldn't have any trouble finding space in these pants for all of your gear. This feature makes these a great choice for pants for outdoors.
Durable Construction
You can expect a super comfortable yet durable feel from these pants because they are made from a 55% cotton / 45% polyester blend material. The seat and knees are reinforced for extra durability.
Cost and Value
These pants have an above average price but they are worth a few extra dollars. For one thing, they are extra soft when compared to other pants at a similar price. They also feature a durable construction to help them stay long lasting.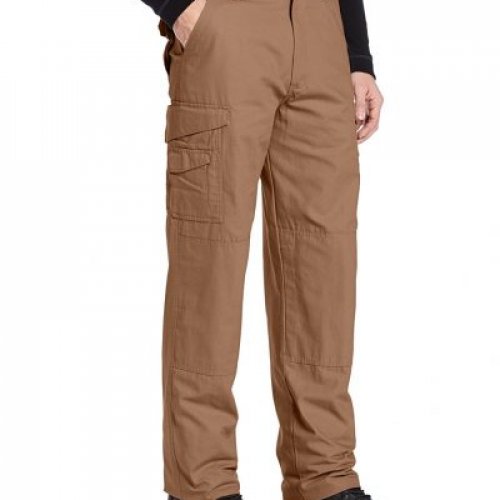 These pants are made by a leading supplier of uniforms for police officers, tactical personnel, and other public safety sectors. They are made from 100% cotton for a very comfortable and soft feel. The knees have openings on the inside for knee pads and the cargo pockets have internal magazine compartments to help you hold additional ammunition.
Knee Pad Slots
These pants have internal knee pad slots which allow you to insert a pair of knee pads into the pants. This is a useful feature when you find yourself kneeling a lot on the ground.
Magazine Compartments
Gun enthusiasts will enjoy the internal magazine compartments that allow you to put up to 4 gun clips into the cargo pockets. This is ideal for anyone who carries a gun for work or sporting purposes.
Cost and Value
These pants have a slightly above average price, but they also offer features not found in other pants. For example, you are able to insert knee pads into these pants for additional comfort if you work on your knees a lot.

Carhartt has poured a lot of technology into these pants. They are made from 100 percent ripstop fabric and comes equipped with Fastdry technology. The Fastdry technology wicks away sweat so that you don't end up feeling uncomfortable while wearing these pants. These pants also resist stains so that they continue looking new for a long time throughout their life.
Fastdry Technology
These cargo pants are equipped with Carhartt's Fastdry technology. The pants which away sweat rapidly to help keep your skin dry and avoid a wet clammy feeling on hot days.
Stain Breaker Technology
The fabric in these pants is imbued with stain breaker technology that makes the pants highly resistant to stains. Resisting stains is important because it helps the pants continue to look new for longer.
Cost and Value
These Carhartt pants have an above average price but they are worth a few extra dollars. The pants are made from 100% Cotton and feature five pocket styling. They wick away moisture and are highly stain resistant. This helps make the pants last and look new longer.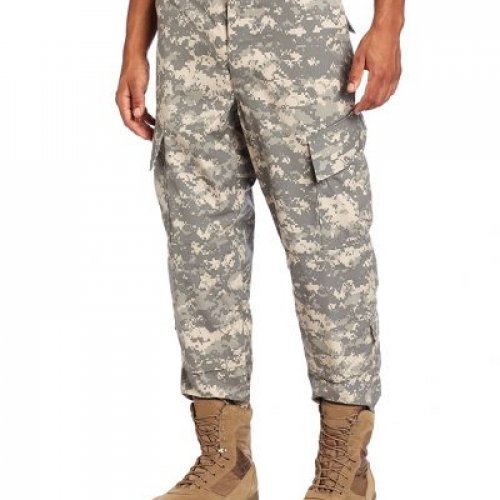 This ACU trouser is designed to meet the specifications of the U.S. Army's modern uniform and has the features to back it up. The material is strong and comfortable and it has features such as openings for knee pads. You will also find that it comes in a variety of conceal patterns and features an eight pocket design. The inseams, outseams, and seat seams are felled for additional durability, and it has a drawstring around the waist for a secure fit.
Knee Pad Opening
People who spend a lot of time on their hands and knees will appreciate the knee pad openings. These pants have external openings which allow you to securely fit knee pads into the pants.
U.S. Army Approved
This is an authentic U.S. Army approved pants. These pants conform to all of the specifications the U.S. Army required for active duty soldiers. You can trust that it will be a durable pair of pants that fit well over boots.
Cost and Value
These pants have an average price. They are the only DOD approved pants for active duty soldiers on this list. You can expect it to be highly durable and long-lasting because they are made for combat.

11

. Carhartt Rugged Cargo
If you are looking for a pair of high quality army pants, there are not many products out there like Carhartt's Men's Rugged Cargo Pant in Relaxed Fit. This is a reputable brand that produces a wide range of different army pants. This specific pair has raised the attention of consumers due to it's incredibly comfortable fit, unique and large cargo pocket, and overall great appeal. With over five different styles, you can pick whatever style matches your personality or need best.
Cargo Pocket
It's always important to look for different features and specs in army pants. With this product, the manufacturer included a notable cargo pocket. This specific feature is a major selling factor because it's large and can fit a small medic kit, cell phone, small notepad and pen, or anything around those sizes. With high quality snaps, pockets on the entire pant are protected and safe.
Relaxed Fit
One of the main reasons why so many consumers are happy with these pants is because of the relaxed fit. Typically, with so many different style of army pants, the product is too snug, making it uncomfortable for extended periods. With these pants, users can wear them, with comfort, since they hold slightly below the waste. Additionally, this product is made from softer materials, making it even more comfortable.
Cost and Value
When it comes to the cost and value of these army pants, it's safe to say that they are relatively higher priced than the rest of the competition. This can simply be attributed to the fact that these army pants are considered designer pants. Many people have heard of this brand, which has influenced the price. Additionally, the company did infuse some great value into these, making them a fan favorite among consumers.
12

. Helikon-Tex Urban Line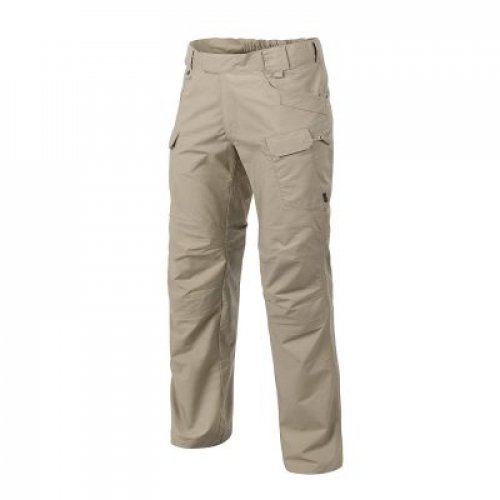 Helikon-Tex Urban Line, UTP Urban Tactical Pants are a great option for people that want to purchase a popular and trendy pair of army pants. These pants are known for their durable and climate resistant nature, thanks to the intense innovation and technology infused into the very threads of the pants. With comfortability and easy-fit features built into the waist and seem, wearing these pants is meant to become easier by the day. With 12 pockets in total, does it get any better than this?
Great for Climates
One reason why many people are buying these army pants is because of the climate resistant technology built into it. This is a unique feature, allowing consumers to perform any of their favorite activities in whatever temperature or environment. Rain or shine, these pants are the optimal choice and can keep the user warm, in control, and comfortable.
12 Pockets
That's right, this product is built with over 12 different pockets. This provides consumers with a plethora of different storage spaces for their personal belongings. Whether you need to store lures, ammo, or other important tools and equipment, you can use the load-bearing pockets, which are cleverly nestled around the pants.
Cost and Value
Out of the many different pair of army pants we have reviewed, this pair is one of the pricier pairs. While this is a common negative cited by consumers, it's important to evaluate the value that is infused into the pants. This product is built from a unique, patented design that is focused on quality, comfort, and climate resistance. Additionally, consumers will have access to over 12 different pockets, which is more than any other competitor.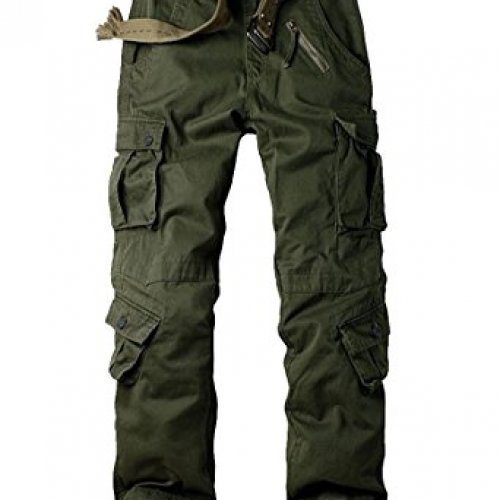 The Jessie Kidden Men's Outdoor Casual Combat Cargo Work Pants are quickly becoming popular in the industry due to their relatively cheap costs. This product comes in 11 different colors and variations. Also, consumers can select from three different belt accessories to purchase on the side to match the pants. Built from 100% cotton, these pants are comfortable and may be worth it, if you are not looking for the bells and whistles in army pants.
Multiple Uses
What make these army pants a considerable option is the casual build and design of them. Due to this, consumers can purchase these pants for many different uses. Whether you are choosing to have a relaxing day on a boat or head to the city, these army pants are a great compliment and fashion statement. Additionally, if you are seeking to head fishing, hiking or trekking, this product can handle that too!
8 Pockets
When purchasing a pair of army pants, it's important to look at how many pockets the manufacturer put into the product. For this specific pair, the company choose to include 8 different tactical products. Typically, these pockets are used to store items like first aid kits, ammo, and other tools or equipment.
Cost and Value
This pair of army pants are considered relatively fair priced when you look at the competition. In fact, in some cases, depending on the style that you choose, it may be more cost-friendly. Furthermore, the manufacturer tried to include some decent value into these pants, including 8 different tactical pockets. However, it is important to know that, for the full price of these pants, consumers can purchase some other products mentioned on our list that come with more features and benefits.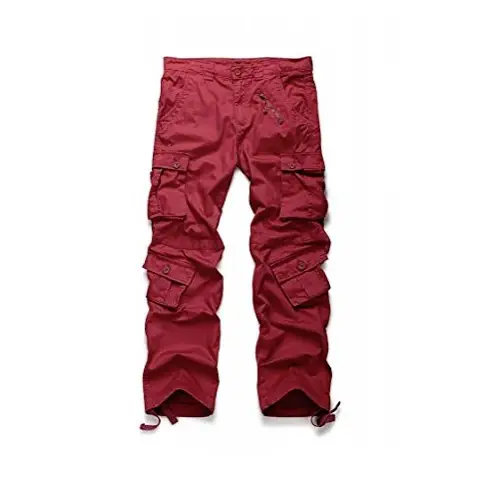 Addt Must Way Men's Casual Cargo Work Pants offer consumers the chance to purchase a basic pair of army pants for a relatively cheap price tag. For beginners, this pair comes with 8 different tactical pockets sewn into the pants. With an assortment of different colors and designs to pick from, the manufacturer provides consumers the opportunity to slightly personalize their future army pants.
Comfortable Fit
This pair of army pants marks and positions themselves on the comfortable fit and design of the physical product. The manufacturer chose to use 100% cotton for maximum comfort and fit. Consumers should know that these pants come in classic, straight leg, and boyfriend style fit, should you be interested in a specific kind of pants.
Outdoor Activities
Are you the type of consumer that enjoys going out into nature frequently? These army pants might just be the perfect compliment for you. Reason being, these pants were designed to handle frequent outdoor activities. Whether it be fishing, trekking, hiking, running, or even camping, these pants are bound to become a nature lover's best friend. You should note that, if you plan to make these last, you must take care of them.
Cost and Value
When evaluating different army pants, you should always evaluate the cost of a product in comparison to the value that the brand is offering. For this specific pair, the product is relatively priced, when you consider what the competition is offering. With that being said, this product does not really offer consumers a lot of value; however, it comes with 8 different pockets, has multiple colorations to pick from, and is known to be comfortable. You might want to consider this the primitive form of army pa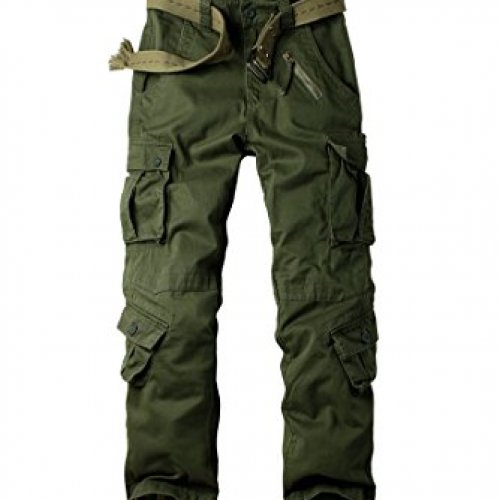 The Ochenta Pants are seeking to offer consumers a valuable pair of army pants at a considerably friendlier cost than other brands. These pants are designed to be casual, making them a great compliment for an individual's everyday routine. Whether you are doing house work, fishing, jogging, or planning a vacation, these army pants are there for you. Built from 100% cotton, this product is comfortable and can last for many years if taken care of properly.
8 Pockets
If you are looking to compare different army pants, you should always look at how many pockets the manufacturer includes, and how they are sown and protected in the pants. For this specific pair, consumers will receive 8 standard pockets, all of which are quite spacious and able to fit cell phones, small medic kits, tools, or other pieces of equipment.
100% Cotton
These army pants are known for their supreme comfortability. This can be attributed to the no-stretch 100% cotton that the manufacturer chose to create these pants. With that being said, the company also designed the pants to be comfortable because of their casual design. These army pants will nicely sit on the waste of the consumer. In addition, you can purchase a pair in a few different designs, including loose fit and straight leg.
Cost and Value
When it comes to comparing the costs of these army pants to the rest of the products on this list, this product could be considered cost-friendly. Depending on the specific size and model that you choose, these pants can be quite cheap to purchase. This may be shocking when you consider the amount of value, comfort, and durability built into the seams of these pants. Many consumers have reported that, once you purchase these pants, you won't go purchase any other brand. Given that there's many different colors and patterns to choose from, maybe it's true for you!

Subscribe to our Newsletter