Best Air Fryers Reviewed & Rated for Quality
last updated:
Mar 11, 2019
Today, the average cook has more options available to cook dishes than ever before. There're microwaves, toasters, toaster ovens, deep fryers, and of course, air fryers. Now at first glance, the very idea may seem ludicrous. Really? Using ventilation to do the job of oil? We're going to walk you through the process today.
This device circulates the air within it to extremely high temperatures, up to 400 degrees F depending on the unit's wattage. With a kitchen addition like this, you can cook up your favorite meals, without having to deal with all of those fatty oils. So, if you want to get off of those oils but don't want to commit to living off of health for your whole life, you can still enjoy some good fried chicken. And we're counting down the top 10 best here today. So, get ready to cook!
In a Hurry? The test winner after 20 hrs of research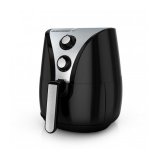 Black + Decker 2-Liter
Why is it better?
Dual convection fans for fast, even cooking
Non-stick accessories
Affordable
In a
Hurry? Editors choice: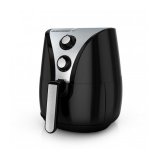 Test Winner: Black + Decker 2-Liter

31
Researched Sources
21K
Total Readers
31
Reviews Considered
20
Hours Researching
40
Products Evaluated
Size
Effectiveness
Ease of Use
Features
Value
By Default
10 Best Air Fryers
1

. Black + Decker 2-Liter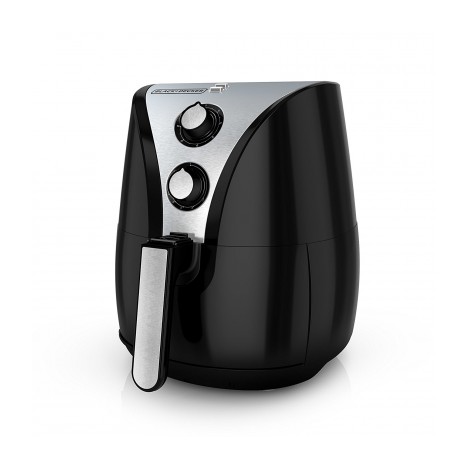 Dual convection fans for fast, even cooking
Non-stick accessories
Affordable
The text is really small, particularly around the dials
When it comes to any home appliance, whether it's power tools, yard equipment, or kitchen appliances, no one does it like Black + Decker. Or at the very least, no one's done it for nearly as long as Black + Decker, who have been at it since 1910. In fact, if you ignore when they started making kitchen appliances, they've technically been around even longer than that. So, what does such a venerated and storied franchise have to offer?
Dual convection fans
Black + Decker's exclusive cooking system utilizes a pair of twin convection fans instead of the standard singular. This circulates more heat at a faster rate, ensuring an even, fast cook no matter what it is that you stick in there. Which is especially good when you need to cook some last minute lunch nice and quick.
Non-stick accessories
Rather than just the baking dish being non-stick, the entire line of accessories that comes with this model is non-stick. This includes the basket, separator, and the pan. This makes not only the cooking itself easier, but also clean up becomes a breeze.
Cost and Value
Thankfully, this model is nowhere near as expensive as the previous two models we've gone over. Standing at a typically $30 difference between it and the previous entry, this one will give you much more, for much less.


Can hold a large quantity
Easy to use
Some retailers sell it for really cheap
Others sell it for very pricey
For our second-place spot, we have the Simple Chef model. Ask anyone who's ever owned one of these, they'll tell you the same; it's one of the best home appliances you could ever have the pleasure to buy. So, what is it that makes this model so worthy of fanfare? Well, let's open her up, and find out.
Large quantity
Or at least, a large quantity considering the size that these machines tend to be. Which is to say, if you're making a plate of french fries, and you have 3 or 4 people coming over, then don't worry, as you have more than enough room to make enough fries for everybody. Despite the rather small stature of this model, you'll be amazed at just what it manages to accomplish.
Easy to use
If you look up a picture of this device, then you'll notice only two knobs. These two knobs are the only things you have to use in order to get this model working. All that's really required on your end is to follow the cookbook that this pick provides you.
Cost and Value
Depending on when or where you look, you could find this model for pretty cheap, or very expensive. Fortunately, for whatever reason, this is an item that goes on sale very often, so you only have to worry about that higher price if you're particularly unlucky.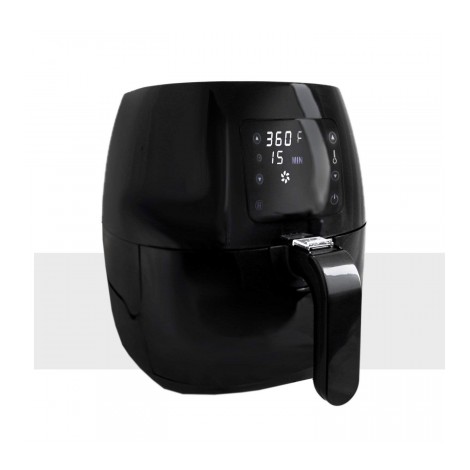 Excellent at reheating
Non-stick baking dish
Very affordable
Novice user will be left at a loss as to what to do with the accessories due to a lack of instructions
In our #6 spot, we have the Avalon Bay. While considered something of a more basic model, don't take that to mean that it's bad, because it truly isn't at all. In fact, the moniker of being "basic" is likely mislabeled when it comes to this cooking device, as it actually does a lot to set itself apart. What are those things? Let's find out.
Excellent reheater
Maybe you aren't in the mood for cooking something, or maybe you've already cooked something, and now it's gotten cold, but you still want to eat it anyway. Well, to solve your dilemma, there's the Avalon Bar, with its metal mesh tray that you can use to reheat whatever food you cooked in there, or even store-bought foods you want to be reheated.
Non-stick baking dish
Like the previous entry, flip a switch or two, and this model becomes a lovely little baking oven. But a baking oven isn't much without a good baking dish to cook your dishes on. Fortunately, the Avalon Bay comes with a non-stick baking dish that will cook even the most stubborn dish.
Cost and Value
This is actually one of the cheaper entries on the list, which makes it one of the best deals on this list by proxy.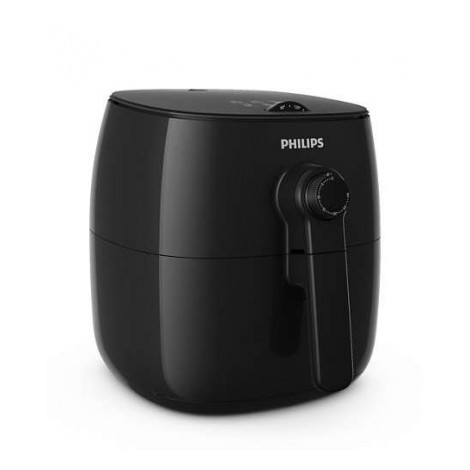 Starfish design makes for fast, even cooking
Large size means more can be cooked at once
A cookbook with over 150 recipes included
Starting off our final 3, we have our #8 pick, the Philips Viva model. Considered a bestseller amongst all devices, especially in retailers both on and offline where these types of model are sold, this one is considered by many to be top shelf quality when it comes to this niche of cooking supplies. A high pedigree, to be sure, so let's see if it earns that.
Fast, even cooking
Even if you cook the food for the allotted time, you may be frustrated with other models when the food doesn't come out completely cooked, at least not to the extent that you need it to be. Through its unique Starfish design, this model doesn't just cook the food you put in well, it cooks that food fast.
Large size
The basket of this device can hold up to 28 ounces of food. So if you have a dish that needs a lot more space than the average model can handle, then this is the right pick for you. At 28 oz of space, this is one of the largest models on this list in terms of sheer interior space.
Cost and Value
While not as expensive as the previous entry, it still stands at a solid 3 figure cost. Which is a good bit more than you would be paying for the other entries on this list.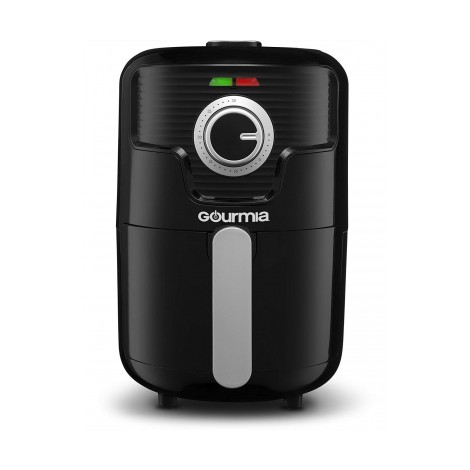 All food cooked within it is fat-free
You can set your own temp and time, or you can rely on the presets
Affordable
Might take a bit longer than people are used to
Finishing up our top 3 section, it's the Gourmia Compact model. Utilizing 4 present functions, all accessible through only using one button, this model demonstrates top notch quality through simplistic controls. But what else does this model have to offer? Well, let's find out.
Fat-free
Obviously, if you're using this kind of cooking suppliance, then you want to enjoy fried foods while staying healthy. Well, the Gourmia has got you covered, as this cooking device not only deep fries all of your food using nothing but heated circulated air, but it also filters out all of the fat, calories, and grease that would otherwise come out of being fried.
Set your own temp and time
Like others, this model comes equipped with a cookbook that tells you what you can cook with this model. However, unlike other devices, this one knows that there's a good chance that you know what you're doing and will let you set the temperature and time yourself instead of following the presets.
Cost and Value
You'll find this model priced rather reasonably, especially considering it's one of the highest quality models out there on the market right now. So, if you're looking for the best value for the best one out there, you can't get much closer to that than this one.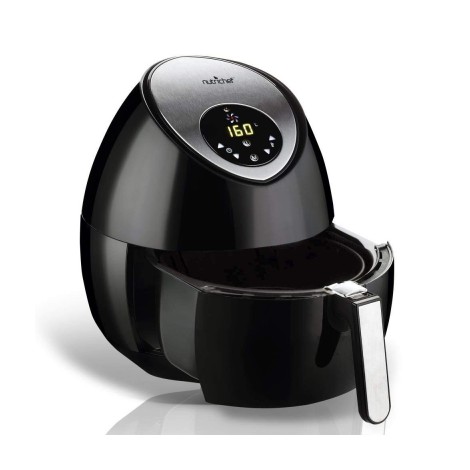 Adjustable presets
Infrared oven function
Superior to conventional frying
When it comes to otherwise unhealthy foods made healthy by the presence of a good cooking device, NutriChef is the masters. And nowhere is this eerily specific specialty more personified than in their Electric Digital model. So, what makes this pick so special? Let's take a look.
Adjustable presets
It can be tedious having to set the same temperature and time over and over for your favorite meals when you know the computer LCD display has the memory capacity to remember the settings you love most. Well, now it does, as not only does this model come with built-in presets, you can change the presets if you so desire.
Infrared oven function
Not only is this an effective oven, but through its use of infrared technology, it adds to the already healthy cooking process by eliminating stray fats and oils in the food. Making the food even healthier than it already would've turned out.
Cost and Value
The downside to this model is the price. It's by no means the most expensive thing on the planet, but it's definitely far from cheap at the same time. You'll often find this model for a good twenty dollars or more than the other entries on the list before this one.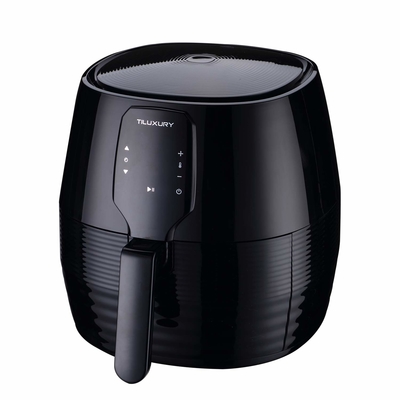 Suitable for a healthy lifestyle
Additional recipes included
Easy to use
Multipurpose
Touchscreen display
Can take a bit of time to heat up
In our seventh spot, we have the KOOLWOOM model, a multifunctional unit that promises to give you healthier meals without compromising flavor or crispiness. Most of us, shy away from owning an air fryer due to being afraid the food will not taste the same or you won't retain the crispy exterior and moist interior as you would with a traditional oil-based fryer. This fryer gives you the crispy exterior and moist interior without any of the oil, simply with air!
Multifunctional
Why have a simple air fryer when you can have a multifunctional appliance that takes care of multiple aspects of your everyday cooking? The KOOLWOOM air fryer does just that by having different cooking functions including; fry, grill, bake, roast, steam, and food dehydrate, allowing you to make different meals with one simple machine. Additionally, it comes with 8 built-in smart programs fries, pork, shrimp, cake, chicken, steak, fish, and pizza already set to the proper time and temperature allowing you to click a simple button and achieve the results you want and need.
Easy to Use
Who wants to add a complicated appliance to the kitchen? This appliance makes air frying easy, due to how simple it is to use. Its simplicity comes from its preset programs that allow you to monitor your food and its temperature by the simple touch of a button. Furthermore, you can customize how crispy you would like your food to be by simply adding or removing time.
Cost and Value
When it comes to the cost of this air fryer it is pretty medium range when it's compared to others on our guide. Furthermore, the price is quite reasonable when you take into consideration how many accessories you're receiving with the unit. You will be receiving 6 additional accessory pieces and a 50 recipes cookbook for you to try at your convenience.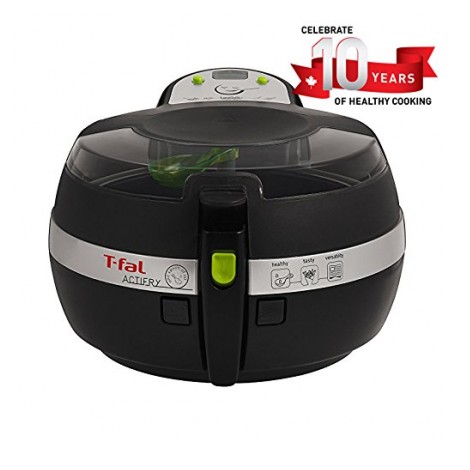 No more standing over the unit
Pulse heat system
Digital LED timer
In our #7 spot, we have the T-fal Actifry model. There are a lot of different things that set this model apart from the rest, but one of the biggest is the fact that you can actually watch the food being cooked through the lid. Of course, that isn't the only thing this device has going for it.
No standing over the unit
With other models, there's still this need to constantly be standing over the unit, fussing over every little detail and needing to be there in case something goes wrong. However, with this one, there's no need to be so vigilant. The most you'll have to do is have a stirring paddle on hand just in case you need to flip over something. Otherwise no preheating, no shaking, no stirring, nothing.
Pulse heat system
One of the biggest things that sets this specific model apart from its competition is the use of a pulse heat system, a unique heating system that lets you cook food the way you like them. It works best with foods with naturally crisp outsides and moist insides.
Cost and Value
The big drawback to this model is the cost. Whereas the other entries sat nicely in the more expensive spectrum of the double digits, this one sits squarely in the triple digits, making it one of the most expensive entries on this list.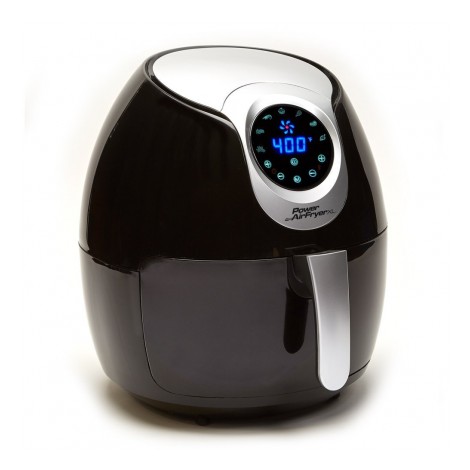 Rapid ventilation technology cooks fast and even
Need little to no oil of any kind
Cooks upwards of 400 degrees
For our final entry, the #10 slot, we have the Power A.F. XL. Ask most people who have used this and they'll tell you that they can't live without it. And why wouldn't they? It's a flat-out a great piece of hardware. Just how great is it? Well, let's take a look.
Rapid ventilation technology
Using a 1700-watt heater, allowing for temperatures of up to 400 degrees, and by using a series of high powered fans inside the machine, this model lives up to its moniker of rapid ventilation technology, since such a combination means that this model cooks faster than most of the entries on this list, and on the market at large.
Needs no oil
While a bit of olive oil won't go amiss with this one, unlike other models, it doesn't need any oils of any kind. Not even the healthier butter or oils, such as olive oil. Cook delicious meals without any help.
Cost and Value
The big downside to this model is the price. It's by far the most expensive entry on this list, even comparing the other two triple-digit entries on this list. Not to say you aren't getting your money's worth, because you are, but you will be spending quite a lot.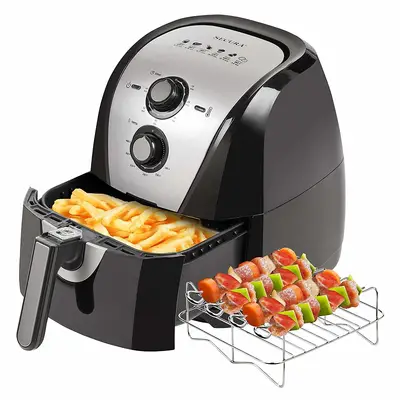 Energy efficient
Easy to use
Convenient to use
Recipe book
Large size
Non-stick coating wears off after a few uses
One of the main issues, consumers tend to find with air fryers is they do not get hot enough to actually crispy up the food. This particular air fryer removes the guessing game and brings forth an air fryer that does exactly what it says it will, by using innovative heat that circulates throughout, to bring that crispy yet moist exterior.
Heats up Quickly
Long gone are the times when you would have to heat up a kitchen appliance 10-15 minutes before using it in order to achieve the desired temperature. The Secura air fryer heats up to your desired temperature in about 3-4 minutes, allowing you to begin using it almost immediately. Furthermore, it has the ability to heat up from 100 to 400 degrees in order to bring you perfectly fried food with little to no oil time and time again.
Energy Efficient
Using electrical appliances can be a pain when they consume a whole lot of electricity, not only that but the price tag on such a matter can be quite expensive. With that being said, this is an energy efficient air fryer that allows you to cook your meals in record time without taking a heavy toll on your electrical bill- a win, win for all.
Cost and Value
When compared to others on our guide this air fryer is a bit on the pricier end. Nevertheless, it does come with bonus accessories including a grilling rack and skewers along with a recipe book to guide you in making delicious healthy meals.
Criteria Used for Evaluation

Size
Size
Now size isn't extremely important with these machines, because they're very rarely too small. Which is to say too small to properly function, and if we did on occasion find one that was, we swiftly discarded it and moved on. And that was a very rare occurrence. But size is still something important that must be taken into consideration when choosing the best one. But with that said, being too big can be a detriment. After all, one of the biggest pros of this device is its health benefits, but also its speed.
Want to know what gets in the way of the speed of circulation? A larger amount of ground that ventilation needs to cover while it heats up. So, we made sure to look for the ones that were just the right size. Not so small that you couldn't fit anything in it, but not so big that you end up extending the amount of time it takes to properly heat up your food.
Effectiveness
Cooking speed
As we went over in the previous entry, the speed at which your cooking device cooks your food is a very important factor of a machine which boasts speed as one of its main attractions. It shouldn't take more than a few minutes for your run of the mill to finish frying your food completely. Baking and roasting may take a bit longer, but with the root component of this machine, it should not take you very long. While we couldn't exactly buy all ten of these entries plus the dozens more we passed over for this list, and individually judge them, we could read the customer reviews and get a general consensus from there. Not a great system, by any means, but for what we were looking for, it did the job fine.

Accessories
Accessories
But having the means to cook the food only gives you half the required tools. Now that you have the device, now you need the tools with which to help the food, which means you need to accessorize. And what accessories do we mean? Well all kinds of things, actually, many of which will be included with the model when you buy it. These items include:
Cookbooks: Not everyone has an old family recipe sitting in the back of their minds, just waiting for the person wielding that knowledge to use it to make the perfect deviled egg salad for their upcoming work party. Sometimes you need some help from a cookbook to get you along. This is an item that's almost guaranteed to be included with your order of one of these, as it will be there to guide you through what recipes you can prepare with it and which ones you can't.
Cooking utensils: This means things like tongs, cooking oil, non-stick coating spray, large forks for poking into fried food to bring it onto the plate, spatulas, anything really that helps you fiddle with the food while it cooks. Because sometimes the food needs some more messing around with while it cooks so that it can finish properly. Sometimes you need to use a spatula to flip it over for that full, even cook.
Pans and trays: Can't very well cook anything without something to cook them on, can you? This is why, by default, pretty much all models come standard with a single or set of trays, pans, or bowls, meant to be put into the device with the food you're cooking. You should make sure to check to see if the pans or trays are non-stick, they usually are, especially these days, but you should still check. It isn't necessarily required, as you can just spray some Pam onto the tray and be just fine. But it's always nice to be prepared beforehand.

Value
Price
These do not come cheap, and if they do come cheap, then you're settling for a lesser product. No, if you want the really high-quality models, then you need to get ready to invest. It won't always cost you over $100, but sometimes it will, and that may prove to be more than you're willing to spend on what some may see as a needless commodity. However, if you look past the sometimes-exorbitant prices these things can come down to, then you'll likely find that you now can't live without one of these in your life.
Expert Interviews & Opinions
Most Important Criteria
(According to our experts opinion)
Experts Opinion
Editors Opinion
Users Opinion
By Default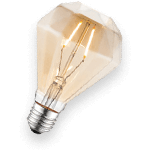 Why Choose an Air Fryer?
Compared to a deep fryer, an air fryer cooks food much slower than using oil. This slower speed is because of the level of heat oil transfers is faster than cooking with, well, air. Definitely, deep fryers are larger and can generally cook more food at one time, but an air fryer is by far the healthier alternative to still enjoy the goodness of fried foods.
What Can an Air fryer cook?
Besides the traditional fried foods such as French fries, sweet potato fries, chicken wings etc, most of the air fryers selected can crisp up any food you place inside of it, some even cook other items such as cookies and pizza or even hamburgers. Although, their main purpose is to make food crispy their ability to cook food in a healthy manner goes beyond the traditional which is why many people enjoy them.
Other Factors to Consider

Ease of Use
When you purchase any kitchen appliance one of the very first things you want to take into consideration is how easy is it to use. The easier a product can be used the more often you will use it. Remember the air fryer you purchase should be easy enough for you to use on a daily basis while still being efficient and sturdy. The air fryers we selected are all guaranteed to be easy to use with the simple click of a button or two.
Frequently Asked Questions
q:

A lot of these air fryers say they do require certain kinds of oils in order to function, or at least can work with certain oils. What are those oils and what oils can I not use?

a:

Well, let's start with the second one first. Above all, do not ever use Crisco or lard in these kinds of devices. For one, it just won't make anything happen, other than ruining a perfectly good cooking appliance. These things explicitly say they aren't built to work with the kinds of oils you normally use for these sorts of dishes, and they meant it.

As for what oils you can use, the most commonly used one is olive oil. It's healthy, thin, and doesn't hurt the machine. Since it's already considered a healthy alternative to using cooking oil, it's a natural fit. However, of course, that isn't the only kind of oil that can be used in this kind of device. Other oils include grape seed oil, peanut, walnut, safflower, canola, sunflower, and much more than that.

Finally, it can depend on the kind of fryer you're using, so be sure to always read the user's manual before using even once.
q:

How full can I fill my fryer basket? I need to make fried chicken for three people, and I need to get it done quickly.

a:

Whatever you do, don't fill the basket inside to the brim with the chicken, that'll cause the machine to overheat and even burn out completely. You should never fill the entire thing up with food, not only will it break the machine, but then your food will be utterly ruined. If you're really having trouble cooking the amount of food you need in the time that you need to cook it, then you probably should invest in a larger model.
q:

Is there anything that I absolutely should not put in an air fryer? Any food that just flat out does not belong in there?

a:

There are quite a few, actually, but the biggest one is one you may not expect: Sausages. And this doesn't mean normal hot dogs, no we mean the big boys. The big monster sausage links, those do not belong in the category of these devices. And why? Because those kinds of sausages actually contain a very high amount of grease inside (the juice that always seems to gush out of them when you bit into one). And if you think those sausages are leaking and gushing grease before, you should watch them as they cook through normal means. So, as you can imagine, cooking them with a tool like this one can end very badly for the device itself. All of that grease will leak out and ruin the fan and heater. So, if you're getting this cooking tool in order to go healthier with your diet, then you'll have to say goodbye to your love of sausages for the foreseeable future.
q:

Are there any ways to make sure that the food has been completely cooked all over and all the way through?

a:

Pretty much the same rules apply, as they would anything else. With some foods, you need to pick them up and thoroughly shake or flip them. This will help determine the stiffness of the food (if it was frozen when you put it in) and thus how frozen or not it still is. However, if you're cooking a burger, then after a certain amount of time, you should pull it out, while keeping it on the tray, and just poke into it with your spatula, and see how much fluid comes out. If none comes out, then it's done. The juices, blood, grease, etc. have all been expelled from the burger, and it's time to eat. There are other methods, but you get the idea.
Subscribe to our Newsletter