Best 50 Inch TVs Reviewed & Rated for Quality
In a Hurry? Editors choice: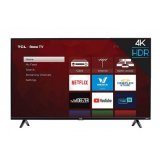 Test Winner: TCL 4K Smart

TVs are getting larger and larger these days. It is hard to argue that this is a bad thing, but it sometimes feels like smaller TVs are being left behind. You can either get a 32" television, or a 65" television. There are some people that are in the market for something right in the middle. A 50" TV is great for anyone who wants a large TV, but doesn't have the room, or the money, for an 85" behemoth. A 50" TV is more than large enough to get a group of people to sit come and sit around for a movie, and it is large enough to immerse yourself in a session of console gaming, too. This is a list of the best 50" TVs that you can find on the market. All of them have all the modern features you might be looking for in a TV.
Standout Picks
Criteria Used for Evaluation
Fit
A big part of owning a TV is making sure that it fits well in your home. This is why lots of people prefer to own the smaller 50" TVs that used to be so popular. They are more than wide enough that you will have the home theater experience, but without having to worry if it will take up your entire living room. Maybe you live in a smaller apartment, or some people just have a room where the couch ends up too close to the TV. In these cases, a 50" TV is the perfect solution for having the best of both worlds. The rating in this category is an indication of how well the TV will fit in your home. Another reason that you might want to think about buying a TV based on this category is how well it will fit on something like a TV stand. This could be very important for making sure that your TV is the right fit for your home.
Color
There have been huge steps forward when it comes to color technology in TVs. The big thing is that some TVs are better at contrasting the colors on the screen than others. Contrast is important in making the most vibrant picture possible. TVs really explore the power of contrast through technologies like HDR, which is great at making out the hundreds of shades of black. The deeper the blacks of your screen, the more the colors will pop out. The higher the rating in this category, the more likely that your TV will give you a truly beautiful color experience. Look for TVs that talk about having features like HDR and UHD, or ultra-high definition. The more color on your TV screen, the more that the TV can make up for its slightly smaller size. It can truly be dazzling when you watch a TV that really shows off millions of colors.
Potency
This category refers to the quality of the picture on your TV. This could be something like resolution, which refers to the amount of pixels that are on the screen. It also has to do with the ability of the TV to follow the motion that is happening on the screen. This happens in events like a movie that has a very fast action scene. Many TVs use computer processors so that the pixels of the screen can keep up. The TVs on this list range wildly in this regard, with some of the TVs using 4K technology, while others are using the more classic 1080p. The one that you want depends on a lot of things, from price to the kinds of technology that you will be using with your TV. If you can have both, then you should definitely try to have both. The rating in this category lets you know the quality of the picture that you can expect with each TV.
Features
TVs have really become more than just TVs. They come with many kinds of new technology and features, such as Smart TVS, and the like. Smart TVs give you access to the internet from your TV, and they are a very important option when it comes to accessing all the new kinds of TV that are available out there. This refers to things like streaming apps, and even video-heavy websites like Youtube. Another important feature to look out for are things like the amount of hook ups that are attached to the back of the TV. The more HDMI ports, the better, and you should always be looking out for the TVs that let you hook as many things into the TV as is possible. This category refers to the quality and amount of features that each of these TVs have.
Value
There is a very wide range of prices among the TVs on this list. This category is a rating that indicates how much that you are getting for each dollar you are spending. The biggest thing that changes the price among these TVs is the level of quality of the resolution, and the amount of features that come along with. The picture quality is almost completely tied to how much the TV costs, but some of the TVs do a very good job of finding you a balance. The top of the list is populated with some great budget TVs that will give you a well-rounded experience when it comes to getting a streaming TV with 4K functionality, but at a price that feels much more reasonable.
10 Best 50 Inch TVs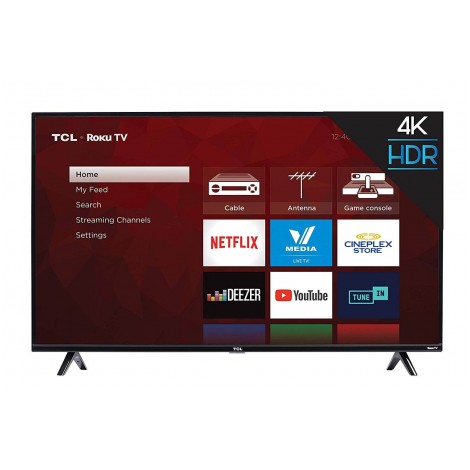 Although it rocks a smaller size, the TCL makes sure to make up for it with all the most modern pieces of technology that you can find.
Smart TV
The TCL is great because it gives you the option to do away with cable completely, and lets you get in on the smart revolution. A smart TV turns your television into something more like a computer. This gives you tons of options when it comes to finding things to stream, and the ability to download a wide variety of apps for all kinds of useful things.
Other Features
The TCL has other features that make it the first choice for many people looking for a smaller big screen television. This TV is considered a Roku TV, which means that you don't need to buy any kind of streaming stick for it to have access to all the thousands of channels that come from owning a streaming device.
Cost and Value
The TCL is the best choice you can make if you want a big screen TV, but don't quite have the room for the TVs that are often being made these days. It will be a good fit in your home, while also giving you all the most modern features that you can find. Even better, the TCL is an incredibly cheap TV for all the features and visual quality you will get from it.

2

. Toshiba Ultra HD Smart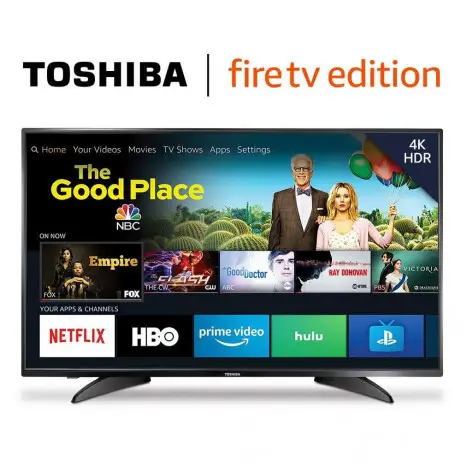 This is another 50" television that comes with all the features that you could hope for, but this time it is enabled for Fire TV.
Fire TV Television
Fire TV is the streaming device that is being sold by Amazon. It is a fully featured streaming device that will give you access to tons of different streaming services. If you buy an antenna for it, it can also let you use cable on the same page that you browse your streaming services. Fire TV is also designed to work with Alexa and voice commands.
Other Features
The Toshiba television is also great because of the high quality visuals that it provides. This is a 4K television, and it packs millions of pixels onto this smaller screen. It is a true 50" screen, and it has all the great features you could hope for from a 4K, such as ultra high definition, and HDR. This TV is great for streaming the highest quality picture possible.
Cost and Value
The Toshiba television is a great choice for anyone who wants something truly modern, but without the hulking size of an 85" screen. The Toshiba is also great for all the conveniences that come with it already being set up with Amazon's technologies. This is another very cheap TV for all the different features that come with it.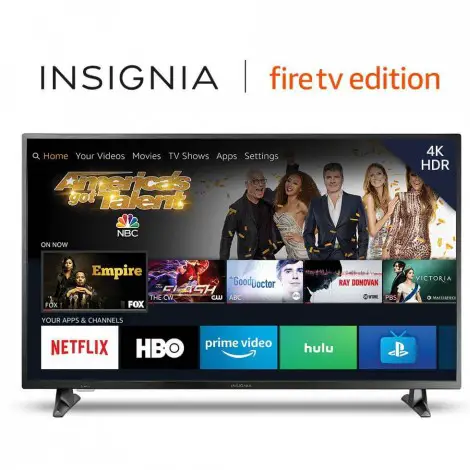 The Insignia is another great option if you want a modern television with all the best features that you can currently find with a Smart TV.
Great Image Quality
The Insignia is a good TV to buy if you want to be sure that your television is going to be a top quality choice in terms of how good the image is. It is a fully realized UHD television, including the eight million pixels that come from using it in 4K. This means that all the shows that you watch will look as good as is possible on this one.
Other Features
This comes with lots of other features too. This is another TV that has been enabled to work with Fire TV. This means that you get all of Amazon's streaming service perks right away, without needing to buy extra doodads. This is great for being able to feel set up right away. Fire TV is also a streaming service that gives you lots of options for how you want to enjoy your watching time.
Cost and Value
The Insignia is another great choice if you want a Smart TV, but don't want the size that is often associated with it. This is another 50" television that is very easy to mount, or just fit anywhere that you might want a TV. It has great image quality, and it comes with its own streaming. The Insignia is also great for anyone who is buying on a budget.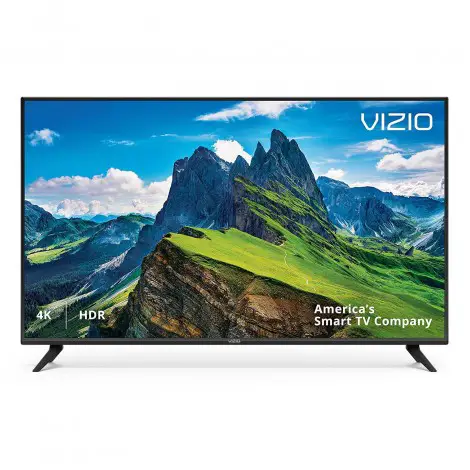 The Vizio D-Series is a great class of televisions that bring all the most important features that you can find in these current times of entertainment.
Great Looking TV
The Vizio is a 4K TV that brings all the best visual quality that you could hope for, and at a reasonable price. It has tons of pixels, and is enabled for all the deep contrast that comes with using a TV that is enabled for HDR. It does a great job at up-scaling traditional HD television too, so everything will look better on this one.
Other Features
The Vizio is also a Smart TV, which means that it comes with all the features that you could hope for from a TV of these modern times. It lets you download lots of different apps so you can use your TV for things besides just watching TV. It is also completely enabled for things like voice commands, as long as you attach the device to it.
Cost and Value
The Vizio is a smart TV that focuses on making sure that you are getting the best picture that you possibly can. It costs a little more than the other options on this list, but it also comes from a brand that has been really proving itself these days. This TV will be a great fit in anyone's home, and it does a great job of looking as good as you could possibly find.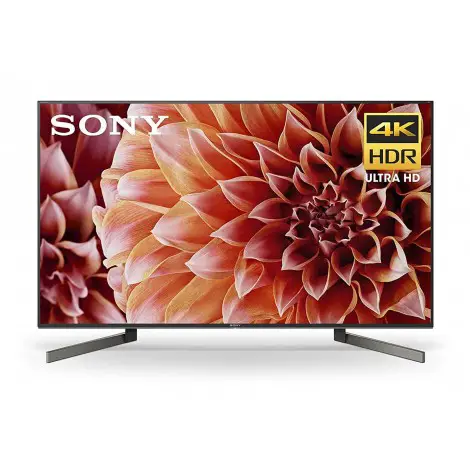 Now this is where the title of this guide might seem a little misleading. This 49" television from Sony does a great job of filling your home with big screen goodness.
49" Television
There are many rounded numbers in the world of television screens. Many 50" TVs are not quite there. That one inch of smaller screen is not as big as you might think. The Sony XBR49 is one of the better TVs that you can get at these smaller sizes. It sports a truly magnificent display when it comes to showing off the visuals of what you are trying to see.
Other Features
The XBR49 uses some of the most cutting-edge visual technology to give you a truly clear visual experience. It is hard to find visuals that do such a good job of keeping the motion on screen clear, and that also do such a good job of contrasting the colors so well for your eyes. You will see shades of black that you didn't know existed.
Cost and Value
The XBR49 has quite the jump in price from the options that have been presented so far. This is because it is designed to give you a premium TV experience, but just in a smaller frame. If you want the most cutting edge TV technology in your screen, but just don't have the room for it, then the XBR49 is a good TV to look into.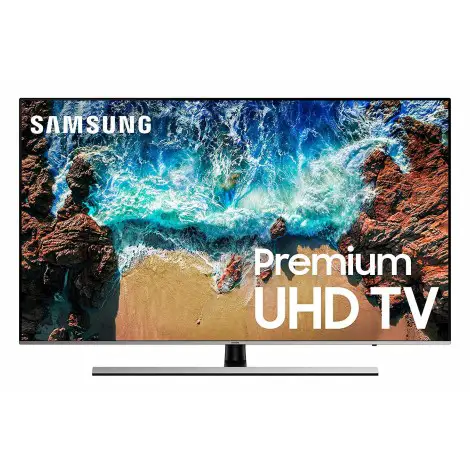 The Samsung 8 Series is a 49" TV that is focused on giving you a compact TV that doesn't slouch when it comes to high visual fidelity.
Compact Design
Part of the 8 Series claim to fame is that this is a good TV if you want to be able to save some space in your house. If you are looking for a 50", this might just be the case. The 8 Series is almost completely flat. This makes it a really easy fit into any part of your home. It is only around an inch wide, which makes it easy to fit in anywhere.
Other Features
The 8 Series has lots of other things going for it. Samsung is no slouch when it comes to giving you the best visuals that you can find. It has really great contrast because the TV dynamically changes the deepness of the blacks to better match the colors on the screen, which will give you a truly breath-taking picture.
Cost and Value
The Samsung 8 Series is a good TV for all kinds of people. The big claims to fame here are the ultra-thin design of the TV, and the great contrast that it displays. These are very important features, and the 8 Series is great for giving you exactly what you need in a TV. It only costs a little more than the budget TVs that top this list.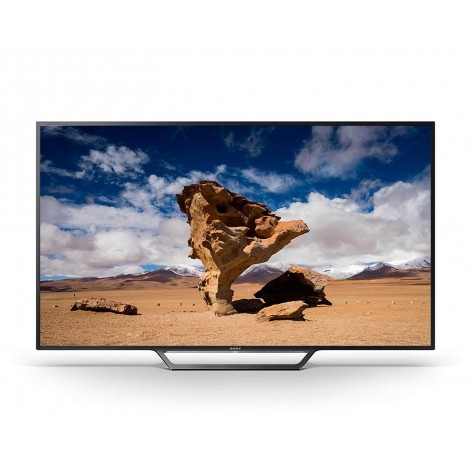 The KDL48 is a bit of an older TV, but it does such a good job at giving you high quality, HD picture. This TV is 48" of pure goodness.
HD Television
The KDL48 doesn't come with 4K, unlike all the preceding options on this list. Luckily, not a lot of TV has fully converted to the format. The KDL48 is a top of the line TV when it comes to buying an HD TV. It comes with technology that is focused on making for the clearest picture that you can find on the market, and the results are obvious.
Other Features
The KDL48 has lots of other goodies that make it worth buying. It comes with its own WiFi, which will make the hassle of setting your TV up with the internet much simpler. It comes with all the most useful streaming apps, too. There is also clever cable management hooks designed into the back of it so that the TV keeps a clean profile.
Cost and Value
The KDL48 is a great option if you want a simpler TV that does everything just right. It might have a lower resolution, but this TV is a great option for anyone who isn't worried about the 4K technology that still hasn't turned the corner yet. This is the peak of HD television, and will do a good job in anyone's living room.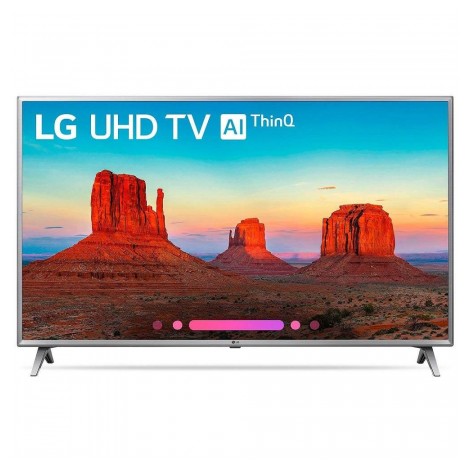 This TV from LG has all the latest in features and design from the leading company in television technologies.
LG Design
The LG has been designed with some very clever features that make it a good choice for anyone who wants a TV. It has AI built into it that gives it a more intuitive experience when you are trying to control it with your voice. You can have it so that you can check the weather, change the volume, and even dim the lights of your living room.
Other Features
The LG is a great option that is packed with lots of useful features so that you are always surprised by what it can do. It comes with a quad-core processor inside of it that does a great job of quickly bringing you the content that you want. It also has a speaker built into it that does a good job of emulating a surround sound system.
Cost and Value
This has all the latest features that can be found in a TV. It will make it so that you are quickly surfing your streaming apps, while also giving you a convenient way to navigate your TV's menus. This is only complimented by the great sound quality of its speakers, and the high level of colors and contrasts it brings with its visual fidelity.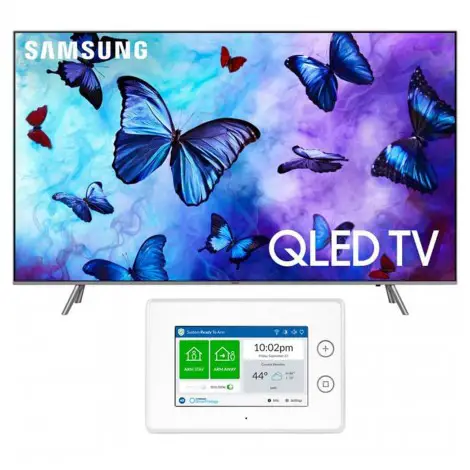 This is a smaller TV from Samsung that packs a real punch. Samsung's QLED technology does a great job of giving you the cutting edge in visual technology.
QLED TV
A QLED TV is the best option that you can find when it comes to the quality of visuals in your TV. It is an entirely new way of displaying the pixels on the screen. It actually uses quantum technology. This means that the screen will be able to keep up the action of whatever it is that you are watching with perfect precision.
Other Features
Another great thing about this TV is that it gives you some of the best sound that you will find in a big screen TV. It does a good job of giving you sound that feels like you have a whole sound system in play. If you are trying to save space when you buy your next TV, the Samsung is a good way to be sure that you are doing just that.
Cost and Value
The Samsung QLED TV does cost a little more than the budget TVs that lead this list, but this is a good choice over them for a couple reasons. This TV employs the leading technologies in both audio and visual. For what you are getting, the price of this TV is quite the impressive feat. This would be a good fit in anyone's home.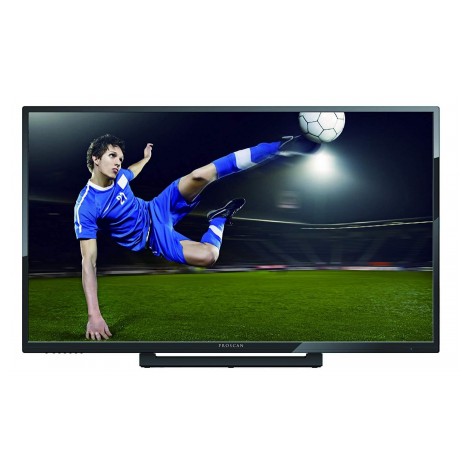 The Proscan is a high quality TV. It might be a bit of a blast from the past, but it will definitely meet your needs if you want a good-looking TV.
Full HD TV
This TV gives you a great HD experience. It has a nice 1080p resolution that will make any TV that you are watching look really great. The HD on this television makes it very easy for you to see all the clear detail of what you are watching. The TV is also great for keeping up to the motion on the screen.
Other Features
The Proscan has lots of other things that make it worth your time. This TV has a very slim bezel on it, which means that the screen goes all the way out to the edge of the screen. This is great for knowing that the Proscan isn't wasting any of the space. This can also be seen with its very lightweight, as the Proscan only weighs thirty-five pounds.
Cost and Value
The Proscan is a good choice for anyone who wants to buy themselves a budget TV that will make a small impact in their room. The Proscan does a great job of taking up as little space as possible. If you live in a cramped apartment, the Proscan is a perfect choice when it comes to inviting people over to watch something.

Subscribe to our Newsletter