Best Pop Up Tents Reviewed and Rated
Have you always wanted to go on one of those long hunting trips but don't have the shelter gear to make it a reality? Or maybe you've gone on several long hunting trips and need a new tent to call your home away from home while you're in the wilderness.
Either way, you're going to want something sturdy, with wind breaking material, that's easy to put together and take apart, as well as transport across the terrain during your hike. You'll need something that's reliable, holds up well, and won't break the bank on you.
Our Top 3 Picks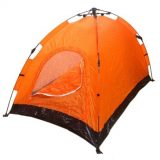 2 Man Tent Orange

Our rating
Lightweight
Price: See Here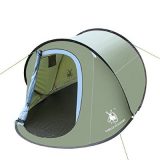 Pop Up Tent Instant Shelter

Our rating
Comfortable
Price: See Here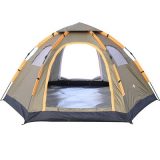 Wnnideo Instant Family Tent

Our rating
Spacious
Price: See Here
Best Pop Up Tents Reviewed
To help with your choices, below we have 10 of some of the best pop up tents available for all your hiking and hunting needs.
1. Instant Automatic Pop Up Backpacking Camping Hiking 2 Man Tent Orange Sealed
This is a great tent for weekend hunts with a small party. While it can't hold the 3-4 adults many of the other tents can, it is in a vibrant hunter orange for visibility and safety. It's also great for a one man hunter or a small party of two without having to load yourself up with extra shelters. The set up is quick and one step and it comes with an easy to use carrying bag and anchor stakes.


Expand to see more
Small Parties
Despite the small size and the rating of two per tent, this is still a pretty spacious tent with a comparable indoor area to many of the others. It also features a two way zipper to allow for privacy and protection when needed and a nice ventilation system using the front door.
One Piece Design
This tent boasts itself on being a one-step set up with the entire structure coming as one piece that pops up and into perfect place when you need it to. It's meant to be pitched quickly and returned to its
carrying bag
just the same.
Features/Specifications
It measures 35.5 x 5.5 4.8 inches and weighs just over 4 lbs. It features an insertable insect screen, a insect proof back window, water resistant material, and a spacious "bath tub" base for the 1-2 adults it can hold.
Price/Value
This tent is on the low end of the price spectrum and you're getting quite a bit for the price. While it's not rated for freezing temperatures or crazy winter conditions, it is great for use for short hunting trips with only a couple of people to house.
Decision Time
This makes a great first time tent for scouts or new hunters but also works well as a temporary shelter for anyone going on short hunting trips out in the wilderness. But know that it's best for temperate climates and calmer conditions.
Lightweight
Easy set up
Safety coloring
Good use for small hunting parties
2. Camping Hiking Pop Up Tent Instant Shelter Easy Set Up Quick Foldback Large Size
This tent features one of the most unique visual designs of any of the tents on this list and has a lot of amenities to boot. It's got waterproof and weatherproof polyester material with mest material for ventilation and a waterproof floor. The poles aren't flimsy fiberglass but sturdy steel and it's got two large entrances with double zippers.


Expand to see more
Take on the Elements
This has two types of waterproof material on both the base and the outer shell of the tent. It's got great ventilation, however, if you need to use it in the summer months or warmer times of the year. The tarp can hold up against wind and snow and repel water as well.
Easy to Use
The tent is a one step setup that pops into place from it's round carrying container. There's no need for difficult or confusing pitching. It folds back into its carrying case just as easy.
Features/Specifications
This sits at 7.5' x 4.8' x 3.1' for some great space and room for several
sleepers
. The carrying size is only 30 inches across and less than 2 inches thick so it's easy to transport. It features a 190T polyester 2000mm waterproof material with a B3 mesh screen and 210D Oxford material at the base. It features a unique dome shape, weighs 5.4 lbs all together and can old up to 3 adults.
Price/Value
This is an averagely priced tent for quite a bit of bang for your buck. It's very waterproof, even if it doesn't come with "luxury" items like extra storage or hooks for lanterns. It's great for anything that needs to stand up to the elements.
Decision Time
This is a great tent for anyone who needs something easy to assemble in harsh conditions.
Comfortable shape
Easy to assemble
Easy to transport
Highly waterproof
Must be repacked correctly or could cause damage.
3. Wnnideo Instant Family Tent 6 Person
If you need space, this is where you're going to want to look. If you're going out in a big hunting party but want to carry as little gear as possible, this tent can hold up to 6 people easily with it's massive area. And it still boasts an easy set up and waterproof features.


Expand to see more
Spacious Size
4-6 people can fit easily in this tent which measures 6 x 6.2 x 323.2 inches all the way around. It's great for sleeping several members of your hunting party without anyone getting lugged down with carrying
gear
.
Take on the Weather
For warmer climates, this features 6 mesh panels that allow for breathability while keeping bugs out. That being said, there's also rain-resistant polyester coating along the outer shell to keep out the rain and any other precipitation.
Features/Specifications
This is a large tent and it weighs just under 9 lbs altogether. It's gray in color and features removable panels and shields against rain and sun exposure. It comes with an easy to use bag for storage and features a quick setup and breakdown procedure. It also features UV-resistant material.
Price/Value
For the size of this tent, the price and value are pretty great. While it's heavy, it does feature a lot and can hold a lot for only a little bit more than what you'd pay for some of the other tents on this list.
Decision Time
If you need a tent for a family hunting trip or want something that can hold as many members of your party as possible, this is a great option for you.
Very spacious
Easy to use
UV-protection
Weather resistant
4. Pop up Camping Tent by TSWA, Automatic & Instant Setup Dome Waterproof Backpacking Tents for 3-4 Person Portable Hiking Pack Shelter
This is another tent that boasts itself as a pop-up that you can toss into the air and call it a day on. It's meant to set up quick and easy and features interior pockets and double door entrances as well as insect screens on the windows to keep out pesky intruders but let in some air.


Expand to see more
Material

The tent is made of a lightweight polyester material. However, don't let that fool you. It's waterproof and anti-UV. It can also comfortably hold 3 adults or 2 adults and 2 children with leftover room for storage purposes.

Easy to Use

This tent "pops up" when you toss it into the air and let it rise. It comes with a convenient carrying case for the easiest portability and storage options. It's easy to move around and lightweight to carry.

Features/Specifications

The tent, made of a lightweight 180T polyester, weighs 3.65 lbs and measures 2.8" x 26" x 26.5" to hold up to 2 adults and 2 children. It's got a waterproof index of 1000-1500mm and comes with fiberglass poles and a wind rope.

Price/Value

This is right in the middle of our price spectrum for tents so far. And while it does come with some nice amenities, it's not really a good option for anyone looking for something highly durable to last long periods at a time.

Decision Time

This is the choice for you if you want a daily tent to call home base while out in the wilderness but isn't the best option if you need something for long term weathering.
Easy to use
Lightweight
Ventilation
Fairly spacious
Can be difficult to repackage
5. Pop-Up tent by Survival Hax — Automatic and Instant Set Up
This tent is all about ease of use. From ease of pop up to ease of deconstruction, this tent strives to be something you can put together and take apart easy without having to worry too much about timing or struggle. It's lightweight but can still hold up to 4 adults.


Expand to see more
Easy to Use
This tent features an automatic pop-up for easy pitching. It simply pops into shape and place after being freed from its mobile storage and given room to "pop up." This makes for an incredibly easy setup and an incredibly easy deconstruction once you're done with it.
Wide Spaces
While this is a quick set up tent, it's not cramped in the slightest. It can hold up to 4 adults and features a front and back door entrance and exit for the most amount of room you could want out of a tent.
Features/Specifications
This is a 6 1/2 foot x 6 ½ foot tent that designed to be comfortable for up to 4 adults in one place. It features durable 190D Oxford material for 3 seasons use and a floor than take on the rough terrain and the weather elements. It has an instant pitch feature that allows it to simply pop up into shape and place for easy and fast assembly.
Price/Value
This is on the lower end of the price spectrum when it comes to hunting tents. And the value matches that pretty closely considering the biggest takeaway here is how quickly this tent can pitch and deconstruct. If you want to give yourself a temporary shelter in temperate conditions, this would be a solid choice.
Decision Time
For anyone looking for a an easy to use, quick to pitch, and temporary shelter in fairly mild climates, this is a great choice. It also would make a good choice for any new campers or
hunters
out there.
User friendly
Spacious
Good material
Zippers can break
Moisture can leak in
6. FiveJoy Instant 4-Person Pop Up Tent Set Up in Lightning Speed
This is a tent designed to be your home away from home when you really need one out in the wilderness. It sets up in seconds and folds up just as easy while offering you storage areas within the tent and even places to hang extra bags or items of clothing. The windows and doors offer multi-season and multi purpose use and is even approved for heavy backpacking in
extreme conditions
.
Expand to see more
Extreme Durability
This is a tent designed for some extreme
winter conditions
for any type of hunt you could throw at it. It's waterproof and durability of the material is rated for some extreme terrain and heavy backpacking.
Home Away From Home
Not only does this tent offer you shelter from the elements on cold or extreme weather nights, it also is convenient for getting what luxury you can out of a camping trip in the wilderness. It has storage pockets to help stow away food, extra clothes, or blankets. There's also hanging loops that can hold lanterns, bags for storage, and other provisions.
Features/Specifications
This is a 4 person tent with a floor area of 80.7" x 78.7", a vestibule area of 5.9" x 78.7" and a peak height of 47". The floor materials is PU-coated waterproof rated Oxford while the outer material is PU-coated 190T waterproof rated polyester. It comes with a carrying bag and 8 pegs made of galvanized iron to help stabilize the tent after pop up.
Price/Value
This is an expensive tent but it also has some of the best materials and amenities of any of the ones on this list. It's got the usual waterproofing and sizing with some added in storage for you and weather options.
Decision Time
If you plan on using this tent in extreme weather conditions and want to be able to come home to a warm shelter after a long hunt, this might be a good buy for you, especially if you want something that will last you a few years.
Rated for extreme weather conditions
Large area
Can hold up to 4 adults
Extra storage
Some seams can let water in
7. Pop Up Tent, Sunba youth Portable Camping Tents for 3 Person, Outdoor Automatic Instant Tent Sun Shelters
Sometimes you've got smaller ones in your hunting party and then need tents two. While adult sized tents will do just fine, sometimes it's nice to get the little ones tents and fear designed just for them.


Expand to see more
Roomy

While this tent is designed for youth, it is still big enough to hold up to 4 adults pretty comfortably, which means several kids can fit in here for any scout trips you may need this for.

Privacy

This tent also comes with a Sunba Youth opening and closing that can be entirely zipped from the inside for maximum privacy and security while sleeping out in the wilderness.

Features/Specifications

This measures 75.6" x 50" by 51.2" at its maximum open size but also folds down easy for portability during a trip. It's ventilated and 100% bug free. It included 8 metal ground stakes for stability while in use.

Price/Value

This tent is on the lower end of the price spectrum which makes it a great buy for the value you get on return with the amenities in it.

Decision Time

While this tent can be used easily by adults as well, it's a great buy for a kid who might be a first time camper or for use during a group camping or hunting trip.
Can hold plenty of adults or kids
Privacy door
Ventilation
Anti-bug
Not meant for use in soft terrain like beaches
8. Pop-Up Tent Automatic and Instant Setup-Waterproof and Anti-UV for 3-4 Person for Hiking and Camping
First of all, this is made out of K-Oxford waterproof fabric across the tent, which is a great way to start out this review. It's got 4 doors for maximum space to move around and ventilation. It holds up to 4 people comfortably which could be your entire hiking party if you need it. The inner structure is made of durable fiberglass poles and the tent has one over top window for stargazing or sunbathing.


Expand to see more
Maximum Space

Not only does this tent hold as many as 4 adults, it also has the option of having anywhere between 1 and 4 doors to create the most mobility within the tent and as much ventilation as you could need. It can be used as a spacious sleeping tent or a place to escape the sun and get some cool air during the day.

Ventilation

Instead of having vent holes throughout, this tent can open from all four sides and even has a window overhead. This means maximum air flow depending on your needs nd prevents any sort of claustrophobia within the tent while being used.

Features/Specifications

This tent measures at an impressive 95" x 71" x 39" with a fold down size of 31" x 2.7". It's made of durable fiberglass poles as the inner structure and features a durable waterproof fabric on the outside. It has a 1 second fold up guarantee for as much ease as you could need for clean up.

Price/Value

You get a lot out of this tent and a lot of ways to use it. The price is fair and matches well so just know your money is going to a good place when you buy this tent.

Decision Time

If you want something that can double both as a shelter for the night and a place to use as a headquarters for the day, this is a great choice for you. It'll protect you from weather, sun, and anything else you can think of.
Incredibly spacious
Maximum ventilation options
Quick fold up
Good carrying size
Durable fabric and materials
Best for daily use as oppose to overnight
9. BATTOP Camping Tent Pop Up Tent Backpacking Outdoor Waterproof 3 Season for Travel Fishing Hiking
This is a tent that can hold your entire
camping and hunting party
, depending on how many of you there are. It suggests a capacity of 4, which is a pretty spacious tent. To accommodate this, it actually has two entrances to make coming and going as easy as possible. It's lightweight, designed for perfect ventilation and even comes with a small pavilion set up.
Expand to see more
Spacious

As far as outdoor shelters go, this just might be the lap of luxury. This is a spacious tent that can comfortably hold up to 4 adults and has two entrances to give you plenty of room to move around. The tent also comes with a pavilion that can be used outside as a picnic area if you so desire.

Weathering

This tent is rated waterproof with quick dry aspects and UV protection. It can protect you from the sun's rays in the summer while keeping you dry in the rain or snow. It also has the option of mesh walls for optimal ventilation during hot and stuffy days.

Features and Specifications

This measures at 78" x 78" x 59" for some great space and is rated for use in three seasons. It's got two doors in and out for mobility while inside. The inner tent is waterproof, UV ray resistant, and features quick dry material. Setup is automatic and quick with an easy to use opening structure.

Price/Value

You're getting a huge tent with a lot of pluses for a great price. This tent can hold an entire hunting party and keep you safe from the elements for a great price. So the price to value ratio certainly helps you on this purchase.

Decision Time

If you want something that can hold as many people as you need, create a luxury space, and keep you safe from elements, this is a great choice. It can be used across three seasons and serves as a nice home base for any outdoorsing.
Incredibly spacious
Waterproof
Maximum ventilation
UV protection
Is susceptible to tearing from use
10. 2-person Pop Up Tent
This is a two person mobile shelter with collapsibility and easy carrying in a storage bag. It folds up in seconds and opens just as easily to create a great space for you to lay your head at night without having to worry about a long clean up in the morning when you need to move camp. It also comes with room for two sleeping pads for comfort from the rough ground.


Expand to see more
Quick Setup

This tent is designed to open and close as quickly as possible while also being as transportable as you could imagine. It comes in a custom traveling bag that keeps it compact and easy to manage during the day. When you decide to rest for the night, it opens within seconds for a comfortable mobile shelter and closes just as easy when you want to clean up camp.

Tons of Comfort

The tent is designed for two sleepers and, as such, has room for two padded sleepers to put some nice, comfy distance between you and the hard ground. On top of that it also has three ventilation holes so you don't have to worry about waking up too hot or stuffy.

Features and Specifications

The pop up dimensions on this are 87" x 60" x 43" making it wide enough to sleep two with pads. It's got up to 3 ventilation holes and a mosquito net is able to be deployed at the entrance to keep out pesky bugs. It includes a carrying bag to make travel with it easy and has a seconds guarantee when it comes to set up and collapsibility.

Price/Value

For a tent that holds two with as much amenities as it comes with, this is a well priced mobile shelter for your hunting trips. It can be used both in the hotter months and when the air gets chillier which makes it excellent for any time of year.

Decision Time

If you want a tent large enough to hold two or enough room for you to sprawl out on your own, this is a great choice. It can be used in several different climates and is easy to put together and take apart, making it a great first tent.
Room for two
Ventilation
Quick set up and clean up
Carrying case included
Does not come with any padded sleepers
With our in-depth reviews of the best pop up tents for 2017 we are confident you can now find and purchase a quality pop up tend which will last in time.
Subscribe to our Newsletter